'Strictly Come Dancing' Fans Will Be VERY Pleased To Hear Tess Daly's Salary News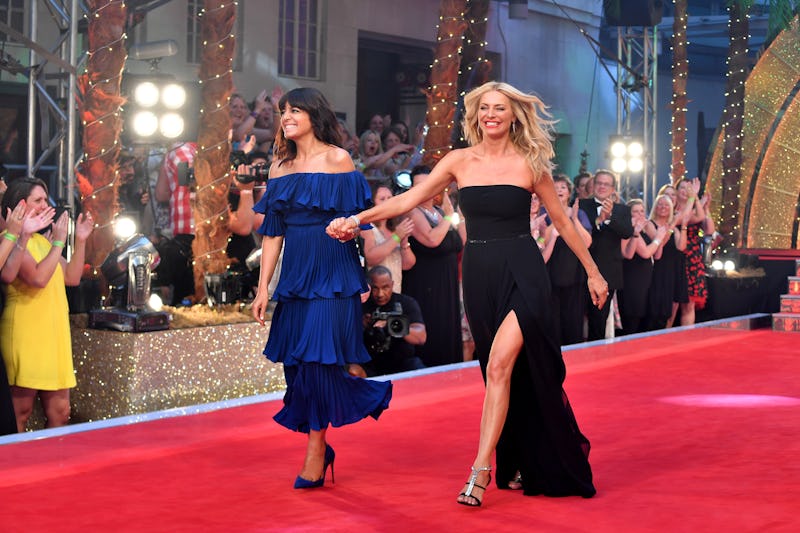 Gareth Cattermole/Getty Images Entertainment/Getty Images
Think of Strictly Come Dancing and you'll immediately think of two people: Tess Daly and Bruce Forsyth. While the latter sadly passed away last year, Daly has continued to present the show alongside (relatively new host) Claudia Winkleman. But just how much is Tess Daly paid for Strictly Come Dancing? The 49-year-old has been hosting the dancing reality show since it started in 2004. That's 14 years' worth of dance routines, terrible puns, and keeping those judges in check; work that has earned her a place in the nation's affections, and salary to match.
Now BBC presenters don't go home empty-handed, earning more money than I probably ever will. But the TV channel has made easy for people to work out how much its stars are paid by publishing the salaries of every person who earns over £150,000.
In 2017, Tess Daly appeared on the high earners' list with an annual salary of between £350,000 and £399,999 a year. It's worth remembering that this may not just have been for Strictly as it includes all of Daly's BBC work including the likes of hosting Children in Need. However, it's safe to say that a large portion of this is likely to have come from her duties on the dancing show.
How do I know this? Because this year, the BBC published a similar list and Daly wasn't on it, meaning she didn't cross the £150,000 threshold. It's not because her Strictly salary had dramatically dropped but because it was no longer included in the list as the programme is now made by BBC Studios. I've done the maths and it means her Strictly earnings have to be at least £200,000 a series. And good for her. She clearly works hard and deserves to be amply rewarded for it. Plus, given the recent scandal over the BBC's gender pay gap, it's nice to hear that some of their female employees are being fairly paid.
One of those employees is Daly's co-host, who actually earns more than her despite joining the show later. According to the BBC list, 46-year-old Winkleman is the highest paid female star on the channel, earning between £450,000 and £499,999 a year. Again, it's unclear exactly how much of this comes from Strictly. And I doubt Daly's complaining as not only are the pair great mates, according to OK!, Daly is worth almost £3 million. This is obviously thanks to her long-time work on Strictly, other presenting jobs, and roles as brand ambassadors for huge cosmetic companies like L'Oréal and brands such as Pandora.
Daly may not earn more than Winkleman but she earns almost double that of the Strictly Come Dancing judges. The 2017 pay report revealed that former judge Len Goodman and current one Bruno Tonioli earned between £200,000 and £249,999 during the course of a year while Darcey Bussell and Craig Revel Horwood took home between £150,000 and £199,999.
The identities of this year's crop of Strictly contestants have recently been revealed. The first celebrity to be announced was Katie Piper. The activist said she felt "so privileged and excited" to be a part of her favourite TV show. She will be joined by the likes of Steps' Faye Tozer (who will have a bit of an advantage thanks to those '90s dance routines), radio presenter Vick Hope, TV presenter Stacey Dooley, comedian Seann Walsh, and former Blue member Lee Ryan.
Strictly Come Dancing will return to TV screens on BBC One in the autumn.