How Rob's Posts Change Things For This 'KUWTK' Fan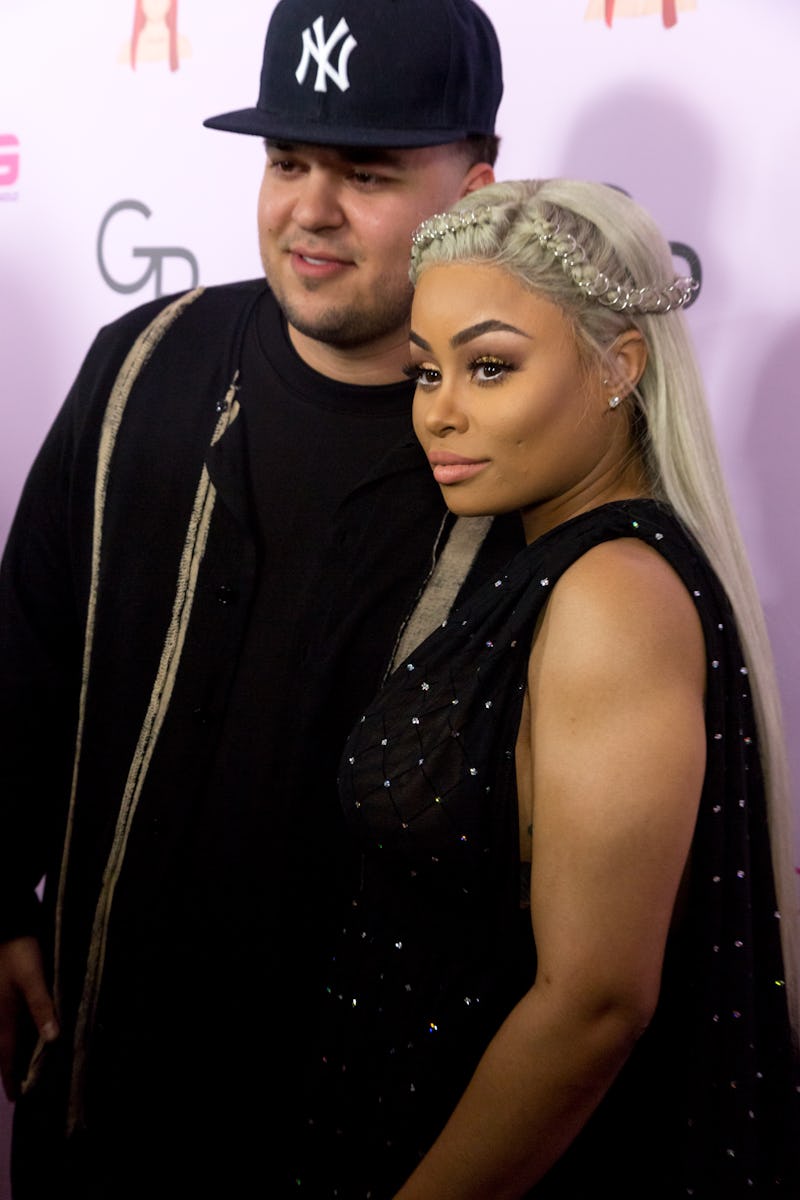 Greg Doherty/Getty Images Entertainment/Getty Images
It's been a solid decade since Keeping Up With the Kardashians premiered on E! and instantly became a reality TV institution, so it's hard for me to remember life before welcoming Kim, Khloé, Kourtney, and the rest into my home on Sunday nights. Since then, so much has changed in the famous family, but it's stayed fairly easy to continue watching their show — until now. On Wednesday, Rob Kardashian shared a series of social media posts about Blac Chyna that were completely inappropriate, and, for me, this is going to change things as a KUWTK fan from here on out.
Part of why I've always loved KUWTK and the Kardashians as a family is because of how open they are with their fans. But Kardashian's actions on Wednesday crossed a line that never should have been crossed. Before Kardashian's Instagram got shut down, he shared a nude photo allegedly of Chyna from the waist down, as well as a video of her kissing another man. He went on to make allegations about what may have gone on in their relationship behind closed doors and when the cameras were off, accusing Chyna of cheating on him and allegedly having a child with him to get back at her ex Tyga for dating Kylie Jenner. Nothing that Kardashian shared on was appropriate, regardless of what Chyna may have done to him. Using social media as an outlet to vent your feelings is one thing, but using it to settle the score with your ex by sharing photos of her that she likely never intended to go public is another.
While Kardashian was making his claims, Chyna accused him of abusing her in Snapchat posts that were soon deleted. She also posted videos on Snapchat and Instagram Live showing off her jewelry and Versace bedding as music played in the background — something that could have served as a statement to Kardashian and to her fans in general. Bustle has reached out to reps for Kardashian and Chyna for comment on their allegations, but has not received a response. A lawyer for Chyna told ABC News that they "are considering all legal options and recourses at this time."
The whole situation becomes even more horrifying when you consider that Kardashian and Chyna have a child together. Regardless of how they feel about each other, Dream's existence means that they will be in each other's lives forever. This feud might be something their co-parenting relationship can never come back from, and the person who is hurt the most by that is Dream. She doesn't deserve this, and it's hard to imagine how she'll react when she gets older one day and finds out what happened between her parents in such a public forum.
To go back to the actual show — on which Kardashian has starred for years and on which Dream and Chyna have been featured — it's hard to imagine a scenario where Kardashian's posts aren't brought up, because this show tends to include everything going on in the stars' lives. It's also shocking that after watching situations that have gone down on the show that Kardashian would still do such a thing. So many episodes of KUWTK have focused on how the women in this family have been affected when photos or information on them have leaked that they didn't want to go public. In one of the earliest episodes, Kim was horrified when a photographer tried to sell nude photos of Kourtney to tabloids. We've seen how each member has been hurt by having their personal lives exposed in a way they did not consent to. How could Kardashian do this to someone else, knowing how his sisters have felt when it's happened to them?
A big part of why I watch KUWKT is because it's often a funny, light-hearted escape from real life, and there's nothing funny or light-hearted about what Kardashian has done. Yes, serious events, like Kim's Paris robbery or the stolen pictures mentioned above, have been covered on the show, but this situation, in which a family member decided himself to share nude photos allegedly of his ex-fiancée, is different because it was in his control.
Even so, shutting down the entire series over this shouldn't be an option, in my opinion, since because Kardashian is a small part of a large cast and his sisters haven't done anything wrong, it wouldn't make sense to take the show away. What will be key for me as a fan will be how KUWTK chooses to handle the situation — and at this point, it's so huge that the show definitely shouldn't ignore it.
It would be uncomfortable for me to watch KUWTK approach this obviously big moment in Kardashian's life, knowing how damaging it may have been not only to Chyna but also to women who are watching, some of whom may have experienced something similar. But if the show is able to present what happened as wholly wrong and include whether or not his sisters disapprove of what he's done — and perhaps show him feeling remorseful about it, if that is the case — it could make for a strong episode that teaches an important lesson for fans, even if Kardashian doesn't learn from it himself. And it's a lesson that is overdue on KUWTK. (Bustle has reached out to E! for comment about how the show will continue and if the situation with Kardashian and Chyna will be included, but did not receive a response at the time of publication.)
After all, this isn't the first time Kardashian has been involved in controversy. Back in 2012, he tweeted and deleted a claim that an ex-girlfriend had allegedly cheated on him with "nearly 20 dudes." Many believed this to be about Rita Ora; Kardashian said that he never "said any names."
There was also a moment on KUWTK Season 13 that didn't involve Kardashian, but was also uncomfortable to watch as a fan because of how a woman was treated. Kim Kardashian flipped out on a woman Scott Disick had brought into his hotel room, calling her a whore, a tramp, and a groupie — something that was totally uncalled for, and which stood out since Kim had struggled with being called similar names in the past. It was offensive for me to witness that as a viewer then, and now, in light of how Kardashian is treating Chyna, it comes to mind again. (For her part, Kim did say in a subsequent episode of KUWTK that she felt bad for yelling at the woman.)
I believe that now is the time for KUWTK to make a solid effort at making a statement on slut shaming. It's something that, even with the mixed message from Kim during Season 13, has been something that the women in the family have been shown working against, and the show cannot ignore that kind of behavior with Kardashian's Instagram posts on everyone's mind.
I've had so much empathy for Kardashian as we've seen him struggle with weight loss and depression — especially in light of becoming a father — and as I watched the show, I rooted for him, hoping that he'd be able to find happiness. But after this, he's impossible to root for. How that feeling affects my viewing of the rest of the show, that remains to be seen when we find out how the it changes — if it does at all.