8 Helpful Ways To Deal With Your Anxiety About Getting The Flu (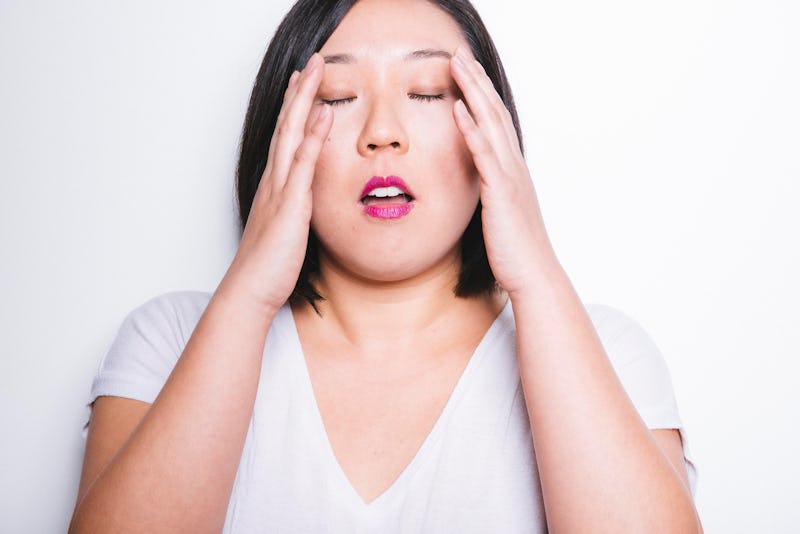 BDG Media, Inc.
Flu season is looming. Unfortunately, while you attempt to avoid the flu, you might feel creeping anxiety from the sense of being so out of control. Anxiety about the flu is common. But with anxiety relief tactics and increased awareness about how you actually can catch the flu, you may be able to feel better than you expected.
First, it's important to acknowledge that being worried about the flu is completely valid. There are three main reasons that these fear makes sense. "You can't see it," Dr. Joanne Singleton, Professor at the College of Health Professions at Pace University, tells Bustle. "[And] getting the flu vaccine doesn't guarantee that one of the strains in the immunization will be the one that infects everyone. [Plus,] people, especially young, old and those with other health conditions die from the flu." And while serious complications are rare (between 12,000 and 50,000 in 2011-2013, according to the Centers for Disease Control), and only five to 20 percent of the population will get the flu at all, it's still completely reasonable to fear an illness that has so much media buzz and general panic surrounding it.
It's important to remember that a lot of health-conscious people are going to have similar worries to you this flu season. "Know that you're not alone," therapist Elizabeth Cush, LCPC, tells Bustle. "A lot of people worry about getting the flu. It's no fun to get! Try to keep focused on what's actually happening in the moment instead of getting caught up in the 'what-ifs' and worst-case scenario thinking. If you do get sick with the flu take care of yourself!" It's healthiest to try to minimize how much you worry in the meantime.
Here are eight ways to deal with health anxiety around the flu, according to experts.