7 Ways To De-Escalate Situations With An Emotionally Reactive Partner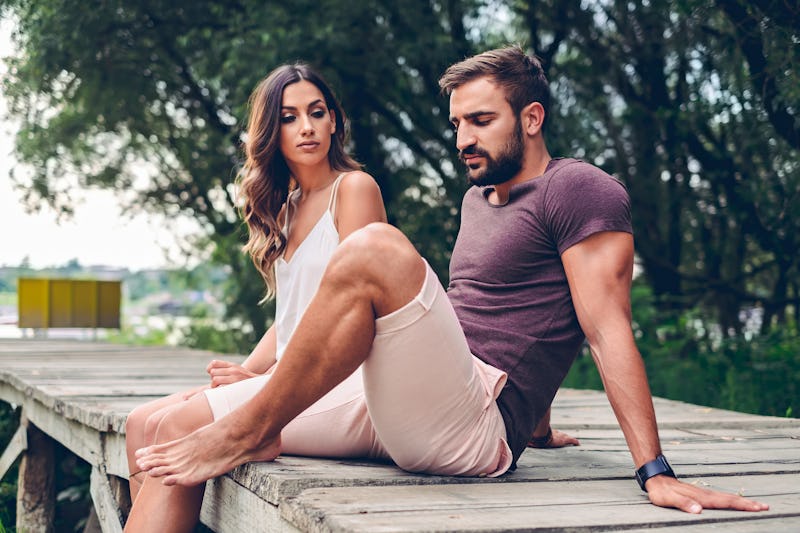 Shutterstock
Every couple has their share of issues that need to be talked out and worked through together. In order to solve anything, it's important to come into the discussion with a clear mind and a willingness to hear your partner out and make compromises. But it can be tough to stay calm when you have an emotionally reactive partner. If you get easily triggered by your partner's reactions, it can lead to an even bigger fight. So what can you do to prevent your partner's emotional reactivity from hurting your relationship? According to experts, there are some things you should keep in mind.
"An emotionally reactive person feels emotions very strongly and immediately," Michelle Henderson, licensed mental health counselor who specializes in relationship issues, tells Bustle. "While most people can take a moment to pause and think before they act on their emotions, an emotionally reactive person doesn't do this. They have very little time between feeling something and then acting on that emotion."
As you can imagine, this can lead to bigger issues in the relationship. For instance, it can make your fights more volatile and frequent. It can mean having to defend yourself over and over again because your partner can't let things go. It can also mean having to deal with your partner's bad attitude over small things that shouldn't be a big deal.
"Being with an emotionally reactive person can leave you feeling either exhausted from experiencing their emotional intensity or walking on eggshells trying to avoid conflict as much as possible," Henderson says. So here are some ways to deal with an emotionally reactive partner, according to experts.