Here's How You Can Find A #FamiliesBelongTogether Protest Near You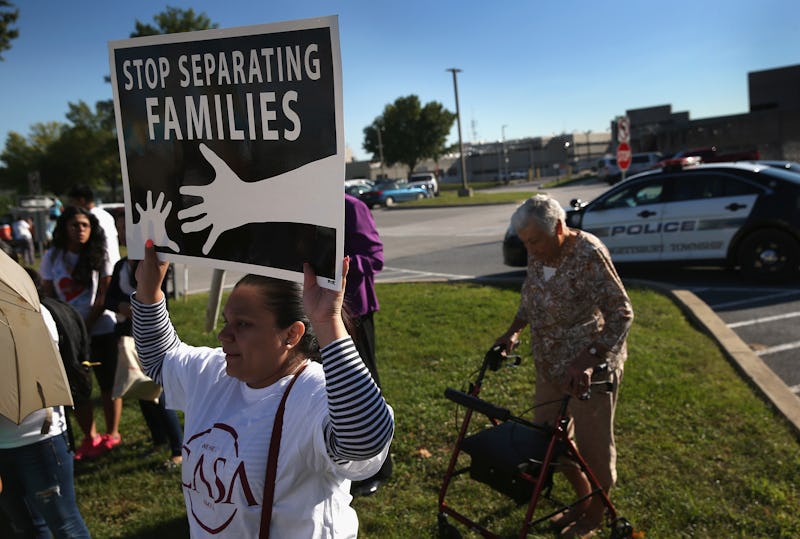 John Moore/Getty Images News/Getty Images
As outrage over President Trump's "zero-tolerance" immigration policy builds, so has the momentum for organized protests. Activists are joining forces to hold #FamiliesBelongTogether protests against the president's harsh immigration tactics, including forcibly taking children away from their mothers and fathers. So, how can you find a "Families Belong Together" protest near you? June 30 is the day when cities across America will protest against Trump's immigration policy.
If you're interested to join a #FamiliesBelongTogether protest near you, you can consult the interactive map on the official website for the demonstration. The main protest will take place at Lafayette Square in Washington, D.C., at 11 a.m. ET. According to the protest's Facebook event page, organizers say that they will go to the White House and demand the president to stop breaking immigrant families up.
"Families belong together, and we need to end this — now. Every day, this administration is cruelly separating children from their families. They have proven that whether it's at the border or in detention, we can't trust them to care for children," the organizers add.
Prominent Democrats like Washington Rep. Pramila Jayapal have vocalized support for the #FamiliesBelongTogether protests on air. While speaking on MSNBC's All In With Chris Hayes, Jayapal said, "The end game is really to say, 'This is about Trump.' Look, he would love to make this about — and you just quoted him — about Democrats. He would love to make this about legislation that has to be passed." She also noted that the main organizers behind the marches are National Domestic Workers Alliance and MoveOn.
Jayapal also said on MSNBC, "We see the outrage, and we see that this has to be taken right to the White House, right to Donald Trump, to stop the family separations."
Jayapal isn't alone in her fury against Trump's immigration strategies. Well-known Democrats as well as 13 Republicans have flamed Trump for tearing little children from the safety of their parents. That's not all. Former first ladies like Laura Bush, Michelle Obama, Hillary Clinton, and Rosalyn Carter have also condemned Trump's policy as inhumane and cruel.
If you can't find out the main area that is hosting a #FamiliesBelongTogether protest near you in the aforementioned website, you can get help from MoveOn's map. All you need to do is type your zip code in the search field and the database will populate possible options for you along with scheduled times for the events.
Still, if there are no events based on the #FamiliesBelongTogether protest, you don't need to worry. Organizers behind MoveOn encourage those interested in making their voice heard, to create their very own event and rally people for the cause.
The reports for the #FamiliesBelongTogether protests come shortly after a group of journalists were given access by the facilitator Southwest Key Programs into a Walmart-turned-detention center in the southern tip of Texas. More than 1,500 boys reportedly remain in the detention center, following stringent routines, two-hour only outdoor activity, and above call, without their parents around them. It's that kind of report that also compelled some to ask, "Where are the undocumented girls in shelters?"
So far, there are no signs of change. Trump administration figures, such as Attorney General Jeff Sessions, have justified its practice of breaking families up by using the Bible. But activist groups remain determined to call the president out.
American Civil Liberties Union's director of immigration policy, Lorella Praeli, lambasted Trump's immigration policy in a statement. "As a direct result of the Trump administration's policy choices, there is a human rights disaster of epic proportions happening at our border," Praeli said. "We can't let the Trump administration shift the blame or use families as bargaining chips for their inhumane policy agenda."
Images and even a secret ProPublic audio recording of children wailing for their parents may have broken the spirit of some observers. But from the looks of Jayapal's remarks on MSNBC, those demanding safety for immigrant families don't seem ready to give up the battle. In fact, like the Washington state lawmaker said, they plan to take it "right to the White House."