Here's The Ridiculously Easy Way To Get A Free Cheesecake Factory Slice Delivered To You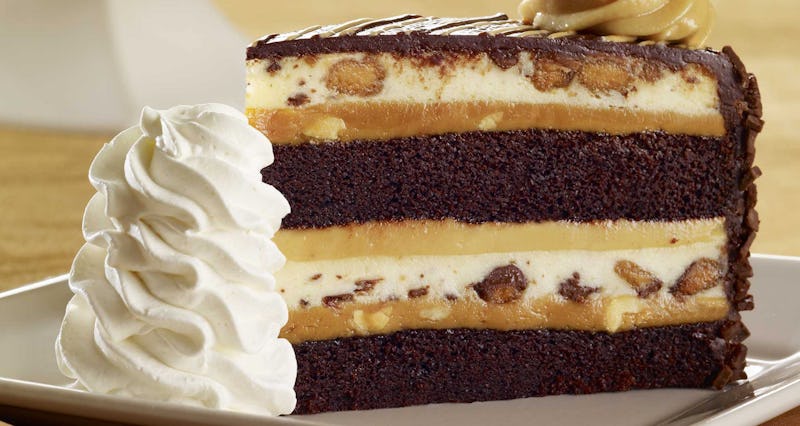 The Cheesecake Factory
As someone who includes the Cheesecake Factory's menu as one of their top favorite novels on Goodreads, I am delighted to announce that, for once, choosing your dessert at the iconic chain will be a simple process — because you'll be getting it ~for free~. In collaboration with DoorDash's Treat OR Treat promotion, the Cheesecake Factory will be giving away free slices of cheesecake with any DoorDash orders over $30 that is placed between Oct. 29 and Oct. 31. The only caveat is that the Cheesecake Factory has limited those options down to two flavors — but seeing as they are arguably the two best flavors on the menu,
Per press information provided to Bustle, fans' two options for their free slice include the Reese's Peanut Butter Chocolate Cake Cheesecake or the Hershey's Chocolate Bar Cheesecake, which are some words that just woke up my salivary glands from their post-lunch nap like whoa. All you need to do to take advantage of the offer is 1) Hit that $30 delivery minimum (which, done and done), and 2), enter the code "TREATORTREAT" at checkout. Then BOOM — you're answering the door to trick-or-treaters in the best costume you've ever worn to date: Person Who Is Very Much Enjoying A Free Slice Of Cheesecake The Size Of Their Own Head.
This does, of course, leave you with the existentially fraught challenge of figuring out which other items you want to buy to hit the minimum — because as easy and hitting said minimum is, deciding what you want to eat from a menu that rivals the size of a Harry Potter book is no easy feat. I personally recommend the Macaroni & Cheese Burger off of the Glamburger menu (y'all, that mac and cheese is FRIED), with the warning that if you're going to consume it and then chase it with a giant slice of cake, you need to ensure you have at least 10 uninterrupted hours to nap it off afterward.
Not sure if you qualify for this delicious promotion? You can check DoorDash's website and plug in your address to see the restaurants in your delivery radius. Mine, for instance, includes a salad place we literally work on top of, but alas, no cheesecake. Prayers up that you have better luck, fellow dessert lover — if you've read this far into an article dedicated to
Plus, to make life even sweeter, DoorDash recently launched a delivery subscription for $9.99 a month, giving customers free delivery on any orders over $15. If you live within the delivery radius of a Cheesecake Factory and you're not taking advantage of this, then gentle reminder that, in the wise words tattooed in acronym form on Zac Efron's hand circa 2011, you only live once.
Those of us outside of the delivery radius can, at least, take solace in the fact that the famous brown bread from this iconic chain is now available in grocery stores; may it be enough to absorb our tears until we find ourselves in the warm and welcoming arms of the Cheesecake Factory's nonsense architectural design once again.