If You've Been Building Up Having Sex With Your Partner, Here's How To Relax & Enjoy It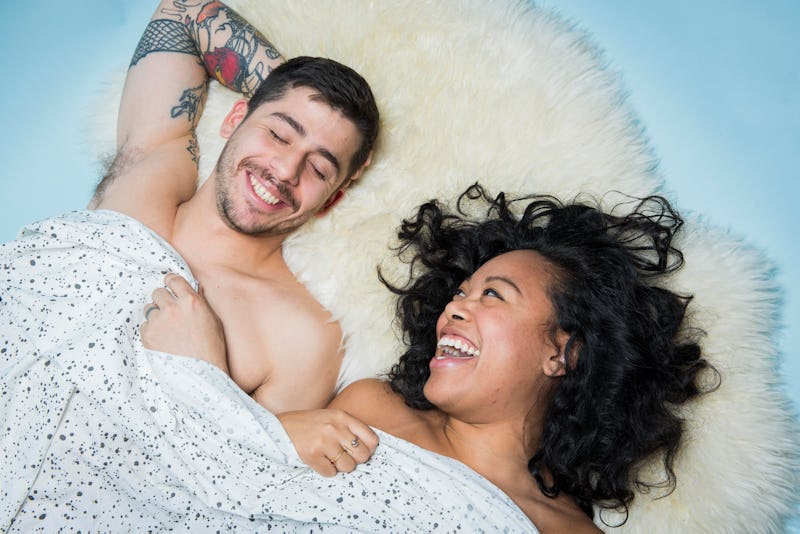 BDG Media, Inc.
In this week's Sex IDK column, Emma McGowan, certified sex educator and writer, answers your questions about how to enjoy penis-in-vagina sex for the first time.
Q: Me and my SO have been together for two years and have not had PIV sex yet due to health issues. Issues are gone and we're both nervous now. How do we get out of our heads and enjoy?
First of all, congratulations on resolving the health issues you were dealing with! I totally get how putting off PIV — which is a sex act that a lot of people hold up above other sex acts — could mean you and your SO might be a little more nervous to have sex than you would be otherwise. No worries — we got this.
First of all, let's talk about some of the psychological barriers that people might run into that keep them from having sex. While some barriers — like trauma, for example — may require professional help to get through, others may disappear as soon as you acknowledge them. Some people are nervous about sex because they're scared of being judged or rejected, or they're insecure about some aspect of their body or experience, or maybe they just don't want to do it! Point being: It's not uncommon for people to be nervous about sex in general, and PIV in particular.
To help you and your SO get down to business, I have a few suggestions that might seem all over the place, rather than a list you can follow from one to infinity. That's because everyone is super different when it comes to the things that help them relax. These ideas may have totally different results from person to person, so do what you feel comfortable with. If one doesn't ring true to you, keep reading! And no matter what you do, take a deep breath, relax, and know that you're going to figure this out.