Here's How To Stream The 2018 SAG Awards Red Carpet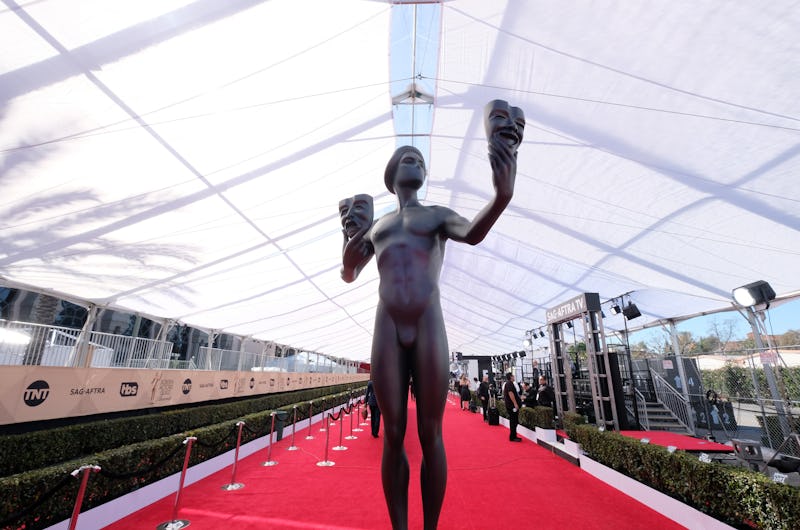 Dimitrios Kambouris/Getty Images Entertainment/Getty Images
From the cast of Big Little Lies to the cast of Lady Bird, the Screen Actors Guild Awards are all about actors supporting actors, and the show is just around the corner. If you want to see your favorite celebrities, though, you'll need to know how to stream the 2018 SAG Awards red carpet. Will the Stranger Things kids be as amazing as ever as they walk the carpet together? Will Time's Up be a topic of conversation again? The only way to know is to check out the pre-show festivities.
For those who have cut the cord and don't have cable, awards season can be an anxiety-inducing conundrum. Will you be able to see the interviews? The outfits? The horror of missing it is nearly too much, but don't worry. The award shows seem to realize that not everyone loves traditional cable anymore. Because of this you'll officially be able to stream the SAG awards thanks to TNT. The network has teamed up with Entertainment Weekly and People to bring you all the red carpet happenings.
According to Entertainment Weekly, the red carpet live stream will begin at 5:30pm ET/2:30pm PT giving you two and a half hours of celebrity ensembles and (hopefully) meaningful interviews about women in entertainment. As for where to catch the show, it will be live streaming on PEOPLE TV, Twitter, Facebook Live, the TNT website, SAG Awards site, In Style and Time. Basically, there's no reason to miss it.
While fans of the nominated actors and presenters are excited to see them walk the carpet, one of the biggest questions of the night is whether Time's Up will be a topic of conversation. The movement to end sexual harassment and assault in the entertainment industry made both a conversational and visual showing at the Golden Globes.
Attending actors wore black to protest the treatment of women in all industries and supported the initiative by wearing Time's Up pins. From Debra Messing calling out E! for allegedly paying Catt Sadler less than her male co-star to stars like Emma Watson bringing inspiring female activists to walk the carpet with them, the Golden Globes were much more than celebrities in pretty dresses, and it was a refreshing change of pace.
Prior to the Golden Globes, Time's Up began a campaign using the hashtag #WhyWeWearBlack that encouraged the attending actors and presenters and those watching at home to wear the color in solidarity with victims of sexual assault and harassment. No such campaign has been announced for the Screen Actors Guild Awards meaning there may be no specific request for attire. That, however, doesn't mean nominees won't be wearing the pins on whatever they decide to wear.
Of course, the Time's Up pin isn't the only one you may see if you choose to watch the carpet. During last year's award season, stars were spotted wearing multiple pins for many causes close to their heart. Academy Award nominee Ruth Negga — along side many other stars — wore a blue ACLU ribbon. Then, there was Emma Stone's Planned Parenthood pin, and Tatiana Maslaney's ampersand pin for GLAAD. Clearly, red carpets are no longer apolitical, and the small nods to organizations are a fantastic way to start meaningful conversations about topics we should all be discussing.
If you want see your favorite stars, find out if Time's Up will be mentioned, or see the nominees talk about their respective projects, you can. Whether you have traditional cable or not, the SAG Awards red carpet will be available thanks to live streaming with People and Entertainment Weekly. Set your alarm and get your computers ready to see some of Hollywood's finest.