7 Signs Your New Relationship Is Affecting You At Work — And Not Always In A Good Way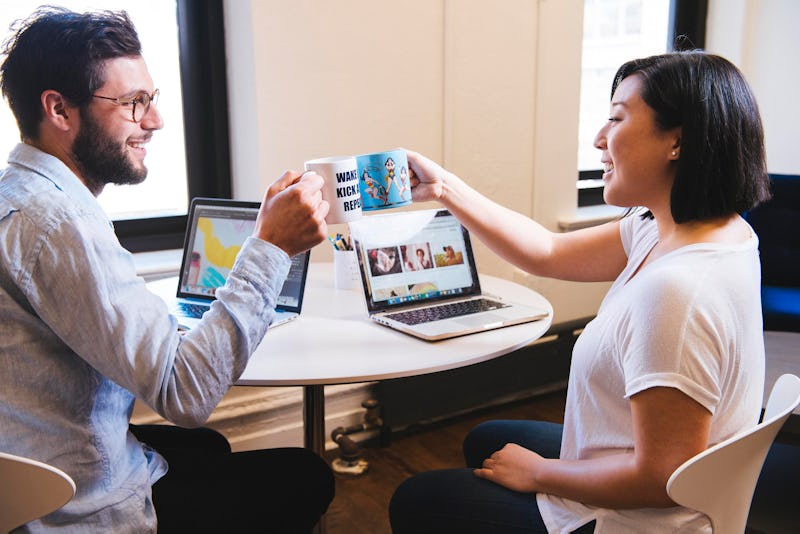 BDG Media, Inc.
Getting into a new relationship is incredibly fun and exciting. Likewise, going after your career goals can be the same. But balancing relationships and careers can be a tricky tightrope walk, especially if your new relationship is changing up your lifestyle more than anticipated.
There's nothing inherently wrong with your relationship affecting your career. Being with someone creates consequences. But if you're less than a year in, and already having the feeling that things are shifting, it may be time to examine things on a deeper level.
First, it's important to consider whether you're able to balance your relationship and your career. "Relationships are important factors of maintaining that work-life balance we hear so much about," Caleb Backe, a health and wellness expert for Maple Holistics, tells Bustle. "While relationships are a good way to make sure you're keeping your life in perspective, if your partner is the reason you can't balance you work priorities, then your equilibrium is off." Whether you feel like the scales are tipped heavily towards either your partner or your career, looking at the reasoning behind that is important.
"A new relationship can be good or bad for your career, depending on the nature of it," former Wall Street hiring manager and co-founder of Resume Writing Services, Jennifer Roquemore, tells Bustle. "If you have a partner who encourages you to reach for the stars and achieve your professional endeavors, you're actually more likely to excel in your career. In fact, according to a study done by Washington University, your spouse's personality has a huge influence on your personal career success." If you're starting a new relationship, but thinking things might last in the long-term, then taking into consideration how your career might be affected is more necessary than you might think.
Here are seven signs your new relationship is affecting your career, according to experts.