I Couldn't Find A Beauty Campaign With Plus Size Models, So I Made One Myself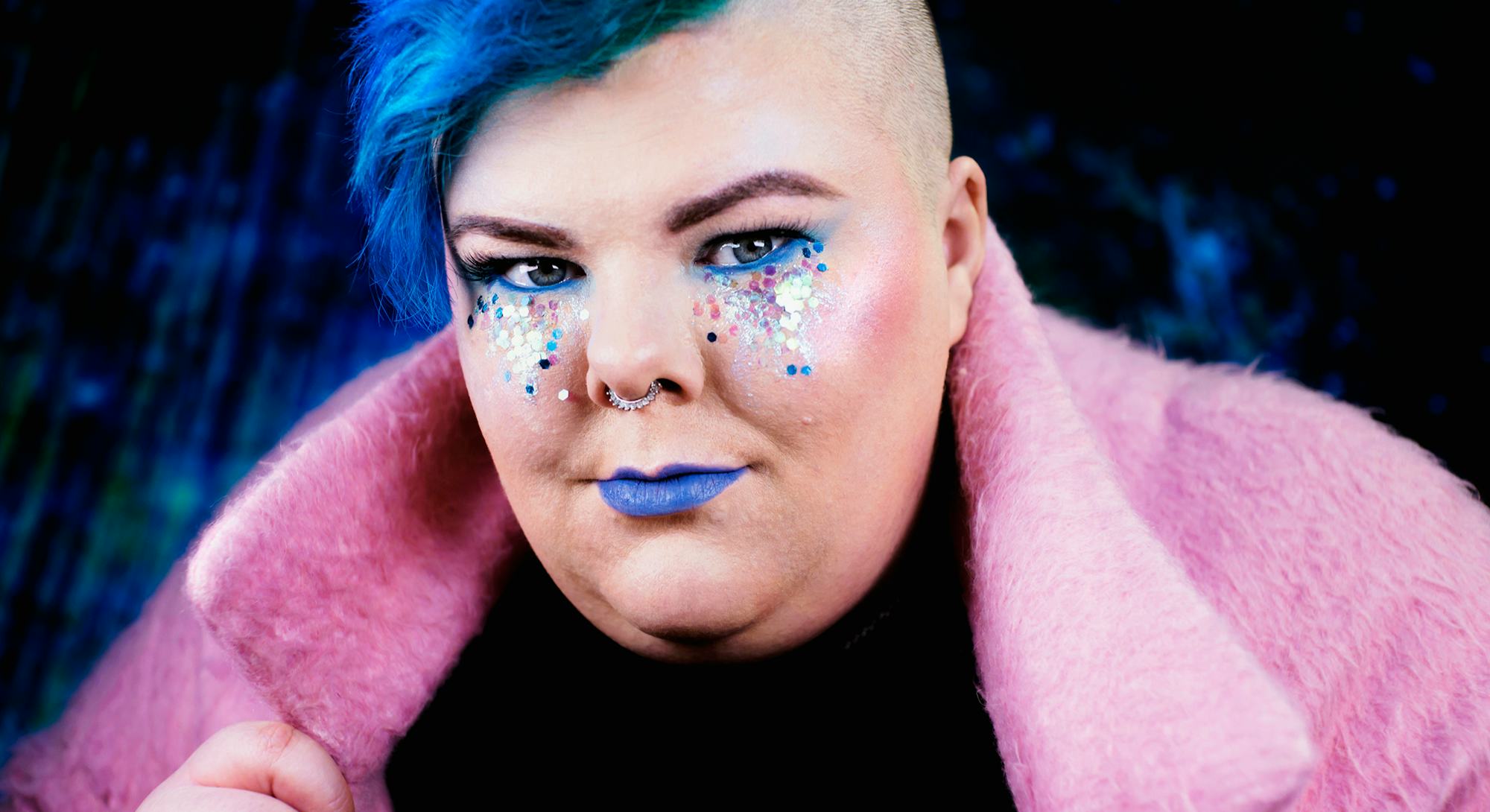 Paddy McClave/Bustle
In the fall of 2015, I visited relatives in my hometown, a small suburb of New Jersey. There isn't much to do there, apart from dining at Applebee's or hitting the mall. As a plus size woman, cruising through a shopping mall is a mixed bag. Certain department stores may carry sizes 16 and up, but often, the styles they offer don't align with my aesthetic.
Makeup, though, is a totally different story.
When it comes to makeup, the mall is a haven. A place where I can try on the same products as my thinner friends. A place where all of us can walk away with something that makes us feel beautiful, or sexy, or fun, or adventurous.
Although I've long loved the creativity and access to experimentation that the world of beauty can offer, that world unfortunately hasn't always seemed to love me — or the idea of my body, at least — back. Finding a plus size face when searching through beauty editorials and ads online, in magazines, or at brick and mortar shops isn't just rare: It's damn near impossible.
On that mall visit in 2015, however, I saw a plus size face in the MAC corner of Macy's. It was the year of the brand's MACnificent Me campaign, which featured some of its actual customers in an editorial shoot. Among them was Luzmaria Vargas, a plus size Californian who, like me, had round, cherubim features. She really did look magnificent in her photos, and I wondered briefly whether this might have been the turning point. The moment when beauty brands began to realize that plus size models not only deserve a place in their editorials and campaigns, but that they can slay just as hard as their counterparts.
MACnificent Me wasn't the turning point, though. The turning point has yet to come. More fashion brands may be catering to plus size consumers than ever before (even if the market is still terribly under-served). More visibly plus size models may be landing clothing campaigns. Beauty, however, is lagging far behind. Although curve model Ashley Graham signed a major campaign with Revlon this year, she remains an exception in an industry still dominated by thinner, more chiseled visages.
There have been other exceptions over the years too, to be fair. Emme Aronson, often dubbed the first plus size supermodel, was a spokesperson for Revlon in the '90s. Queen Latifah has starred in CoverGirl campaigns for over a decade. Paloma Elsesser modeled for the launch of Glossier's body care line in 2017; and Marquita Pring featured in a diverse L'Oreal campaign that same year. Still, these women are not the norm. Still, visibly fat faces remain almost entirely excluded from modeling the products that are bought and used by customers of all sizes.
It was with all this in mind that I decided to create a beauty editorial of my own. Teaming up with makeup artist Alexandra Clark of Golden Axe Makeup, body positive photographer Paddy McClave, and Fenty Beauty, Rihanna's makeup line known for its commitment to diversity and 40 foundation shades, I shot five UK-based plus size models, including Sharon Davies of Rad Fat Feminist, Dennetta McKain of Livin' Phat Livin' Large, Em Smyth of Terrible Tumbles, Mayah Camara, and Tara Louise. For me, their faces serve as a reminder that fat babes can rock any beauty look, no matter how esoteric, out-there, or timelessly chic. Theirs are faces that will no doubt be relateable to much of the 67 percent of American women who wear plus sizes, many of whom are also buying makeup. Theirs are faces for change.
Dennetta McKain
"In the world of beauty, being 'overweight' or fat is not acceptable," Dennetta tells Bustle. "Brands and industries have made it believable to consumers that being beautiful and glamorous is being slimmer."
The messaging may be culturally pervasive, but Dennetta isn't having it. "It doesn't make me feel bad about myself because I am fabulous," she jokes. "Beauty has absolutely no size and every person should be represented regardless of how big or small they are physically."
The model and blogger believes that the reason we don't see more visibly fat faces in beauty is because brands are "scared to take the 'risk' [...] as they may receive backlash of 'glorifying obesity.'"
What this shoot has proven to her is that models can have "different skin tones," "different fashion styles," or be "pear-shaped, busty, petite, or tall," while simultaneously being plus size, and still slay every step of the way. Even in a kitschy green lipstick and pink eye shadow combo.
Dennetta is wearing Fenty's Pro Filt'r Foundation in 470 (Neutral), Match Stix in Linen and Honey, Confetti Match Stix on the center of her lids, Killawat Highlight in Trophy Wife, and Mattemoiselle Plush Matte Lipstick in Midnight Wasabi.
Em Smyth
"We're so used to the same white, angular faces in [beauty] editorials and tutorials that it's a real lottery working out whether the same products are right for you," blogger and model Em tells Bustle. "When I attempt to contour the way I see on more angular faces, I end up drawing a small face on top of my big face. It's ridiculous."
Not only does Em believe the lack of plus size faces in the beauty world is impractical, but it also does a disservice to something that could otherwise feel creative and liberating. "Cheekbones and a sharp jawline are only 'fashion' because that's what we're used to seeing," she adds. "Makeup shouldn't follow rules. It shouldn't be there to mask your individuality [...] It's often the closest thing we have to play as adults and we should throw it around with wild abandon!"
Em's bold, Ziggy Stardust-esque beauty look is one that's meant to be seen. It's a means to reclaim the space she occupies, and to do so while looking as glamorous as she wishes. At a time when "a quick Google of 'plus size makeup' returns page after page of 'application techniques that can help contour and flatter your face shape,'" these looks and imagery are invaluable.
Em is wearing Fenty's Pro Filt'r Foundation in 120 (Neutral), Killawat Highlight in Ginger Binge/Moscow Mule for her blush, Match Stix in Linen and Walnut, Mattemoiselle Plush Matte Lipstick in Griselda, and the Confetti Match Stix mixed with the Ginger Binge Highlight for added shimmer.
Tara Louise
For Tara, it's clear that fat faces are absent from beauty campaigns because "fat is still a taboo" in Western culture at large. "If there were more round faces and double chins in the beauty industry, it would been seen as an encouragement to be happy in your own skin no matter what our size and let's face it, the beauty industry doesn't want that."
So much of the industry is dominated by lotions and potions crafted to reduce the appearance of cellulite or stretch marks, if not shrink our faces and bodies entirely, that Tara believes "if we were truly represented in the beauty world and encouraged to love ourselves, a large majority of profits would tumble because the beauty industry cashes in on us not liking ourselves."
Much of makeup advertising, however, isn't overtly about weight loss or body size. This is perhaps why it has the most potential for progressive change. "I think it's very important for more plus size faces to be represented," Tara adds. "Fat isn't a bad word. Being fat isn't a bad thing. It's also not the be all and end of a person or what makes a person beautiful. Diversity is beautiful in itself."
Tara is wearing Fenty's Pro Filt'r Foundation in 350 (Neutral), Killawat Highlight in Trophy Wife, and Stunna Lip Paint.
Mayah Camara
Fashion blogger Mayah is absolutely over the lack of plus size faces in beauty, even if she's not surprised by the issue itself. "I think that the industry has embraced plus size women in regards to being consumers, but we are still seen as undesirable in most other ways," she says. "The typical slender European standard of beauty is still on a pedestal when it comes to what constitutes as beautiful or attractive (when it comes to industry standards)."
She's optimistic that body positive and fat positive communities on the web are sparking shifts, though. "I love the fact that there is a grassroots movement taking place via social media which is allowing women of all sizes and ethnicities to come forward and celebrate themselves," she adds. "I think that people need to understand that being big and confident is by no means promoting an unhealthy lifestyle. It's our way of being comfortable in our skin."
Now if only established industries could realize as much.
Mayah is wearing Fenty's Pro Filt'r Foundation in 390 (Warm) and 320 (Warm Peach), Match Stix in Rum and Honey, and Mattemoiselle Plush Matte Lipstick in PMS.
Sharon Davies
Writer and fat positivity advocate Sharon knows that "plus size, or fatness, is not seen as aesthetically pleasing. Essentially, it's just another strand of the beauty and body standards portrayed by the mass media."
"Honestly, before the shoot I'd not even registered the fact that I never see faces like mine in beauty ads and editorials," she confesses. "I guess I'd just got so used to accepting it as the status quo."
After participating in this shoot, however, Sharon says that "having the opportunity to create a visual representation of my personality was amazing. It did wonders for my confidence and body image to see myself represented in a way that usually isn't accessible to me."
In recent years, publications like NYLON have embraced experimental and OTT beauty looks in their editorials. More and more brands, like OCC Cosmetics and Milk Makeup, have similarly understood that not all consumers are drawn to a standard smoky eye or glossy lip. Some want an added dose of boldness. Some want rule-breaking at its loudest.
Some are also fat; and we not only want to witness these alternative narratives unfolding. We want to be a part of them.
Sharon is wearing Fenty's Pro Filt'r Foundation in 110 (Cool), Match Stix in Confetti, and Mattemoiselle Plush Matte Lipstick in Ya Dig?!
In the end, the recurring theme throughout this shoot seemed to be "alt-glam," a term that came to mean two things. First, "glamour," much like "femininity" or "beauty," is arguably undefinable. It needn't be restricted to imagery of kitten heels, red lipstick, or a double set of pearls. It is what we make of it. It can be blue lipstick, glitter tears, or fiery eyeshadow. It can be anything that makes us feel bold, interesting, or fabulous.
Most importantly, however, fatness and glamour can coexist. Weight loss is not a prerequisite for embodying glamour or intrigue. It's not a prerequisite for attracting customers to a product, either. If these images prove anything, it's that using plus size models in beauty campaigns won't lead to "sloppy" or "unprofessional" imagery simply because these are words culturally (and wrongly) associated with larger bodies. In fact, the end results are nothing but striking.
In the words of Alexandra Clark, the makeup artist on this shoot, "It'd be incredible to see fat faces in creative makeup outside of self-publishing platforms, not just for inspiration, but for normalization." As it stands, plus size babes probably comprise less than one percent of the models Alex sees in glossy magazines, even if there's no logical reason for this to be the case.
"The only issue I've ever had with working on plus size models is that they can be reluctant to try out-there looks, because 'the plus size model' is either pinuppy or natural, beigey, effortless makeup," she explains. "I understand where they're coming from, though. 'Pretty' makeup is a comfort blanket that can be hard to get rid of."
What both she and I hope is that the beauty looks and imagery of this shoot serve as encouragement the next time a plus size human dreams of trying a bright green pout, fiery eye shadow, or eight layers of highlight. That they serve as inspiration for being seen.
As for the beauty brands themselves, hopefully they'll start allowing us to be seen, too.