I Tried 11 Social Media Makeup Hacks & The Results Were Mostly Not Ideal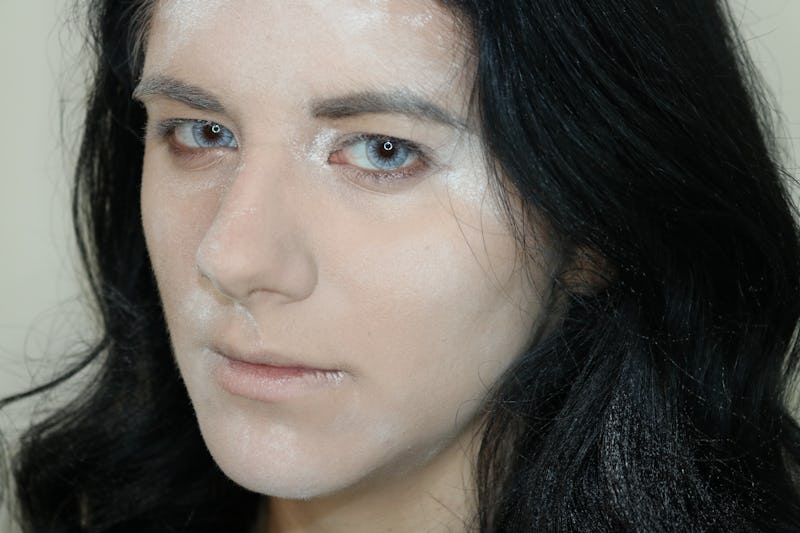 We've all seen videos where #MUAs apply foundation with tomatoes and condoms, mix DIY concoctions like they're the Sanderson Sisters, and apply contour with Louboutins and knives. Have you wondered whether these tricks really work? Well, I tried 11 of these social media makeup hacks so you don't have to.
These days, sites like YouTube and Instagram are littered with how-to's, DIYs, and, most disturbingly of all, life hacks. In our era of fast-paced living and effort-saving shortcuts, hacks are invented and shared for the sheer purpose of making our busy lives slightly easier. The goal is improve productivity while alleviating financial, time, and other burdens from our everyday toils. But some hacks are just hack jobs. They logically make sense, but, in practice, they're just more hassle than they're worth. Something that should cut your contour time in half can suddenly take a half hour. Tips to make your makeup last all night might nearly melt your skin off.
But you don't know until you try, right? It's hard to know upon first inspection which of these hacks will work, and which will try to murder you. So, that's why I'm here. I made my skin, eyes, and lips angry all in the name of makeup science and, well, this article.
So let's get this party started.
1) Use A Lighter to Warm Up Foundation
So this hack makes sense in theory. Some cream products, like foundation sticks, can be tough to blend it they aren't properly warmed up. For this hack, I used a lighter to gently heat my Lancôme Teint Idole Ultra Longwear Foundation Stick before applying it onto my face. Word to the wise: I've seen quite a few YouTubers do this, so I've learned what not to do. Do not heat up the stick until it melts. You'll be wasting product and you'll most likely burn your face.
Lancome Teint Idole Ultra Longwear Foundation Stick, $42, Sephora
I started by applying the foundation as usual to the right side of my face. I drew on some stripes directly from the stick to where I knew I'd need more coverage before buffing them out with the Marc Jacobs The Face III Brush. The coverage was a healthy medium. I've been dealing with come extra redness and blemishes lately, so I tapped on additional coverage to my problem areas with my fingers.
Marc Jacobs The Face III Brush, $48, Sephora
To be quite honest, this foundation already blends like a dream. It's a little too emollient for me, being an oily gal myself, and it's not quite the right color (hence why I decided to use it for this experiment), but it you have normal to dry skin and you like a clean, velvety finish, this foundation is where it's at.
Then, I heated up the foundation stick, and applied it just the same.
To be honest, there wasn't much of a difference. The heated side maybe blended into my skin a smidge more easily, but the difference certainly wasn't significant enough to merit this hack a success.
I also swatched my Bobbi Brown Skin Foundation Stick before and after heating with the lighter, just to be 100% sure.
Bobbi Brown Skin Foundation Stick, $46, Sephora
It was much more difficult to swatch the foundation stick after heating, and the swatch was much more cakey. Definitely not glam.
The Verdict: This hack is not on fire.
2) Apply Highlight and Contour In A "3 and E" Shape
As a makeup artist, contouring in a big 3 and E shape is definitely something I recommend for those just starting out with sculpting. It's an easy way to remember contour placement around the perimeter of the face where shadow naturally falls. This highlight hack, however, I cannot speak for. It seems like we're pushing it to make this memory hook work for both elements.
But, of course, I tested it out anyway. I used the doe foot applicator of my Kat von D Lock-It Concealer Crème to apply my highlight in a big "3 and E" shape first. I started in my forehead, curved the first loop of the 3 under my eye, and curved the second loop of the E through my smile lines and onto my jawline.
Kat Von D Lock-It Concealer Creme, $26, Sephora
I definitely had to dip into the product more times that I do when I'm highlighting my face the "normal" way. I applied a big E around the perimeter of my face using my Make Up For Ever 108 brush and the Anastasia Beverly Hills cream contour shade Fawn. I started on my temple, curved under my cheekbone, and then went around the perimeter of my face to curve under my jaw line.
Make Up For Ever 108 Brush,$36, Sephora; Anastasia Beverly Hill Cream Contour Shade In Fawn,$40, Sephora
To prevent my highlight and contour from becoming one big muddy mess, I always blend out the highlight first and the contour second. I blended out the concealer with my fingers, which took 10,000 years. There was so much product on my face in very unnecessary areas. I ended up having to wipe some of it off as I went. Plus, I felt unbalanced without any highlight on my nose and chin.
I also blended out my contour with my fingers, but this time I started at the perimeter of my face and worked my way inward.
The final result wasn't terrible, but I certainly did waste soooooo much concealer.
The Verdict: The 3 shape works for contour, but definitely not for highlight.
3) Fork Contour
This hack has been floating around the Internet for quite some time. My roommates may kill me for using our shared utensils to apply my makeup, but, ya know, sometimes we must all make sacrifices for the sake of beauty. I understand how this hack might work, but I don't understand why it's easier than just freehandedly drawing on and blending out lines.
I placed the center "hole" between the prongs of the fork down the center of my nose and filled in the "holes" on either side with the same contour color as before. If was nearly impossible to tell the holes between the prongs apart and, TBH, I did a terrible job of it.
I blended out the product with my fingers and had to put a little concealer down the center of my nose to fix my mistake.
The Verdict: This dinglehopper did not make my collection complete.
4) Baby Powder And Cold Water To Set Face
I've seen this Ice Water/Setting Powder hack everywhere and I'm truly curious to see how effective it will be. Jamsu, as it's known in Korea, has been rumored to set makeup creaselessly for hours on end. I feel like it may just be the power of persuasion, like a placebo pill, that makes this hack seem so successful, but we're about to see.
I started by applying a thick layer of baby powder onto my entire face with a big fluffy brush. I'd read that baby powder does the trick, so I skipped my Laura Mercier for the moment.
This was quite possibly the messiest makeup trick I've ever done. The baby powder got everywhere: on my shirt, in my hair, on my rug, down my throat. It was ridiculous. Plus, my face felt as dry as a desert. And I'm oily. And I was wearing moisturizer. Seriously, how did we get here?
Just in case my face wasn't feeling harassed enough, I then dipped my head into a bowl of ice-cold water and left it there for about fifteen seconds before coming up for air.
The result was... fascinating to say the least. Immediately upon inspection, I noticed that some of the areas of my complexion, though submerged, still had a thick, visible layer of baby powder coating the surface.
Once I patted in the remaining surface texture, my complexion didn't look bad. But it did look cakey. Even though I have oily skin, I try not to layer on so much powder to the point where I become cake face. I like my skin to skill look like, well... skin. But this was something else. My skin looks so heavily made up and it felt so dry to the point where it was painful and itchy.
Also, it created the worst flashback ever, which is why I look so ghostly pale (even more than usual, which I didn't think was possible) in all of the following pictures.
I kept this makeup on for 12+ hours so I could really test this hack properly. I didn't get visible oil production until hours after my norm. However, when the oil did pop through around my nose and on my forehead, the foundation became thick and pasty, almost the texture of glue. When I finally removed it, my skin was raw and irritated, which I attribute more to the Baby Powder than to the technique itself.
I would maybe try this technique with a better facial powder, like my Laura Mercier Translucent Setting Powder. But then again, do I really want to be throwing my dollars into a bowl of ice water? Probably not.
Laura Mercier Translucent Setting Powder,$38, Sephora
I'm the oiliest human being I know, and this dried out my face like crazy, so I can't imagine anyone with dry or even normal skin using this hack.
The Verdict: No to the no to the no no no.
5) White Pencil Under Shadow
I've already utilized this hack dozens of times, but let me show you how well it actually works. Using a white chubby pencil can intensify bright colors of shadow for any skin tone. Be very careful to blend out any harsh lines or edges. If you don't, you'll see the harsh edge of the white pencil through the shadow and it will look super awkward. Then, pat your pigment on top and BLAM! Super saturated shadow.
To even the playing field, I didn't apply shadow primer to either eye. On my left eye, I applied NYX's Jumbo Eye Pencil in Milk from lashline to crease, patting out any harsh lines and edges with my finger.
NYX Jumbo Eye Pencil In Milk, $4, Amazon
I then patted on Love Letter from the Anastasia Beverly Hills Modern Renaissance Palette to the center of my lid, and used the ABH brush to apply shadow to any hard to reach places and buff out any harsh lines and edges.
Anastasia Beverly Hills Modern Renaissance Palette, $42, Sephora
The result was super rich and saturated.
On the other side, I used the same application technique without using the Milk pencil as a base.
The difference speaks for itself.
The pencil base not only locks on the shadow for prolonged wear, it also gives the shadow brightness and additional saturation. The non-pencil side was super patchy and inconsistent.
Bonus hack: if you're using a metallic shade or shimmer, you can layer it on top of a black pencil base to give it more depth and more reflect.
The Verdict: This makeup hack works! Finally, one really, really works!
6) Tape As Brush Cleaner
Now I'm pretty partial to using Sephora Collection Citrus Brush Cleaner, but I'm sure there will come a time when I run out without having an immediate replacement or I travel and forget to pack it. For me, brush cleaner is a must. I'm always using bright shades and varying formulas, so shadows get really muddy really quickly if I don't quickly clean my brush between products. I think this hack will work a bit, but probably not enough to be sufficient for my technicolor lifestyle.
Sephora Collection Citrus Brush Cleaner, $12, Sephora
After I applied my shadow for the last hack, I dab-dab-dabbed my brush onto a small piece of tape and it worked! Not super well, but it worked! There was still a little bit of pigment left over in my brush, but certainly not enough to make the next eye look muddy. The biggest draw back is that it doesn't really clean your brushes of bacteria and other junk, which is important.
The Verdict: Definitely works in a pinch
7) String to Create Liner Angle
Personally, I love doing liquid liner. I've been wearing a cat eye pretty much every day since fifth grade, so if I wasn't decent at it by this point, we'd have a real problem on our hands. The first eye is always easy as pie. But the second eye is always... interesting. It takes some real faith, trust, and pixie dust to get both eyes exactly even. I'm thinking (really hoping) this hack will help to expedite the process for all of us.
I started by coloring my Pat McGrath Liquid Liner on a small section of dental floss because I wasn't about to go to the craft store to buy liner for this hack. Sorry not at all sorry.
I then lined up the floss with the outer corner of my eye, following the angle of my bottom waterline upward. Then I wiggled it back and forth until a little color was deposited on my skin.
I then repeated the same process on the other side.
Yes, it works, but it didn't make it any easier to match the two angles.
The Verdict: It's like having a toddler sketch the Mona Lisa. Yes, it'll give you a guideline, but you still need to be a DaVinci to make it work.
8) Liquid Lipstick As Eyeliner
If you want a bright, colorful wing and you can't find the perfect liquid liner, than this hack can be a savior. But, there are two major drawbacks. The first is that some colors may stain your lid a bit. It's great when liquid lipsticks stain your lips because, even when the product wears off a bit, something will still remain on your lips. But it's not so cute when you remove your makeup at the end of the day and your lids are semi-permanently pink. The second reason to use caution is that some liquid lipsticks contain dyes that may be deemed unsafe for the eye area. If you're prone to sensitivity, I recommend doing a patch test before trying out this hack.
However, when it comes to my eyes, yolo. I used Kat von D's Everlasting Liquid Lipstick in Exorcism and a very thin angled brush to create the wing. I tried to follow the line I created with my dental floss, but it didn't really work out, hence the tiny little black stripe above the tip of my wing.
Kat Von D Everlasting Liquid Lipstick In Exorcism, $20, Sephora
The liquid lipstick worked perfectly as liner. It stayed all day, didn't cause any sensitivity (at least for me), and it didn't stain my skin at all.
The Verdict: If you're good with a brush, you'll be good at this.
9) Using A Banana Peel To Whiten Teeth
I'm praying this hack will work. I love me some bananas and I've yet to find a use for the peels... until now. According to YouTuber Wengie, you can use the inside of a banana peel which will "act as a gentle exfoliator." Wengie says that you should see results within a couple of weeks, but she saw results right away. Now I was pretty doubtful that this hack would work, so I decided to do some further research. According to website PureWow, if you rub the stringy, inner part of the peel against your teeth, leave it on for ten minutes before brushing it off with a toothbrush and toothpaste, and repeat this process for two weeks straight, this hack will really work.
So, I tried it... and it didn't work. Actually, I hated it so much after the first time that I never tried it again. My mouth looked gross, felt gross, and even after brushing them, I'm fairly certainly that they looked more yellow than they were before.
The Verdict: Myth Busted.
10) Shadow Primer on Lips
This super simple, super easy hack just makes life easier. Use a grain of rice size amount of a hydrating, translucent or slightly neutral eyeshadow primer, like Nars Pro-Prime™ Smudge Proof Eyeshadow Base or Urban Decay Original Eyeshadow Primer Potion. The primer, especially the Nars, will help to smooth out the appearance of fine lines and wrinkles while keeping your lipstick on like double-sided sticky tape. Just be sure to use a primer that's super creamy. If you use one that's too nude or too matte, you're lips run the risk of looking cakey.
NARS Pro-Prime Smudge Proof Eyeshadow Base, $26, Sephora; Urban Decay Original Eyeshadow Primer Potion, $20, Sephora
I smeared a grain of rice size amount of primer all over my lips as if I were applying lip balm. My lips felt a bit tacky at first, but that tackiness it what we want. It holds the lipstick on like double-sided sticky tape.
My lipstick stayed on quite a bit longer than average, even though it was creamy and emollient.
The Verdict: You Betta Werq.
11) White Eyeliner To Create Ombre
If you want the appearance of full lips without having to paint it on like Caravaggio, then this hack is useful to have in your arsenal. YouTuber Sylvia Gani applies a Drugstore white eyeliner pencil to the center of her upper and lower lips before applying a sheer lipstick shade and it looks that same as a painstakingly applied ombre. Let's try out this track and see if it works.
I once again utilized my NYX Jumbo Pencil in Milk, because, might as well. I colored in the center of my top and bottom lips, not going beyond the width of my Cupid's bow. I then blotted my lips together a few times to get rid of any harsh lines or edges.
Then, I applied a layer of Marc Jacobs Beauty New Nudes Sheer Gel Lipstick in Role Play to my lips. Sheer, creamy lipsticks work best because they blend out the white pencil while still allowing it to be visible.
Marc Jacobs Beauty Nudes Sheer Gel Lipstick In Role Play, $30, Sephora
It worked! My pout looks fuller! We're not Kylie Jenner, but we're getting there, amiright? So glam.
The Verdict: This NYX Milk Pencil is the only hack that works.
If hacks are meant to make your life easier, then the majority of them were not successful. The only hacking that happened is the hack job that occurred to my face.
My expression just conveys all the internal and external pain I was feeling.
Shortcuts are great, especially in makeup. They can always save you time and money. But take all hacks with a grain of salt — sometimes, they'll surprise you. Other times, they'll leave you feeling like I did when I took the photo at the top of this article.