I Tried Spider Lashes IRL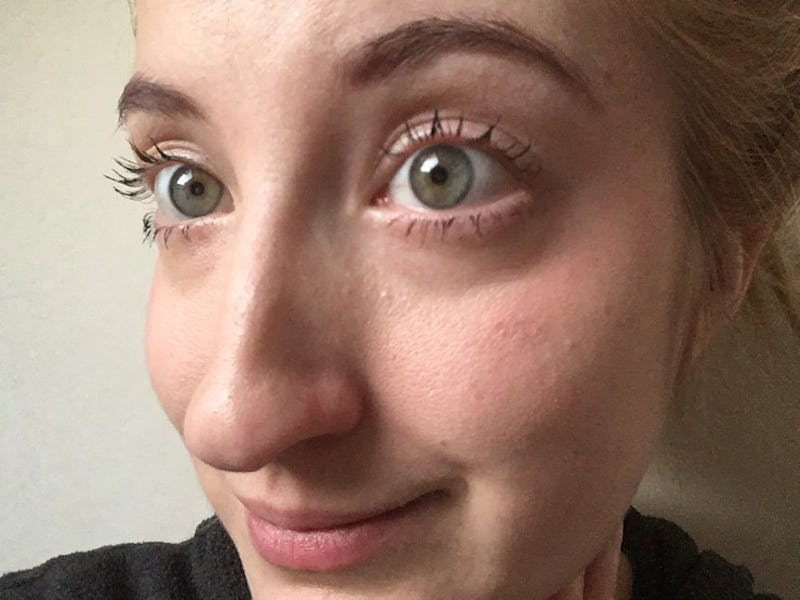 There is one lash trend on the horizon that turns this traditional way of thinking of lashes (long, light, not clumpy) on its head: Spider lashes. So I tried spider lashes IRL to compare how a different lash look would make me feel in contrast to wearing classic eyelashes. I also wanted to see how they worked in everyday life, in comparison to existing mostly in the realm of high fashion.
As a feminine presenting gal, I rarely leave the house without a touch of blush, a smudge of concealer, and of course, a slick of mascara. I'm not someone who has to have the latest designer tube of mascara — as a vegan, I prefer cruelty-free makeup brands — and my favorite brand of mascara right now is Lush Eyes Right, because it contains more natural ingredients and less nasty chemicals.
I'm pretty low-maintenance when it comes to makeup in general, but I do feel naked and not quite as confident, without my mascara. This could be down to the fact that my eyelashes are fairly average in length and thickness; nobody would ever class my natural lashes as luscious. When I perform in my vintage girl band, I wear false eyelashes to add a touch of Hollywood decadence to my overall look.
Spider lashes are a totally different ball game and I was eager to see how they translated to everyday life.
The Inspo
When you imagine spider lashes, you might picture Twiggy's larger than life, drawn on eyelashes, but in reality, they're not anywhere near as glamorous. Spider lashes are essentially clumpy eyelashes. IMO, they look like the wearer has come to the end of their mascara tube (or the solution is drying up) and they've had to scrape around the tube to get the last dregs. As the name suggests, spider lashes resemble the legs of a spider — they're spindly, but also clumpy enough to make a nod towards the minute hairs on arachnid's limbs. If you suffer arachnophobia, you probably don't want to try out this trend anytime soon.
So you might be wondering, how on earth are spider lashes even a thing? Seeing as they sound so delightful. Well, Vogue reported that spider lashes have been seen on the runways, "Two autumn/winter 2016 shows that mastered the technique were Jason Wu and Christian Dior, where Yadim and Peter Philips respectively created looks that managed to get the balance just right." With the fashion giants under the spell of this hypnotic look, it mightn't be long before the mainstream gets caught up in the web of this quirky eyelash trend.
"I think its's appealing because it's actually wearable. Sometimes on the runway we create looks that are somewhat editorial or avant-garde, but this look is so clean and fresh it can be worn on the street, to work or even a night on the town," Yadim told Vogue. He added, "Its appealing because it's accessible yet bold, and daring without being over the top." Although I'm not sure that all mascara-wearing folks would be down to embrace this unusual trend, I understood where he was coming from — as it's literally an eyelash trend, it sounded quick and easy to achieve in comparison to beauty trends that require a full face of makeup.
The Method
As a fan of Sailor Moon and other anime, I liked how Yadim described his creation as, "almost animated-looking lashes" and Vogue recommended readers complement their spider lashes with, "Manga-style twin buns" which I was totally down for. Consequently, I decided I would attempt to adopt the cartoony vibe that the spider lashes would help to emulate. Looking at the models from the Jason Wu autumn/winter 2016 show, their spider lashes definitely added a Twiggy-esque, doll-like surrealism to their ensembles. Therefore, I decided to go all out and give myself some space buns that would hopefully complement my look.
I began with a face of "natural makeup" so that the focus would be on my eyelashes. I was a little worried as to how this was all going to go, considering I had just come down with a cold and my nose and one eye were leaking; I definitely didn't want black tears trickling down my face. I took some cold medicine in an attempt to avert this kind of crisis.
I started off with a layer of Lush Eyes Right mascara.
Then I decided to go heavier with my Barry M Lash Vegas mascara that had gotten considerably clumpy since I'd used it in my 100 coats of mascara challenge.
It wasn't quite clumpy enough, so I kept going over the same areas using the tip of the wand and trying to layer on as much product as I could. I also resorted to literally pinching my lashes together with my fingers, which was rather messy.
I was quite pleased with the end result.
Although from afar, it didn't look quite as dramatic as I'd hoped.
But I felt I was ready to share my new lashes with the world!
Spider Lashes IRL
I began by posting a picture onto Instagram and I felt like this snap had a Twiggy vibe about it.
One small hurdle I had to face was wearing glasses while I was working — my clumpy lashes kept frustratingly knocking against the lenses when I blinked.
On top of this, my aforementioned cold meant my left eye was constantly watering.
Initially, I had thought this would be a problem, but the moisture actually made my lashes clump together even more. It was really annoying to keep carefully dabbing underneath my lower lashes though, in an effort not to remove any product.
After a while, I ventured out to run some errands.
My first stop was a local coffee shop that my friend owns. He didn't seem to notice my new look and after peeking at my stealthy selfie, I realized my lashes didn't look too crazy.
After this, I popped into my local fruit and vegetable store, where I got talking to the owner and bumped into an old, childhood friend. I explained to my friend what I was doing and he said my eyelashes looked "normal." The greengrocer added that he wouldn't have noticed anything unusual and made a joke that he doesn't normally notice when his wife gets a haircut, so he probably wouldn't twig on to a customer wearing a trendy makeup look.
After arriving back home, I asked my partner if he noticed anything different about me, to which he replied that my hair looked different. After fluttering my lashes, he caught on and said, "It looks like some of your eyelashes have fallen out." Although this was an honest response, it wasn't exactly what I was hoping for.
Later in the evening, I visited my aunt to return some of her belongings I'd borrowed. She said that my lashes looked good and that it looked like I was wearing falsies. My ego liked her response best of all.
My Experience With Spidery Eyelashes
Before trying out spider lashes, I thought I wouldn't like them. However, I actually liked how cartoony they made me feel and how they added to how feminine I felt. It may have helped that I was also wearing space buns, but I reckon I would have felt this way with any hairstyle.
The main thing I disliked about spider lashes was the amount of product on my eyelashes. I could see my lashes in my line of sight and it was a nightmare trying to cope with them while suffering with a cold.
If you fancy feeling like a cartoon character or a doll for the day, I'd highly recommend trying out spider lashes — just don't give them a trial run when you're feeling under the weather or wearing glasses!
Images: Phoebe Waller