I Used To Hate Jane Austen — Until My Idea Of What Feminism Means Changed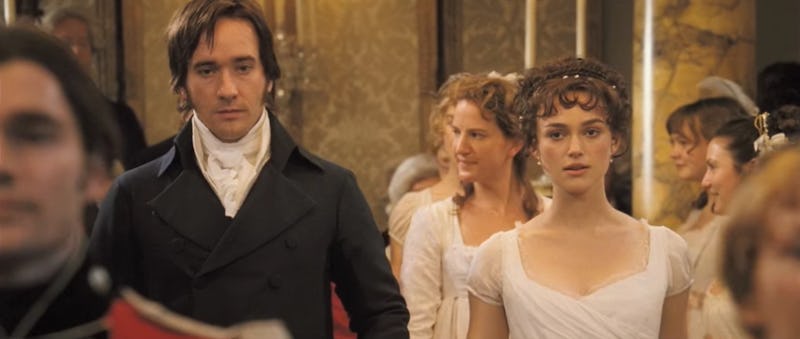 Focus Features
OK, confession time, folks: I used to hate Jane Austen. In high school, I didn't feel apathy, but a sense of self-righteous indignation toward her work, which I found repulsive. I changed my mind eventually — which I'll explain later — but the fact that I ever felt such a strong dislike for one of the English language's greatest novelists remains a point of shame for me.
I was first exposed to Austen's work in high school, when I took a literature course on Pride and Prejudice. The instructor and her family — the class was part of a homeschool co-op, so the instructor's three eldest children, all teenagers, were some of my classmates — adored all of Austen's books, but had a special appreciation for Pride and Prejudice. I was unmoved by their enthusiasm, and even by the BBC adaptation of the novel, starring the lovely Jennifer Ehle and Colin Firth.
I should probably pause the story here to note that at no point did I ever consider Jane Austen to be a poor writer. I found her work to be as well written as any other novel of the time, but, with the exception of Jane Eyre, I had a rather low opinion of 19th-century literature in general. I didn't care for the way many authors of the time chose to describe their way around things, rather than just getting to the damn point. Take this passage from Oliver Twist, for example, which has always stuck out in my mind as one of the most needlessly difficult lines I have ever read:
"The fact is, that there was considerable difficulty in inducing Oliver to take upon himself the office of respiration, — a troublesome practice, but one which custom has rendered necessary to our easy existence; and for some time he lay gasping on a little flock mattress, rather unequally poised between this world and the next: the balance being decidedly in favour of the latter."
In my 15-year-old mind, Austen committed similar sins to Dickens. I mean, just read this excerpt from Pride & Prejudice:
"Mr. Collins was eloquent in her praise. The subject elevated him to more than usual solemnity of manner, and with a most important aspect he protested that "he had never in his life witnessed such behaviour in a person of rank—such affability and condescension, as he had himself experienced from Lady Catherine. She had been graciously pleased to approve of both of the discourses which he had already had the honour of preaching before her. . . . She had even condescended to advise him to marry as soon as he could, provided he chose with discretion; and had once paid him a visit in his humble parsonage, where she had perfectly approved all the alterations he had been making, and had even vouchsafed to suggest some herself—some shelves in the closet up stairs."
By the time Mr. Collins and his general creepiness entered the picture, I had long since checked out.
I wouldn't come face-to-face with Austen again until years later, sitting in a 300-level university course on Romantic literature. I had managed to avoid her books — while enjoying both the 2005 Pride & Prejudice and the first two Bridget Jones films without a hint of irony — for the better part of a decade. Now, here I was diving back into Austen, this time with Northanger Abbey.
I did not expect anything to have changed. I thought that Austen was Austen was Austen and I was I was I. My expectations were happily shattered.
It had been eight years since I read Pride and Prejudice, and in that time I had gone through the process of shedding my internalized misogyny — which is both a long story and an article for another day — and my days of proudly being "not like other girls" — ugh, I know, I know — were behind me. Thanks to the many feminist professors I had encountered over those years, I now understood that people do the best with what they have at the time, and that disguising oneself as a man and running off to sea on an adventure probably isn't the best course of action when you're 20 years old and living 100 years before the discovery of penicillin.
Years of being an English major had also radically improved my ability to read 19th-century literature without wanting to claw my eyes out. I had learned to read generously, as John Green — quoting the late Amy Krouse Rosenthal — puts it:
"Amy taught me that, for stories to work, readers and writers must both be generous. Like, when I read Persuasion as a 15 year old and declared it to be crap, the problem was not with Jane Austen. I wasn't reading generously, I was looking for things to dislike, which meant that I was going to find them, even if they weren't there."
I didn't fall in love with Austen on page one of Northanger Abbey, or even on page 101. Somewhere along the line, though, between classroom discussions in which we decided which Mean Girls characters Catherine and Isabella were — spoiler alert, they're totally Cady and Regina George — and days that I had to spend catching up on my assigned chapters for the week, I realized that I didn't hate Jane Austen quite as much as I had thought before.
Viewed from my new, more educated perspective, Austen's work was about women and girls making the best of terrible situations, something most of us today still know a little about. These were women supporting women, something literature, film, and our culture at large does not encourage. Caroline Bingley, Fanny Dashwood, and all of the other women who don't support one another are the villains of these novels, and even when the dearth of marriageable men — why is there always a man shortage? — means that they're in competition for the heart of each single man in possession of good fortune, Austen's single ladies are happy to see their sisters, cousins, and friends make their matches.
I fell in love with Austen's women, their wit, and the author's deep understanding of human interaction, which still confuses me in my daily life, to be honest. Reading Austen today is like stepping into a world that, while it is by no means perfect, has none of the stressors that mark 21st century life.
Several more years down the line, I'm planning to write my Master's thesis on Jane Austen and visual culture. It feels strange to remember a time when I did not just dislike Austen, but loathed her work outright. I've changed, and I couldn't be happier about it.