Idina Menzel Opens Up About The 'Beaches' Reboot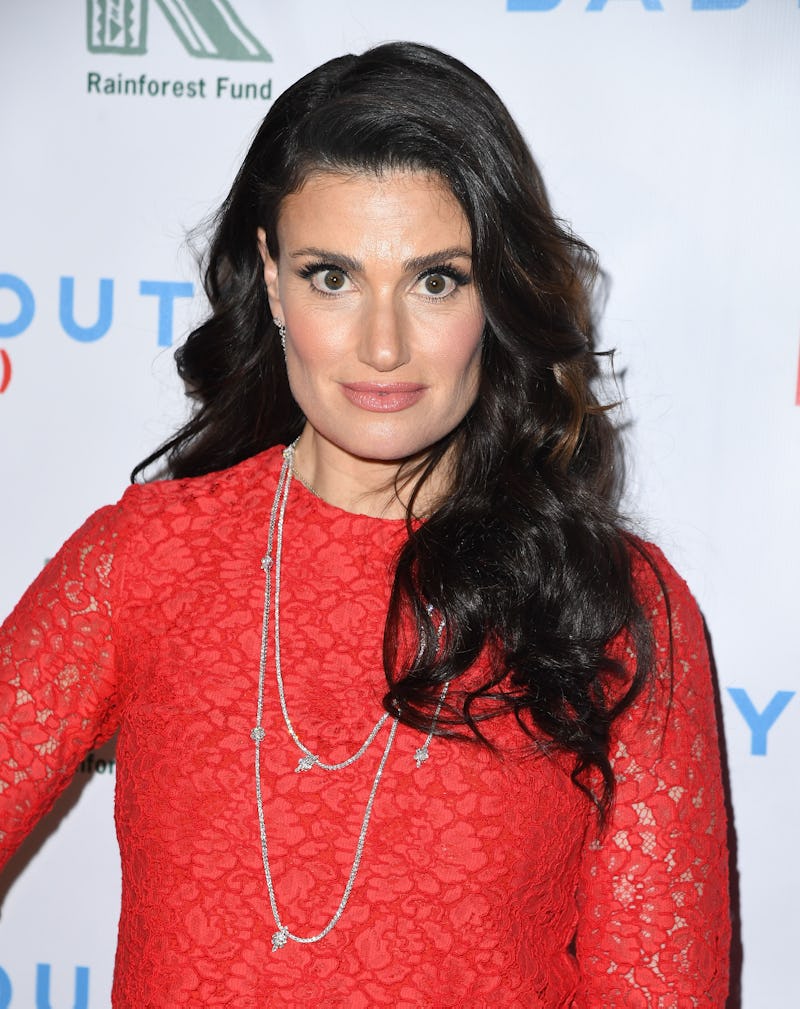 ANGELA WEISS/AFP/Getty Images
Stepping into someone else's shoes can certainly be a daunting task — especially when those extra-large pumps just so happen to belong to the one and only Bette Midler. Actor and singer Idina Menzel opened up about her fear of reprising her idol's role in the upcoming Beaches remake, and I must admit, the 45-year-old's concerns are totally understandable. According to E! News, Menzel told reporters at 2017 Winter TCA Press Tour,
Well, if you've noticed ... I don't usually do revivals. There's a reason. Because I'm terrified. I'm scared sh*t to do that. I like to originate so I don't have to walk in someone else's footsteps, which is why this is actually a departure for me.
The task of reviving an iconic movie like Beaches comes with great responsibility, and can often be met with extremely harsh criticism – particularly for the actors being cast in the starring roles.
Case in point, Jackie Chan and Jaden Smith in the 2010 Karate Kid reboot. One word: Yikes. And then there's last summer's resuscitation of Ghostbusters, which received more than its fair share of criticism. Oh yeah, and don't forget about 2011's Conan The Barbarian – I mean, even Jason Momoa's muscles couldn't save that trainwreck. But on the flip side, things can sometimes go amazingly well, à la 2001's Ocean's Eleven – so it seems when it comes to a remake, it's pretty much a high-risk, high-reward dilemma that must be faced.
During the panel discussion at the TCA press tour, Menzel, who plays Midler's character C.C. Bloom in the film, explained that the risk of tackling the reprisal was a terrifying concept at first, but revealed that the thought of sharing the emotional story with a whole new generation helped to tilt her decision. According to E!, she said,
There's a whole young generation of kids who haven't seen Beaches, but if Nia and I can bring people to it ... it can open a new discussion at this time about where women are and how we balance and navigate all these passions we have — our career and our family … it's just another way to start a conversation.
I, for one, am extremely excited to see the the second coming of the 1988 classic. And I'm especially here for seeing Nia Long in the role of Hillary Whitney, originally played by the legendary Barbara Hershey.
While the stakes are obviously sky high on this one, the reward seems to be well worth it, and it appears that both Menzel and Long have things totally under control, judging from what I've seen thus far. One thing's for certain, it doesn't hurt that Menzel completely mastered the film's Grammy Award-winning theme song, "Wind Beneath My Wings" — so, if nothing else, the soundtrack is sure to be a winner.
The made-for-TV movie is slated to air Jan. 21 on Lifetime, so it's only a matter of time until fans see if these ladies can manage to make their own footprints in the legendary sand of Beaches.