Idris Elba Is Going To Play A Seriously Cool Cat In The 'Cats' Movie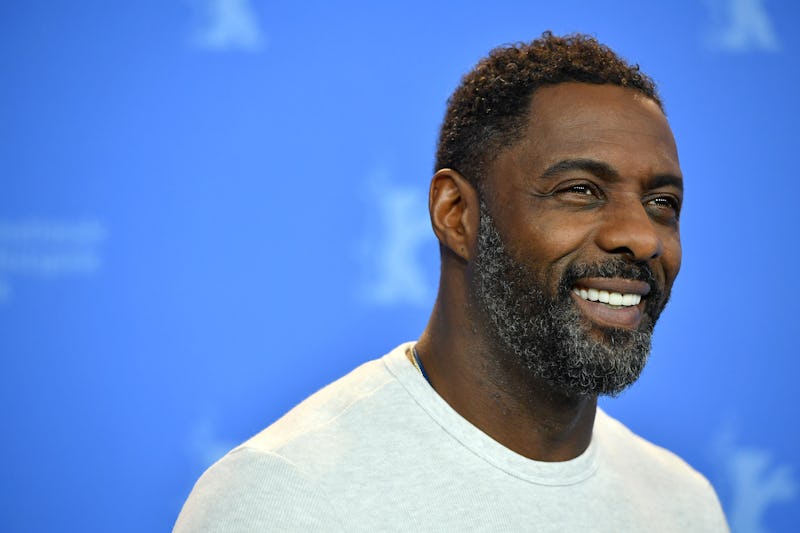 Alexander Koerner/Getty Images Entertainment/Getty Images
He may not be the next James Bond, but this British actor has just been attached to another cool project, and the details will stun you. Idris Elba is in talks to join the Cats musical film adaptation cast. Yes, that Idris Elba, and actually, it's not as farfetched as one would think. Universal Pictures and Elba's reps confirmed the news of the negotiations on Tuesday, Oct. 16.
Composed by Andrew Lloyd Webber, the Cats musical is based on poet T.S. Eliot's 1939 classic book Old Possum's Book of Practical Cats, and follows a group of cats, also known as the Jellicles, as they make the "Jellicle choice" to see which one of them will ascend to the Heaviside Layer (or also considered to be a kitty heaven) — ultimately coming back to a new life. First performed in 1981, the legendary Broadway production is getting quite the makeover these days. And The Hollywood Reporter reported that Elba is in talks to play the role of the mischievous Macivity, and is the most recent Hollywood star to become a Jellicle.
Along with Elba, entertainers Jennifer Hudson, James Cordon, Ian McKellen, and Taylor Swift are slated to appear in the star studded cast, with award-winning director Tom Hooper at its helm. Now, you may be asking yourself "how does Elba fit into this group of musically gifted celebs?" Well, in case you've been living under a rock, or have just been too enamored with Elba's presence on-screen to even consider a different career path for the super-talent, Elba is totally musically inclined. And he may actually make for a really good Macavity.
Elba has spoken consistently about his extensive work as a disc jockey in the past (most recently DJ'ing at the Meghan Markle and Prince Harry's wedding). And along with playing at some of the world's hottest clubs, Elba is also a producer and singer.
Merging his musical genius with his acting chops, Elba is also gearing up to star in and executive produce Netflix's upcoming comedy Turn Up Charlie. As the title suggests, Elba will play Charlie, a bachelor and struggling DJ, who finds himself as a manny to his famous best friend's daughter. It's no easy feat, as the gig coincides with, what Charlie believes to be, his last chance at "making it" in the industry he's been pursuing for some time.
There's no telling exactly when Turn Up Charlie will hit the streaming platform, but according to reports, production began in May for the eight episode first season.
Elba's Macavity is known as a master criminal in, both, Eliot's book of poems and the Broadway musical. And if anyone has ever seen a rendition live and in the flesh, you know that Macavity is also a pretty skillful dancer, as well. And while Elba's resume doesn't necessarily suggest that he's a dancer as well, there's no telling what other talents this Jack of all trades could have resting up his sleeve.
A busy man, indeed, Cats is just another opportunity for Elba to show the world that he can tackle anything coming his way — even if it involves busting out a smooth eight count and rocking a face full of whiskers.