Experts Say These 9 Hacks Can Help Breathe Some Life Into A Stale Relationship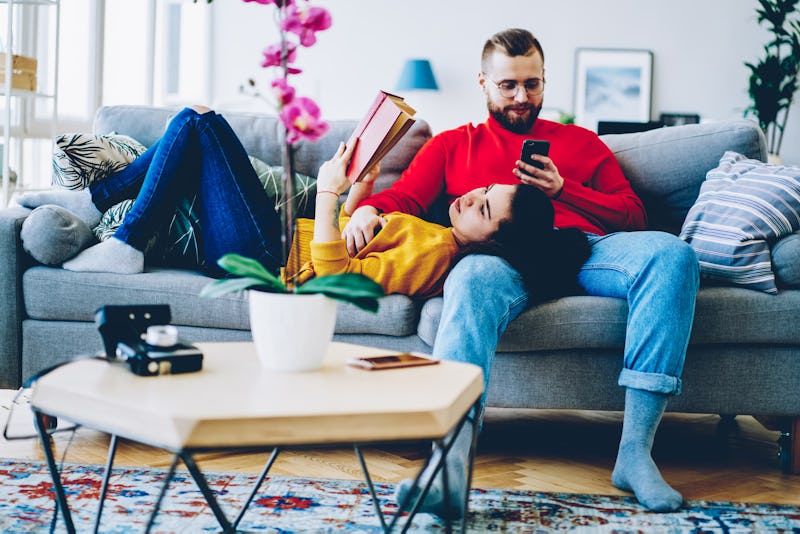 Shutterstock
It's one thing to feel comfortable in your relationship, and something else entirely to get so comfortable it begins to have negative side effects. Feeling as if you can predict everything, for instance, is a sure sign you and your partner need to break from routine. And maybe even make the extra effort to have more fun.
Keep in mind, though, that "feeling comfortable in a relationship is not a bad thing in itself," Courtney Minarsky, LCSW, a private practice therapist with a specialty in couples and relationships, tells Bustle. "The goal of a healthy relationship is to feel secure." And part of that means there will be some predictability.
It's fine to have nights in, and to fall into a comfy routine where you live your lives, and enjoy each other's company. That said, "the problem arises when people get so comfortable that they start to take each other and the relationship for granted," Minarsky says. "Despite the sayings that relationships should just be easy or that they shouldn't feel like work, there should always be effort to pay attention to each other the way you did in the beginning of the relationship, and to make each other feel special, loved, and desired."
Those are the basics. But you should also intentionally shake things up from time to time. "By changing up a stale routine," Minarsky says, "you are letting each other know that this relationship matters." Read on for more ways to break from routine and have fun together, according to experts.