Will Beyoncé Still Take The Stage At The Grammys?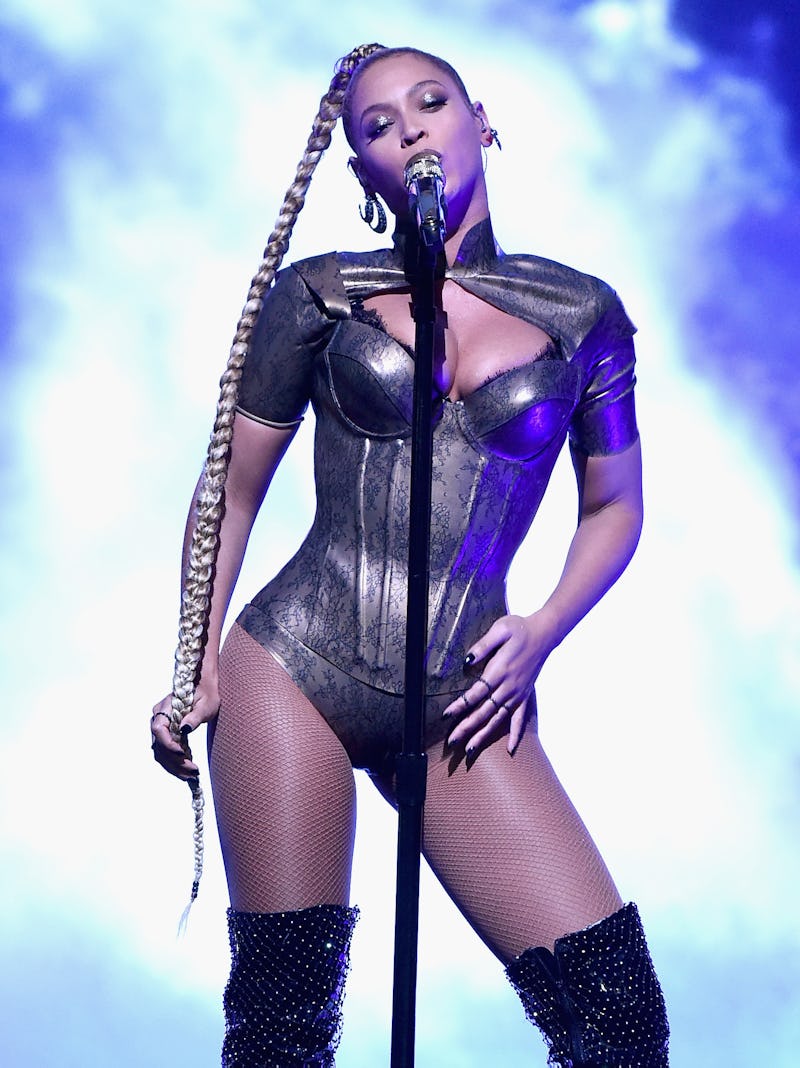 Theo Wargo/Getty Images Entertainment/Getty Images
So, what's next? Now that Beyoncé's dropped the bomb that she's expecting twins with husband, Jay-Z, many are starting to question what the deal is with her upcoming Grammy performance. No doubt, Yoncé nearly broke the internet on Wednesday, Feb. 1, when she took to Instagram to share a photo of her baby bump, ultimately announcing the news of her impending bundles of joy. But, now that I'm coming down off of the baby news fever, I'm wondering: Will Beyoncé still perform at the 2017 Grammys? The award show is scheduled for Sunday, Feb. 12. Bustle reached out to a rep for the singer, as well as the Grammys, for comment, but has not received a response at the time of publication.
I mean, don't get me wrong, pregnancy has never stood in Beyoncé's way before. In 2011, Bey stole the show at the MTV Video Music Awards when she shockingly announced that she was with child on stage, after what I would call, a pretty stellar performance — especially given that fact that she was several months along with her now 5-year-old daughter, Blue Ivy. Prior to announcing the arrival of her first born, the singer also performed songs from her then newly released 4 album at four sold-out shows in New York City, wearing a tiny sequined mini dress and seemingly pulled the gig off effortlessly.
However, in an onstage interview for the mini concert, which was shared by Us Weekly, Queen Bey did admit that her pregnancy took a bit of a toll on her while performing. She said,
"When you're pregnant, it's a little bit harder to breathe, so it was hard doing all the choreography and singing at the same time."
So, if she does manage to take the stage, which I'm guessing she will, I'm sure we shouldn't expect to see the full-on concert that took place at last year's VMAs, or the high energy performance that she delivered during the BET Awards alongside Kendrick Lamar last summer... or that 2014 montage she performed at the VMAs while her baby girl Blue Ivy and hubby Jay-Z adoringly looked on from the crowd, which I'd have to say was the cutest thing ever — up until this twin announcement, that is. As a fan, I'm just going to hold out hope and expect her to be at the Grammys slaying — twin-sized baby bump and all.
Up next, however, is the drama surrounding Bey's scheduled performance at Coachella in April. It's not immediately clear how far along into pregnancy Bey is right now, but from the looks of her belly, fans may have to learn to make Lemonade out of lemons with that situation.
Lemon flower crowns for everyone?