This Beyoncé Track Perfectly Captures Her Love For Jay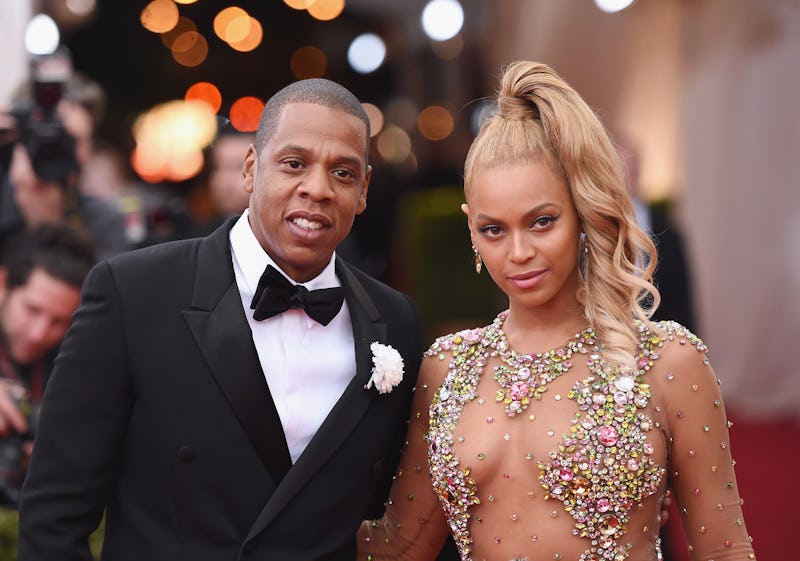 Mike Coppola/Getty Images Entertainment/Getty Images
Beyoncé is at it again. (As if that sentence will ever get old.) On Tuesday, the star, who's pregnant with twins, dropped a new video on Tidal for her song "Die With You" in celebration of her nine-year wedding anniversary with Jay Z. It's easy to wonder: Is "Die With You" a new Beyoncé song? It turns out Bey's ballad was originally released on the streaming service on April 4, 2015 for the couple's seven-year anniversary. However, its meaning perhaps holds more significance now than ever. Maybe not to Beyoncé, but at least to fans.
In the accompanying video, Beyoncé gives an emotional and simplistic performance, playing the piano, makeup-free, with a backwards hat on (in the end, it's revealed the video was shot by her husband). It's interlaced with rare footage of their lives together — from getting married, to the birth of Blue, to Beyoncé's latest pregnancy with twins. It's a tearjerker without a doubt, whether it be because intimate details of Bey's life are few and far between, or because it's beautiful footage of a couple who really loves each other.
To me, the new video and its lyrics are so significant, because it proves the two have overcome their trials and are really in it for the long haul. After all, Lemonade dropped in April 2016, a year after "Die With You" premiered on Tidal. The album sparked internet warfare over allegations of Jay Z's infidelity, as the album was ridden with themes of unfaithfulness, gut feelings, bitter remorse, and denial. Fans may never know what actually happened between the couple, but the release of this video at this time shows where they've come, and perhaps, where they've been all along.
The first set of lyrics shows how devoted Bey is to her husband, and that he's her true counterpart. The line "I don't have a reason to lie" hits hard, given the context of Lemonade:
I don't have a reason to cry
And I have every reason to smile.
And I don't have a reason to lie
When you're already reading my mind.
And I don't have a reason to be
If I can't be with you.
Bey reinforces the feeling of being deeply in love and that everything she is is for Jay, including her existence:
And I don't need air in my lungs
If I can't sing your song.
No I don't need hands
If I don't get to keep you warm.
And I don't really need myself
If I don't need you.
She's so completely devoted to her husband, that she wakes up and lives just to be living a life alongside him:
'Cause darlin' I wake up just to sleep with you
I open my eyes so I can see with you.
And I live, so I can die with you.
In addition to the updated video, a 63-track playlist "IV Ever Ever" dedicated to the anniversary was also released on Tidal. It has a variety of glorious songs about being in love and feeling good, like "Cruisin'" by D'Angelo and "I Want You" by Marvin Gaye.
Beyonce just addressed any speculating fans in the most passionate and real way. And the big 10-year anniversary is only a year from now. Who's starting the countdown?