This Actor Could Be Moving On From 'The Flash'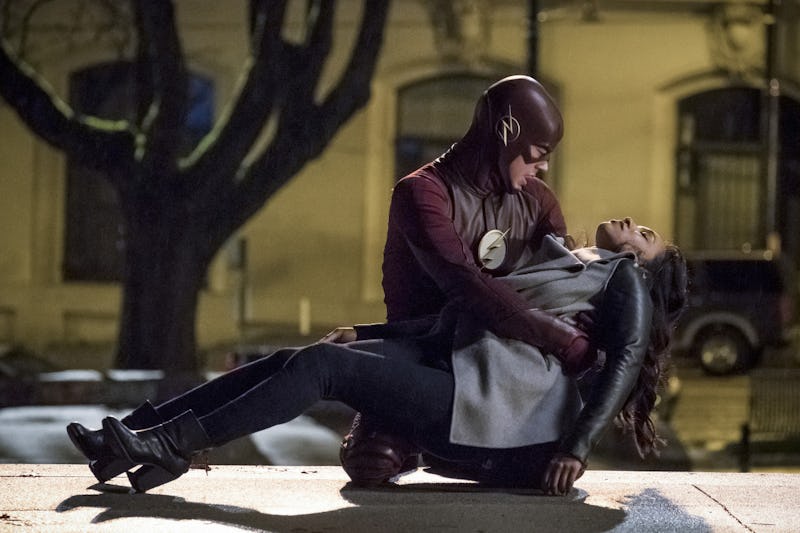 The CW/Katie Yu
In the penultimate episode of The Flash Season 3, the bomb that Savitar had been threatening to drop on Barry Allen's life was finally deployed. (Spoiler alert!) Iris West is presumably dead going into the May 23 finale. The next episode will pick up where that shocking cliffhanger left off, but in the meantime you may be desperate to know: Is Iris really dead? And will actor Candice Patton be returning to The Flash next season?
Naturally the CW isn't about to tell anybody outright, because then where's the surprise? In fact, even the original cast member wasn't told whether or not her Iris would survive, she told TV Insider. "I have no idea and it's a little alarming," Patton said. "I think I know, but you never really know. I am just in the dark as the audience so it will be really interesting to see if Team Flash can pull it off. I'm hoping they can, because I need a job."
Although Iris West has always been an integral part of The Flash, for some fans she hasn't been given quite the same opportunity to shine as her superpowered, multiverse-hopping co-stars. Instead she's mostly relegated to the role of sidelined love interest, especially in this season, where her imminent death has literally become a plot device, leaving Iris no storyline of her own. With that in mind, it wouldn't be surprising if Patton chose to walk away and find a new project that lets her be more than Barry Allen's girlfriend. I know I certainly wouldn't blame her.
However, it doesn't quite seem like Patton's thinking about Iris that way at all. Speaking to Vulkan Magazine for a recent profile, she suggested this is the first season where "we are seeing her come into her own" — and, more importantly for fans, that there are a lot more stories still to tell with Iris West at the center. "We're just starting to see her purpose and honestly, I feel like there's so much more to uncover," the actor said.
Like what? Like letting Iris West be her own kind of badass. "I hear often from fans that they would love to see her more as a reporter at Picture News, working with the team in that way," Patton said to Cosmopolitan not soon after the season premiere. "I think it's important to see women not just as love interests but doing what they love and contributing."
Also speaking with Vulkan, Patton admitted that she doesn't want to leave the show, but that she has considered what it would be like to do something new for a change. She said:
"Iris is a joy to play, but I think anything you do for a long period of time will make you want to stretch yourself in a new different way. While I have no desire to say goodbye to Iris anytime soon, I do think it would be creatively fulfilling to try other things as well if I can find the time."
However, the synopsis that the network released for Season 4 of The Flash still lists Iris among Barry's friends and family. Of course, even if the Iris West who Barry fell in love with is truly gone, that doesn't mean Candice Patton has to leave forever, thanks to that pesky little deus ex machina known as the Multiverse. Heck, Tom Cavanaugh's played three different versions of Harrison Wells in three years! Perhaps playing a different version of Iris will offer Patton the creative fulfillment she's seeking. I, for one, would be extremely down to bring Earth-Two Detective West into the mix — she was brash, capable, and knew how to throw down in a fight, all of which would help keep Iris in the spotlight.
One thing's for sure: I hope to all the speedsters in the Multiverse that the show doesn't keep Iris West's fate up in the air for a Jon Snow-style cross-season cliffhanger. All that would do is aggravate every single actor in the show and the journalists covering it as they do the "Is she really dead?" dance with each other throughout the hiatus. Nobody wants that, CW!