Cardi B Has Waist Length Hot Pink Hair & She Looks SO Different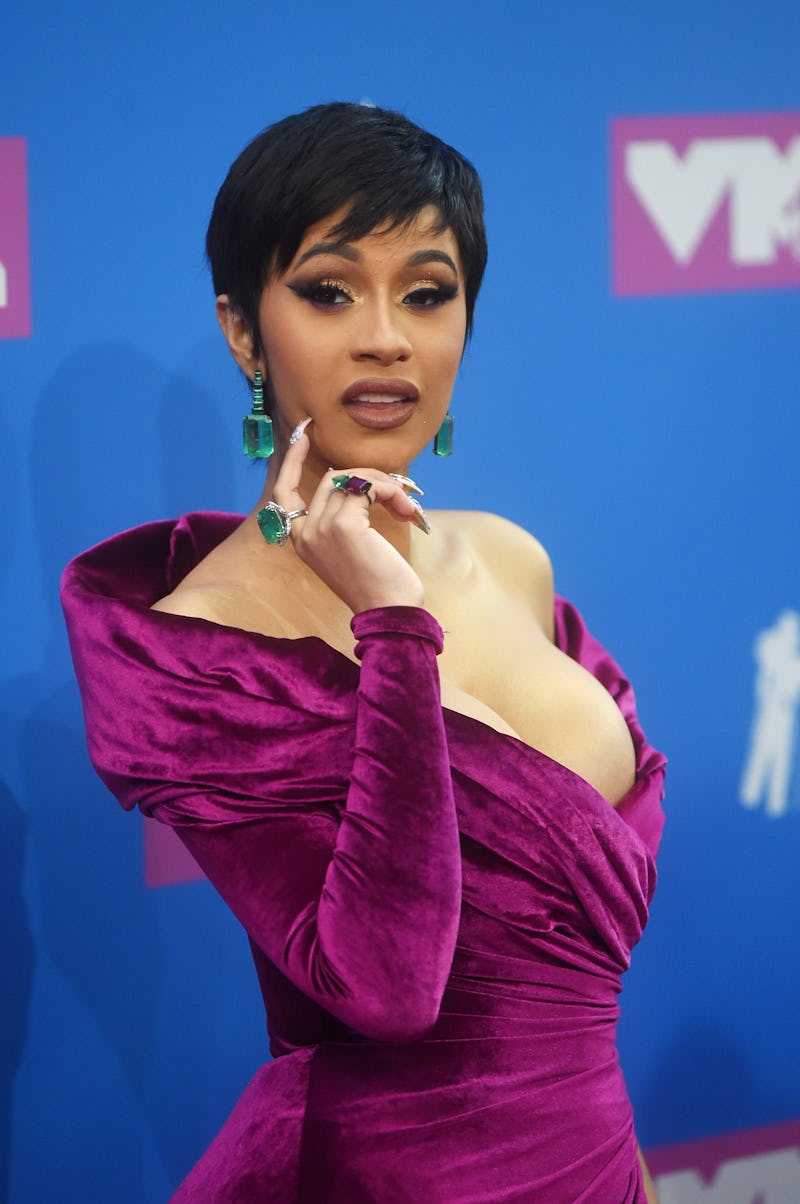 Jamie McCarthy/Getty Images Entertainment/Getty Images
Cardi B may typically rock her "bloody shoes" but one thing she doesn't rock on the regular? The same hairstyle. The rapper is a pro and changing things up, and she's done it again in the coolest way. Cardi B's new hot pink hair isn't like anything she's ever worn before, and honestly, it's so, so good.
Is it real, though? Of course not. Like other celebrities, Cardi loves to switch up her look, and this is no exception. In several posts on Instagram, the "I Like It Like That" rapper debuted the coolest (or maybe hottest?) pink hair. Cardi took to her account to post several photos of her new 'do, and it's definitely her longest, most vibrant style yet.
As for who the brilliant mind was who created the style? It's none other than wig artist to the stars Tokyostylez who's worked with people like Nicki Minaj, Kylie Jenner, and Beyonce in the past. According to both Cardi and Tokyostylez Instagram accounts, he's pretty much a staple in her glam squad creating incredible looks for her on the regular.
Now, he may have just outdid himself when it comes to this gorgeous, ultra-long pink look that she debuted over the weekend. With two blonde streaks in the front and the remainder of the hair hot pink, it was a completely new look for the star, but so, so good.
Obviously, the rapper was into the look, too, because she posted not one, but two photos of her gorgeous new hair.
Seriously, how incredible does Cardi's new pink hair look? Could you die? Okay, maybe don't die, but definitely admire it for a minute.
Perhaps one of the greatest things about Cardi's new look, though, is that it just proves that she can rock anything. Only a week prior, Cardi attended the MTV Video Music Awards where she opened the show. While her opening number was great (even if it wasn't a performance), it was her hair that snagged attention.
Cardi appeared on the red carpet in a gorgeous, asymmetrical pixie cut that gave some serious Kris Jenner vibes. Yes, it was also the work of Tokyostylez according to Instagram.
Cardi's hair changes, though, extend far beyond the past week and a half. She's kind of a pro at switching up her 'do. Just a few weeks ago, at the beginning of August, she was sporting another seriously bomb color with a cool-toned blue wig as she hung out with none other than the Kardashians.
Then, Of course, there's her gorgeous, voluminous waves from the 2018 Fashion and the Catholic Imagination Met Gala. This looks came complete with a headpiece that basically made Cardi look like an IRL angel.
Who could forget her iconic unicorn hair that she matched to her pumps? Does anyone do it like Cardi B? No, no they don't.
Here's hoping for even more hair changes from the new mom to baby Kulture. With so many options and the ability to slay any look she wears, the sky is the limit when it comes to what's next for Cardi B and her looks.