Chrissy Teigen's Tweet About The Super Bowl Is Relatable AF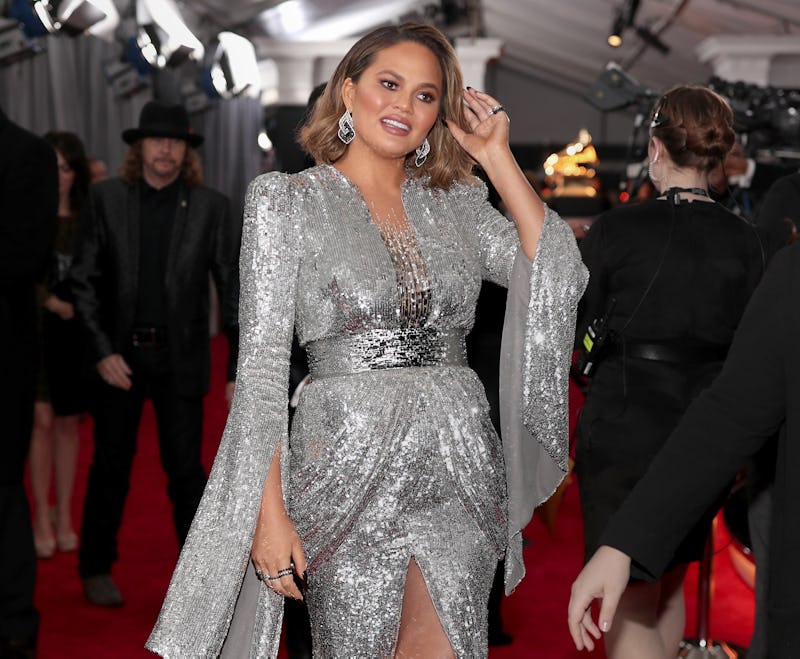 Christopher Polk/Getty Images Entertainment/Getty Images
Chrissy Teigen is many things, but one of the most talked about things is how real and relatable she is. There's nothing she doesn't seem willing to discuss on her Twitter, and one of those things is how boring the 2018 Super Bowl is. Yes, that's right. Teigen tweeted about the Super Bowl, and it was to try and find a reason why she just wasn't into it this year. Of course, this leads to the question of whether or not Teigen is at the 2018 Super Bowl, but the model didn't answer that. But, based on her tweet, she does think she has an explanation for why she's so bored, though her tweet left it open-ended enough that it might just be that the pre-Justin Timberlake section of the Super Bowl was just a total snooze fest.
"This could have everything to do with th [sic] fact I'm not drinking but this feels very...uneventful," Teigen tweeted at 7:50 p.m., shortly before the halftime show. And she had a point. Many of the commercials had already been released on the internet ahead of the game and, aside from the surprise announcement that Netflix would be debuting the third Cloverfield movie after the football was over, there were no real standout moments from the early part of the game. Unless you watch the Super Bowl for the Super Bowl, or were already drunk, in which case you were probably having a better time than many fans. And Teigen.
Of course, the model isn't drinking for a very good reason. Teigen is currently pregnant with her second child with husband John Legend. She announced her pregnancy in November 2017 with an Instagram video featuring Luna, their first child, answering, "Baby" to Teigen's question of, "Luna, what's in here [her stomach]?" The caption that went with the video said, "it's john's!", emphasizing the model's sense of humor.
Since the announcement, Teigen has been very open about all things pregnancy, even declaring on Feb. 3 that "This baby is sucking the life from me. Drinking my water, making me dry. Eating my food, making me hungry. Taking my health, making me sick. Why do we create these monsters they want us dead." She also revealed in January that she was five months pregnant while visiting the Tonight Show, confirming Jimmy Fallon's guess by saying, "That's great. Yes, you got it. I just had to say it because everybody thinks I'm due tomorrow. Nope. Just second baby." She also confirmed on Twitter that she and Legend would be having a boy, giving Luna a little brother to boss around.
This also wouldn't be Teigen's first time weighing in on the Super Bowl. One of the highlights of the 2017 Super Bowl was her live-tweeting the game while she and Legend were in attendance, writing things like "6 hot dogs before projectile vomiting last year. Let's see how much I've grown" and "hi Houston, New Yorker here, it's actually pronounced house-ton I'm drunk." Considering how great her tweets were last year, she's likely not the only one who was upset that she couldn't have a few drinks to watch this year.
It doesn't seem like Teigen is actually at the game, as she has yet to be photographed or to tweet anything besides her complaint that this year it's been fairly uneventful. It seems more likely that she's curled up at home with Legend, Luna, and her soon-to-be-daughter, watching the same uneventful commercials as we are and wondering when this is supposed to get exciting. Maybe Timberlake's halftime show will be exciting enough to make her night.