Hailee Steinfeld Wouldn't Miss 'Pitch Perfect 3'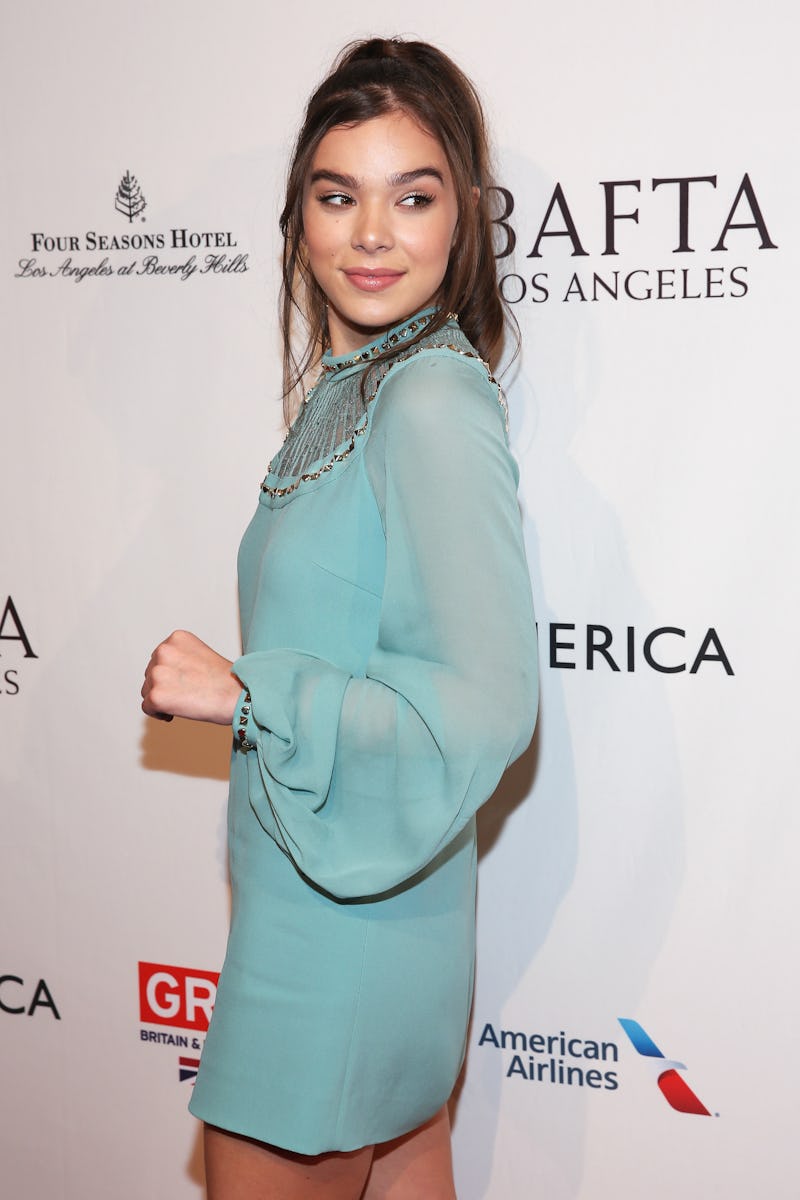 Phillip Faraone/Getty Images Entertainment/Getty Images
Between the new year and the Golden Globes, there was a lot going on this past week, so you might have missed some very important piece of Pitch Perfect 3 news. If that's you, here's what you need to know: on Jan. 5, Pitch Perfect star Rebel Wilson, who plays Fat Amy, shared a group photo on Twitter of almost all of the main Barden Bellas with the caption, "Day One Pitches! #PP3." The main cast of women was all there, except for one notable absence: Hailee Steinfeld. Since the photo, fans have been wondering, is Hailee Steinfeld in Pitch Perfect 3?
Steinfeld made her franchise debut as new freshman Emily Junk in Pitch Perfect 2 back in 2015. Rumor had it her character was meant to carry on the franchise if and when stars Anna Kendrick and Wilson left (or, more specifically, after their characters, who were college seniors in the sequel, graduated). But now, with Steinfeld absent from the recently teased cast photo, fans are starting to wonder about Emily's Pitch Perfect 3 fate.
But, don't start petitioning the studio, because Steinfeld is still officially signed on to be a part of Pitch Perfect 3. In fact, Steinfeld was the third star to confirm her involvement, following Wilson and Kendrick. "I'm in... I can't wait! It's all happening," she told E! News following the announcement of Pitch Perfect 3.
Steinfeld hasn't commented on the photos on social media, and there has been no official comment from her or the filmmakers on her expected involvement in the film since the photo hit Twitter. That said, it's probably a non-issue. Steinfeld has already confirmed her involvement in the film, so they don't necessarily need to confirm it yet again.
But, if she is still confirmed for Pitch Perfect 3, then why isn't she in the PP3 cast photo? Well, a little Twitter-stalking — Wilson and Snow have both shared on-set photos — will tell you that the actors are just starting their rehearsal for the film. Filming has not yet begun, and so far Steinfeld has only missed a few days of rehearsal. When you take into account the fact that she was nominated for her first ever Golden Globe on Sunday (go see The Edge of Seventeen if you can), and is currently promoting her music career, it makes sense that Steinfeld might have to miss out on some rehearsal days. Besides, these dance movies don't look like they need much practice.
So, fret not, Pitch Perfect fans, you'll get to see Emily Junk back at it again with the Barden Bellas soon enough.