André Holland's 'Castle Rock' Character Is Inspired By Decades Of Stephen King Stories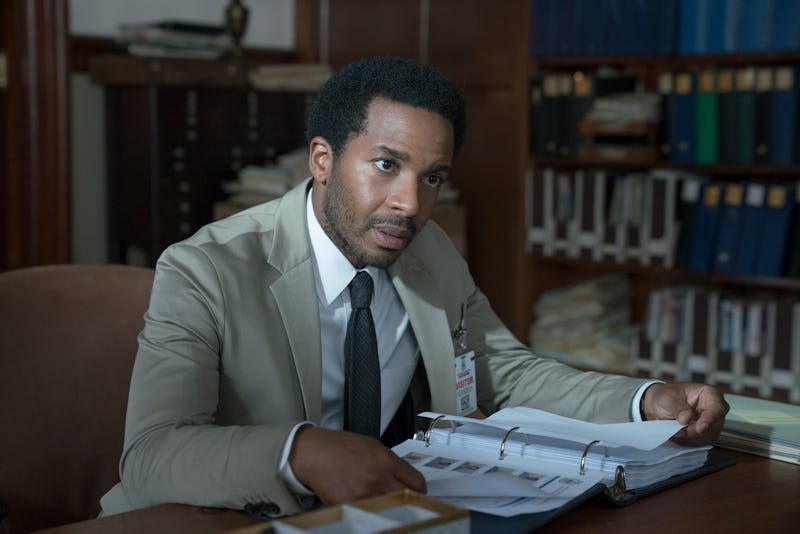 Patrick Harbron/Hulu
Stephen King is responsible for so many memorable characters brought to life on screen, like Carrie, Pennywise, Jack Torrance, Andy Dufresne, and John Coffey. Yet, you won't find Henry Deaver from Castle Rock in any of King's writings. André Holland's character was created specifically for Hulu's new series, which explores the fictional Maine town of Castle Rock that King has featured in his writings throughout the years. Based on interviews from the co-creators and co-showrunners of Castle Rock — Sam Shaw and Dustin Thomason — Henry doesn't appear to be based on a real person. But his character will be the gateway to introducing, or (for big King fans) reintroducing, Castle Rock to audiences when the series premieres on July 25.
Although the prolific King has created the source material for some of pop culture's most beloved movies, Castle Rock isn't a straight-forward adaptation. Instead, the TV series uses the location of Castle Rock that King wrote about in multiple books and short stories, such as The Dead Zone, Cujo, Needful Things, and Rita Hayworth and Shawshank Redemption, to inspire brand new stories. So while the Maine town — and its neighboring prison Shawshank — will feel familiar, the attorney Henry Deaver is a fresh addition to the King canon.
Castle Rock comes from J.J. Abrams' Bad Robot and the production company's TV chief, Ben Stephenson, explained to The Hollywood Reporter that the plan is to feature new characters each season. "It's sort of an anthology. Each season may or may not feature the same cast," Stephenson said. "Each [season] will look at the town from a different point of view from a different character." But for the 10-episode Season 1, Henry takes the lead. In a June interview with Variety, showrunner Thomason explained that Henry is "our way into the story."
As Entertainment Weekly reported, Henry doesn't live in Castle Rock as an adult, but he was raised there and had a rather traumatic childhood. He was involved in an incident that left his father dead and the town blames Henry. Now he's a lawyer who defends inmates on death row. While most of the series is shrouded in (what else?) mystery, the Castle Rock trailer shows that Henry returns to his town after he receives a call from Shawshank. A young man has been found in a cage under the prison and this "kid" has asked for Henry specifically by name. Bill Skarsgård returns to King's world (after starring in 2017's It) as this mysterious captive and Henry becomes his lawyer.
"He recognizes that the people he represents are a lot like him," Holland told EW about Henry. "They're the people who have been forgotten or given up on. ... He feels like a bit of a crusader. He wants to make things better for people and somehow, in doing so, subconsciously repair the damage that he feels himself."
Beyond his involvement with Skarsgård's "The Kid," Henry has people from his past to reunite with in Castle Rock. There's Melanie Lynskey's real estate agent Molly Strand, who grew up across the street from Henry. And Scott Glenn's police officer Alan Pangborn, who is actually from King's books. Alan is a Castle Rock police officer from the books The Dark Half and Needful Things. Variety reported that, in the Hulu series, Alan is a former sheriff, who was serving when Henry disappeared as a child in what was most likely was the same incident that killed his father. In the present, Alan lives with Henry's adopted mom, Sissy Spacek's Ruth, who suffers from dementia. Like Skarsgård, Spacek has a King connection too since she was the original Carrie in the 1976 film.
Holland may be best known for his performance in the Oscar-winning Moonlight, but he is no stranger to horror. He was in Season 6 of American Horror Story. Yet, it's his ability to bring down-to-earth realism to this scary, supernatural show that led to the showrunners choosing him as the lead. "On a genre show, you end up with some characters that end up they're in a genre story," Thomason told Variety in June. "What we wanted to do ... was find actors who really brought you into a world and made it feel totally true and human and natural, even a strange occurrences began to happen around them."
While the intent was for Henry to help make the show "feel totally true," Thomason confirmed during a Castle Rock panel at New York Comic Con in 2017 (as reported by Bleeding Cool) that Henry is "an original character who we hope really embodies the spirit of Stephen King." (The same goes for the other characters created specifically for the show.) Shaw elaborated at NYCC on how King's writing was really the inspiration for the new characters in Castle Rock. "Even in the construction and imagining of these new characters who occupy this world and this story, there were a lot of ideas and tropes and themes that recur throughout Stephen King's library that we tried to metabolize and incorporate into the storytelling," Shaw said. "Like, nobody had a good childhood in Stephen King, nor in our show. There's a lot traumas of childhood revisiting the adult."
With Henry being blamed for the death of his father, he certainly falls into that "traumas of childhood" category. So while Henry Deavers isn't based on a real-life death row attorney, anyone who is familiar with King's characters will see the connection between this Castle Rock original character and the people King has created in his writings.