Jessica Biel Just Posted The Sweetest Photo Cheering On Justin Timberlake At The Super Bowl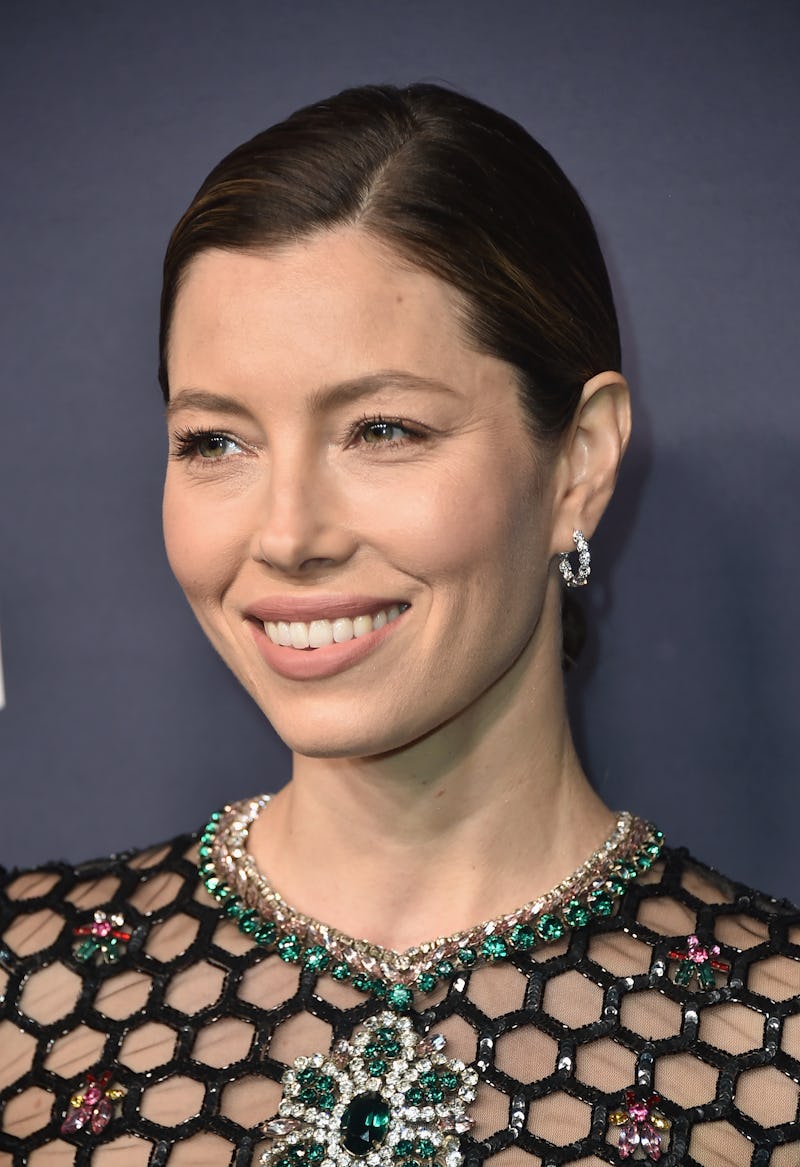 Frazer Harrison/Getty Images Entertainment/Getty Images
With Justin Timberlake headlining the 2018 Super Bowl halftime show, you'd probably assume that everyone in his family is at the Minnesota game to show their support. But is Jessica Biel at the 2018 Super Bowl? An Instagram posted by former 7th Heaven star has everyone wondering where she is. On game day, Biel shared a selfie of an appropriate Super Bowl snack: a football shaped cookie, of course. So is she enjoying the sweet treats from the comfort of her home like most people in the U.S. or is she in the stands?
While it's hard to tell where Biel is from the photo, other photos of her and her husband Timberlake on the field in Minnesota surfaced earlier today. Timberlake and Biel's son Silas was also in the photos, and it looks like a sweet family moment. Performing at the Super Bowl halftime is a major milestone for most singers, and this year marks Timberlake's second time doing it. The first time Timberlake performed at the Super Bowl was back in 2004, which may have been one of the most memorable performances due to the shocking end when Timberlake accidentally ripped off part of Janet Jackson's bra top, exposing her breast to the entire country.
At that time, Timberlake wasn't even dating Biel, so a lot has changed since then. Now, Biel is right there with football cookies — and footballs — in hand, supporting her husband's big show.
Timberlake and Biel have a lot more to celebrate besides the Super Bowl halftime show, as if that were a small feat. The Memphis born singer's long-awaited album, Man of the Woods, came out on Feb. 2, and Timberlake just announced a North American tour. According to Entertainment Tonight, Biel and the "Filthy" singer celebrated together with an album listening party at Prince's renowned estate, Paisley Park. The couple clearly wanted to make the most of their trip to Minnesota, as did tons of other celebs attending the Super Bowl like Ciara and Issa Rae, according to ET.
Even though Biel and Timberlake partied at Prince's place, that will likely be the extent of Prince's posthumous participation in the 2018 Super Bowl. There were, however, rumors that a hologram of Prince would share the stage with Timberlake at the halftime performance. Prince's longtime drummer Sheila E., tweeted that this would be "not cool if this happens!" and tons of fans shared her sentiment. Fortunately for them, Timberlake confirmed to Sheila E. personally that the show would not include a hologram.
Biel's Super Bowl Instagram may not have been the most mushy post, but that's just because Timberlake's wife has already taken to social media to share her sweet support. In an Instagram posted on Feb. 1, Biel posted a picture of she and Timberlake sweetly embracing each other. "Here's to a spectacular year ahead. I'm so proud of all you've accomplished and all that is ahead for you. plus you're a super hot dad," Biel captioned the photo.
Biel's influence on her husband has been a huge aspect of Timberlake's recent career moves. Biel even has a track on Man of the Woods called "Hers (interlude)." In it, the Sinner star recites words about her relationship over a track. "When I wear his shirt, it feels like, like his skin over mine," Biel says. "It's an armor, like a barrier from the world. Like, our secret nobody else knows and I like that, you know? It makes me feel like a woman, it makes me feel sexy." Even on the tracks that doesn't feature Biel's voice directly, it's evident that her relationship with Timberlake inspired much of the music.
Timberlake and Biel continue to be one of Hollywood's best couples ever, and it's fun to see them experience the Super Bowl halftime show, this time together.