Justin Timberlake's Son Silas Makes His Musical Debut On 'Man Of The Woods'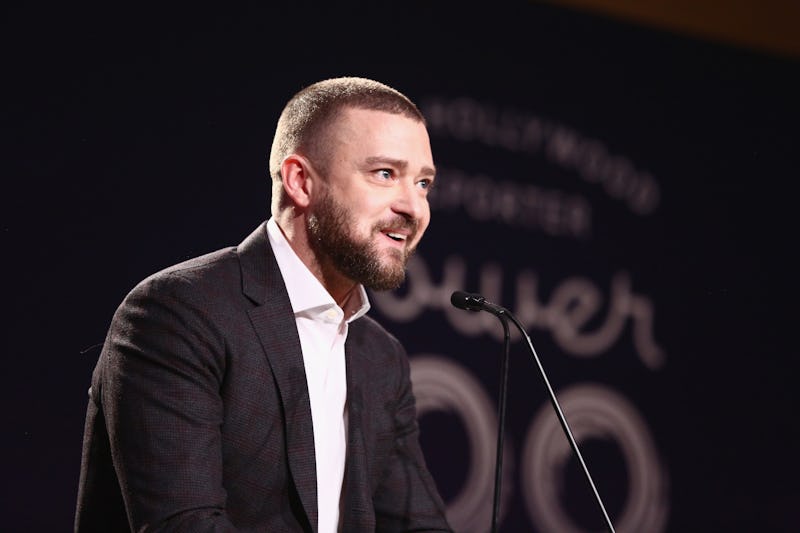 Rich Fury/Getty Images Entertainment/Getty Images
After what feels like forever, a new Justin Timberlake album is here. It's called Man of The Woods, and that's a loaded title. It's his first full-length album since he became a father in 2015, which begs the question: Is Justin Timberlake's son on Man of The Woods? He just might be the album's namesake, as "Silas" can be translated as "of the forest, trees, or woods".
Timberlake's son Silas Randall was born on April 8, 2015 to Timberlake and actor Jessica Biel. Fans haven't seen too much of the toddler, as his famous parents are careful to protect him from the media. However, that may be about to change. It's confirmed that Timberlake's son Silas appears on at least one track: The aptly named "Young Man." (Silas is also derived from the Hebrew word for "youngest"!) The song literally opens with Silas cooing "Da-da," and the track is essentially a love letter to him from there, replete with promises to protect him and references to God. The juxtaposition between the song's lyrics and its overall message is a little weird at times, however, considering it also features references to how attractive Jessica Biel is — including the line "You might get a sister." Oh boy.
Silas Timberlake is following in the Blue Ivy School of Successful Toddler-dom, as both children can now boast they were working with their parents before they were even potty trained. It doesn't seem like the youngster is featured on any additional tracks, but just singing along with his dad on "Young Man" is going to be enough to melt hearts during this long, cold winter.
In his announcement for Man of The Woods, Timberlake explained that he was inspired by his wife, his son, and his life in writing this album. While some may be inspired by his family, "Young Man" couldn't be any more blatant. It's reminiscent of Will Smith's cover of "Just The Two Of Us", which reframed the song as being about him and his son Jaden. "Young Man" fits more into Timberlake's album than Will Smith's song for his son, though. After all, Man of The Woods is primarily inspired by Timberlake's love for his family and features Biel on multiple songs.
The singer is not necessarily known for his confessional lyrics. (One famous exception is 2003 hit "Cry Me A River," which was reportedly about ex-girlfriend Britney Spears and featured a Spears lookalike in the music video.) Man in The Woods will seemingly show a more mature, grown-up side of Timberlake. No one begrudges him for writing danceable hits, but it's admittedly cool to watch the former boy bander evolve as an artist. Incorporating his son into the song he wrote specifically for him, and including it on his album, is like the most adoring dad move in the world. Who knew Timberlake was such a big softie at heart?
While so many tracks on Man of The Woods remain mysterious, it's sweet that "Young Man" is so blatant. Clearly Timberlake is so overcome with his love for his son and his wife that he's willing to write a lovely, embarrassing Dad song and not care who knows it. Can't you just see him at home, insistently filming every single thing Silas says and does? That's the impression one might get from "Young Man." And frankly, it's adorable.
It's obvious that Timberlake is all grown up on Man of The Woods, ceding space on a highly-anticipated album to his wife (an actor, not a singer) and son (who will turn three on April 8). Fans are all for Proud Dad Justin Timberlake. After 20 years in the spotlight, he's totally earned the right to switch into Dorky Dad mode.