Kylie Told Kris To Go Blonde For The Met Gala, So Kris Went Blonde For The Met Gala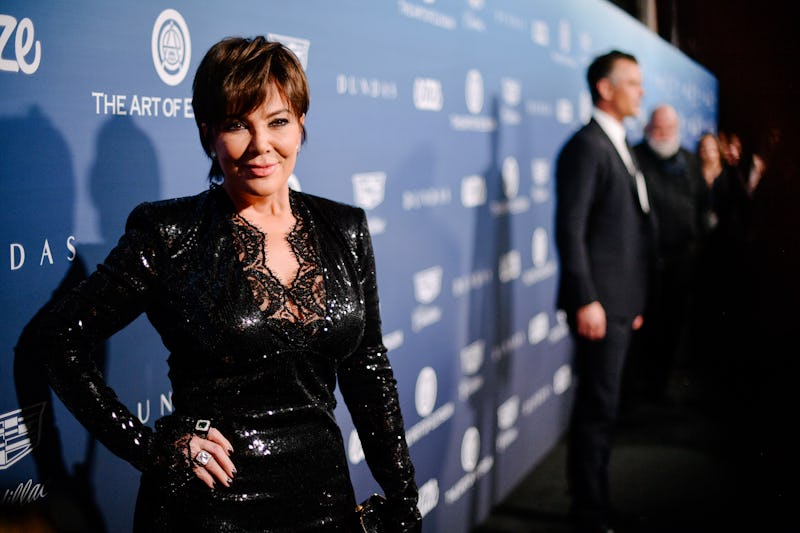 Matt Winkelmeyer/Getty Images Entertainment/Getty Images
The Kardashian- Jenner women love to change their hair, whether it's the cut or color. However, matriarch Kris Jenner almost always stays true to her dark locks in her signature pixie cut, until now. Kris Jenner's Met Gala 2019 blonde hair had the momager seriously switching up her look, and she's channeling her daughters big time.
Hair changes were a massive trend on the 2019 Met Gala red carpet, and blonde seems to be the color of choice. Mindy Kaling, Rachel Brosnahan, and Kacey Musgraves switched up their dark hair for blonde, and now Kris Jenner can be added to the list of new blondes who are walking the 2019 red carpet.
In an interview with E!, Jenner explained that she actually hadn't intended to appear on the red carpet with blonde hair. It was her daughter Kylie Jenner who encouraged Jenner to rock blonde hair instead of her usual brunette. Of course, when Kylie Jenner recommends you wear a blonde wig, you wear a blonde wig. Honestly, the decision was a good one — her hair looks great.
Of course, Jenner wore more than a blonde wig to the 2019 Met Gala. The famous mom was rocking Tommy Hilfiger to the event and decided to go with pants instead of a gown.
The navy pantsuit featured a star detail at the bust and a plunging sweetheart neckline. Of course, a pantsuit alone wouldn't be quite enough, so Jenner added a massive ruffled opera coat over the top, and the result was amazing.
Then, there was her blue eyeshadow, another beauty look that is unusual for the neutral-loving star. After all, you only need to look at her collection with her daughter Kylie Jenner's eponymous line of makeup, Kylie Cosmetics, to see that the Kardashian matriarch is all about a cool-toned neutral.
From her beauty look to her hair to her fashion, Kris Jenner's Met Gala 2019 look was totally different for the reality television star, and it was so good.
Of course, Jenner wasn't alone as she walked the red carpet. The Met Gala has become a bit of a family affair for Jenner and her children. The matriarch was joined by her daughters Kim Kardashian, Kylie Jenner, and Kendall Jenner as well as Kim's husband Kanye West and Kylie's partner Travis Scott. All of the Kardashian-Jenner women have been attending the Met Gala together for a few years now, and they always look incredible.
Kylie Jenner was rocking purple from head to toe in a gorgeous feather gown complete with muffs on her arms.
Kendall Jenner also went for feathers but in a vibrant orange and with a beauty look that channeled the 1920s.
As for Kim Kardashian, she embraced a wet look from Thierry Mugler, marking the first time the designer has created a new look in 20 years.
Clearly, the family that slays together (and films reality television together), stay together. From Kris Jenner's blonde hair at the Met Gala to her daughters' stunning looks, the Kar-Jenner did the event right.