Kylie Jenner Flashed A Gorgeous Ring On Snapchat & Fans Want To Know What It Means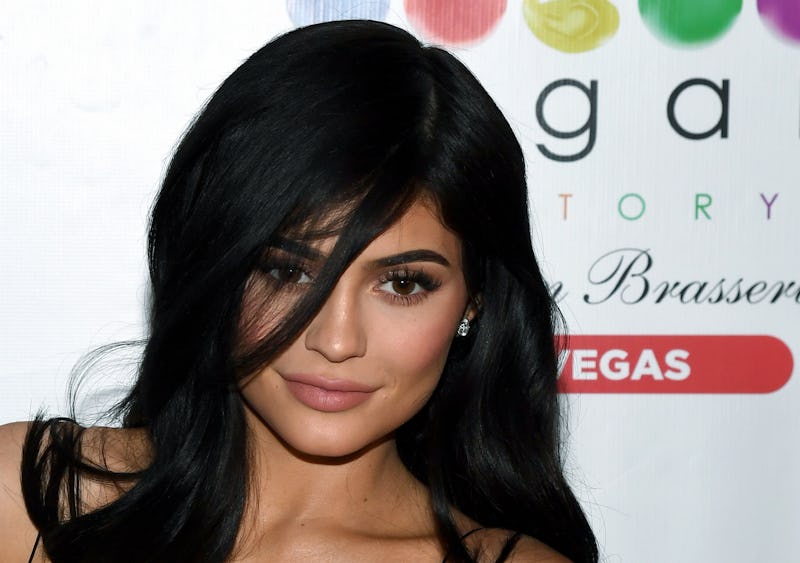 Ethan Miller/Getty Images Entertainment/Getty Images
Kylie Jenner spent her week driving to her half-sister's baby shower and her half-brother's daughter's birthday party. But that's old news by now. After she posted a series of question-inducing Snapchats on the way to celebrate family milestones, fans have to ask: is Kylie Jenner engaged? The makeup mogul documents her life on Snapchat, Instagram, and Twitter, where she can be seen testing makeup samples, promoting teeth whiteners, and generally showing us all The Fabulous Life Of Kylie. But the E! series Life of Kylie revealed that as open as the 20-year-old seems to be, she's surprisingly good at keeping some things private.
That's especially important in 2017, where the young entrepreneur is yet to confirm her rumored pregnancy to the media. Fans are eager to decode Kylie's "hints," picking apart her Snapchat stickers and nail polish choices for clues she may not be offering. Writer and Kardashian expert Mariah Smith even went back through episodes of Life With Kylie and Kardashian-Jenner headlines to piece together a reasonable pregnancy timeline. So, did she just announce her engagement on Snapchat, or is Kylie just flaunting a big diamond ring just because she wants to? Or both? Let's take a closer look at this. She hasn't confirmed anything on social media, but this snap is really something.
At first look, yeah. Engagement rings and wedding bands are typically warn on the fourth finger of the left hand, as the ancient Greeks believed that had the only vein in the body that connected a finger directly to the heart. It's not true, though — no such vein exists, at least not the way they understood it — but the tradition stands. Now, Kylie doesn't often rock a rock, particularly one like that, and especially not on her ring finger. If she just wanted to show off her custom Bentley, she could have just posted the second half of her snap, in which the logo and leather interiors are clearly visible. Instead, though, she shared a video with her left hand on the wheel. The sun hits the diamond, and boom. Dazzling.
But is it an engagement ring? If it is, why announce it so casually, and without potential fiancé Travis Scott? Kylie's a savvy celebrity. Is it really like her to give news like this away for free? It could go either way, and though it really does look like Kylie Jenner is engaged, this isn't quite the way one would expect her to announce it. What world-famous 20-year-old, happy in love, would drop news of her engagement in a brief, bougie Snap? It just doesn't seem like her. It doesn't seem like anyone. Unless she has a reason to do it.
Here's the thing, though: Everyone is dying to know whether Kylie Jenner is pregnant. Now, we're all wondering if she's engaged, and even Kylie stans haven't quite warmed up to the idea of Mr. Travis Scott on her arm. (The two have only been together since April, though that is an eternity at age 20.) So Kylie is either purposefully sparking this rumor - or she is actually engaged to Travis Scott. And honestly, neither one would be surprising. Or Kylie got a new ring and she wants to show it off to her fans. Or maybe Scott gifted it to her just because. There could be so many reasons behind the new sparkler, but it does really, really looks like Kylie Jenner got engaged, and just accidentally remembered to tell her fans about it in the car one day.
And if Kylie Jenner is engaged, it would be so divinely extra of her to announce it en route to Kim Kardashian's baby shower. That could make the next seasons of Keeping Up With The Kardashians and Life of Kylie very interesting indeed.