This 'Vanderpump Rules' Star Could Be Close To Tying The Knot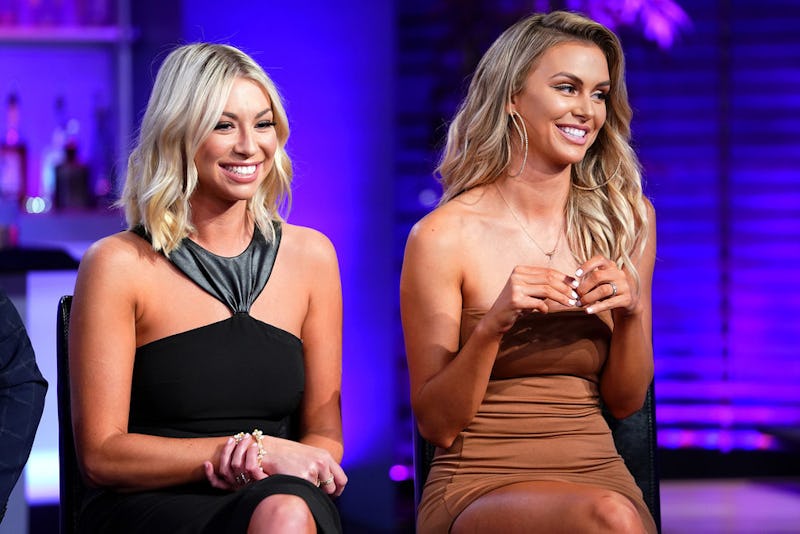 Nicole Weingart/Bravo
For years, the cast of Vanderpump Rules wondered one specific thing: What's the deal with Lala Kent and her boyfriend? She was ultra-secretive about "her man" since they first got together, but that only lead to more secrets, more rumors, and a ton of on-camera fighting. And now there's a new mystery: is Lala Kent getting married? The Pump Rules star is officially looking at engagement rings with her boyfriend — who was eventually revealed to be film producer Randall Emmett — and she dished to Us Weekly about it in true, blunt, Lala Kent fashion.
"We have [looked at rings], yeah. I mean, it's fun," she told the magazine. "I'm a chick, so of course I'm naturally gonna look at rings online and of course I'm looking at a lot of carats but, you know, who knows?" Leave it to Kent to casually toss out of the phrase "I'm looking at a lot of carats." Even then, she backpedaled, laughing that, "I know it sounds so cheesy. I'm totally a cornball right now."
After a long and rocky road to being a public couple, Emmett and Kent made it media-official in December 2017. Since then, they've attended red carpet events together and documented their extravagant trips on social media. It's kind of hard not to love them by now, right?
Kent told Us Weekly that despite all the hoopla surrounding her potential engagement, marriage planning hadn't quite crossed her mind. Not just now, but anytime, ever:
"It's so crazy because I've never even thought about it. Some little girls dream about their wedding day and what they'll look like and me, I just always wanted to be kind of like a boss b*tch. So whatever he plans to do is going to be perfect."
What exactly does being a boss b*tch entail for Kent these days? It probably has something to do with taking charge of her acting career, her music and her makeup line. But does that mean that she's comfortable sitting back and letting Emmett call the wedding shots? It sure seems like it! For the engagement, at the very least. Kent joked to the magazine, "He could ask me in the McDonald's drive-through and I'd be like, 'Oh my gosh, this is the best.'" If that's not true love, then what could be? (Also, one has to wonder what the fabulous Lala orders at McDonald's.)
That said, just because they're window shopping for rings doesn't mean Kent and Emmett will be hiring a wedding planner any time soon. Kent insisted, "We're in no rush. We're in such a great place." So maybe there won't be a Vanderpump Rules engagement or wedding for Kent anytime soon.
She also explained that the recent loss of her father was part of her decision not to rush into marriage:
"I just lost my dad about three months ago so we're kind of going through the transition of having a family member not a part of the family anymore on the right day … Even if [Randall] said, 'Let's wait a year,' I'm still here. I'm totally in a great place."
Despite the rumors about her personal life that have flown since Kent joined the Vanderpump Rules cast in Season 4, it seems as if things have finally settled for her and "her man."