Michael Che Doesn't Want To Put His Love Life In The Spotlight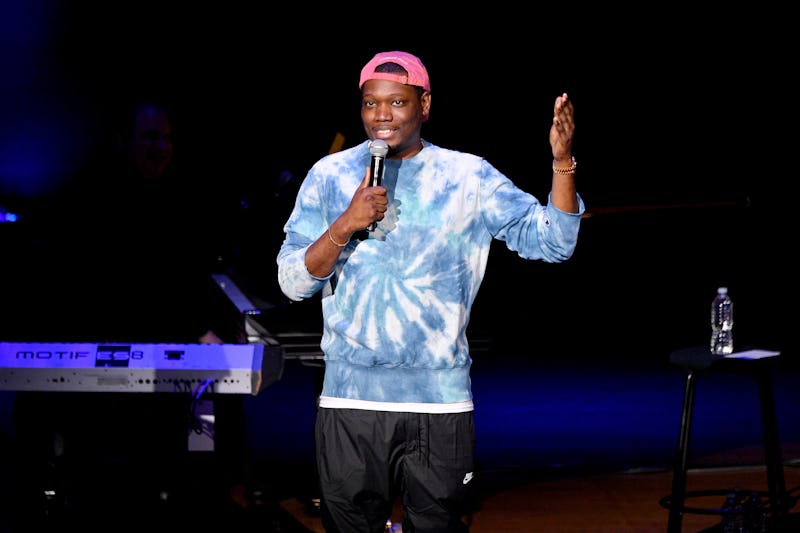 Dia Dipasupil/Getty Images Entertainment/Getty Images
On Monday night, Michael Che is due to mount the Emmy Awards stage as one of this year's two co-hosts. And while fans are excited to see the SNL star flaunt his comedic chops in MC format, some are also a little preoccupied with the state of his love life, wondering if Michael Che is single. The comedian isn't especially public when it comes to his personal life, so admirers probably won't be too surprised to learn — if they don't know already — that Che hasn't explicitly spoken about his current relationship status in the press, or on social media.
That said, the famously goofy Weekend Update anchor did manage to turn his romantic ventures into a punch-line during a recent appearance on The Ellen DeGeneres Show, which he shared with SNL co-star, upcoming Emmys co-host, and real-life buddy, Colin Jost. (Che and Jost have been busy these last couple of days, and fans wondering what to expect from their Emmys performance can check out the duo's "sneak peek" video, courtesy of The Today Show.) So, how did the trio's conversation eventually settle on the topic of Che's relationship status? Unsurprisingly, fans have Ellen DeGeneres to thank for that.
Referencing Jost's relationship with Scarlett Johansson, which the pair took public at the end of last year, DeGeneres pointedly asked Che if his pal's relatively newfangled romance has taken a toll on their friendship. "Are you like the third wheel on dates and stuff?" the host asked, kicking off a particularly chuckle-worthy segment of last Friday's episode.
And while the idea of Che tagging along for dinner and a movie with Jost and Johansson is one most comedy fans will probably want to hang onto, he jokingly told the host that his third-wheeling days are a thing of the past. And why is that, exactly? Without missing a beat, Che continued,
"Because I'm dating a celebrity too ... She's a Times Square Elmo."
Unfortunately for fans who'd prefer a more definitive answer as to the details of Che's love life, the comedian's pretty obviously facetious reply (it doesn't sound like Che has actually entered into a relationship with a life-sized Sesame Street character) could very well be interpreted a number of ways. Either he's single — and possibly deflecting with quips, as is his profession, after all — or he's not, in which case perhaps fans can take the "Elmo" comment as a sign that Che isn't trying to talk about romance right now. With this year's Emmy Awards just days away at the time of the interview, it seems safe to say he's got a lot going on lately.
Still, after watching the remainder of the SNL pair's recent Ellen appearance, it doesn't sound like Che has a whole lot going on in the relationship department. (Of course, lest we forget that this man is a comedian, which means cracking jokes, often at his own expense, is kind of a foundational tenet of his profession.) Speaking about why he and Jost never hang out anymore — which also seems highly unlikely, given the fact that they're co-hosting the Emmys together — Che joked, "If you're with, like, Scarlett Johansson I don't want to tell you to come to this dive bar with me and watch a Yankees game."
So, fans looking for concrete evidence of Che's relationship status, they'll just have to settle for the Times Square Elmo story for now. Whether or not Che's comedically-inclined comments meant to suggest he's actually single remain a bit of a mystery, at this point. (Though, admittedly, it does sound like he might be.) But who knows? Maybe Che will throw in a relationship crack or two when he and Jost take to Emmys stage later this evening.