Millie Bobby Brown Left An Adorable Instagram Clue About Her Golden Globes Plan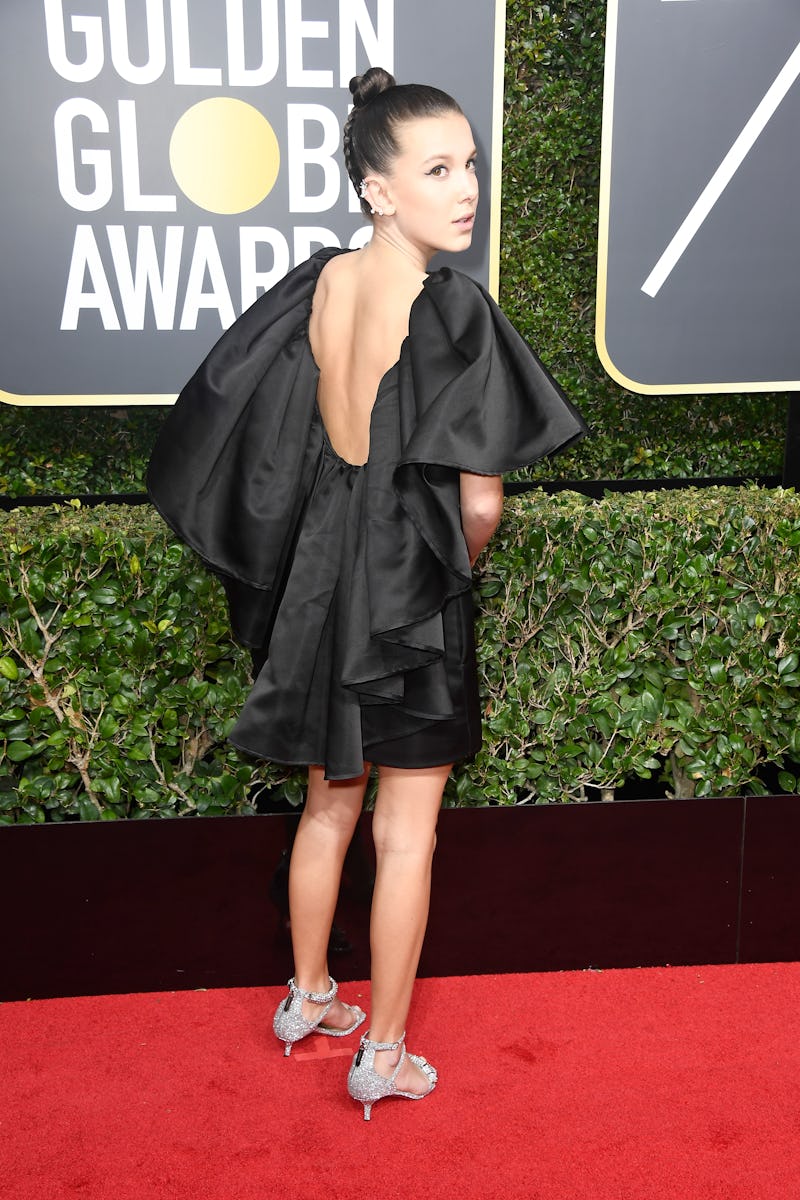 Frazer Harrison/Getty Images Entertainment/Getty Images
It's a truth universally acknowledged that Millie Bobby Brown is a gift, and we're all now aware of that thanks to her breakout role as Eleven in Stranger Things (casting: Carmen Cuba). So when Millie Bobby Brown wasn't on the 2018 Golden Globes red carpet with the rest of her Stranger Things co-stars, people were not happy. If Millie Bobby Brown isn't at the 2018 Golden Globes, there's no telling what might happen. (Riots in the streets? Flooding the world with one's tears? Spamming her Instagram?) Well, the latter thing has actually happened, because Brown teased her Golden Globes plan on Instagram — and it was adorable. Update: Brown also made it to the red carpet, just in time for a quick photo (above). Sadly, she and her pals didn't take home any gold.
Earlier: On Saturday, the Stranger Things star posted a short video on Instagram with the caption, "What to wear.. What to wear... See you on Sunday!🎉" In the video, she's shown lounging on the floor of an elevator as the doors open. She yawns. She glances the audience's way in a disinterested manner. She smiles and bats her eyelashes. She looks bored again as the elevator doors closed.
And yet, when her co-stars Finn Wolfhard, Gaten Matarazzo, Caleb McLaughlin, Noah Schnapp, and Season 2 newcomer Sadie Sink, stepped up to be interviewed during the E! live show, Brown wasn't with them. As such, fans immediately flooded to her Instagram to ask if she was coming. Ain't no party like a Jane Hopper party because a Jane Hopper party has waffles, or whatever.
Fans weren't wrong to be worried. After all, Brown isn't actually nominated for a Golden Globe. Instead, her co-star and on-screen father figure David Harbour is nominated for Best Supporting Actor in a Series, Miniseries or Television Film for his role as Police Chief Jim Hopper, while the show as a whole is nominated for Best Series — Drama. Of course, just because she doesn't have to be there to collect an award of her own doesn't mean that Brown wouldn't be there at all. In the first place, an award for Stranger Things is an award for her. In the second place, the Stranger Things cast is genuinely close with each other, and a nomination for one of them is a joy for all of them.
You only need to watch a single interview featuring the young co-stars to see how much fun they all have with each other. Brown seems particularly close with Schnapp, who plays Will Byers on the show and who features highly in a lot of her pictures and social media, but all the kids seem to get along. For example, Matarazzo posted a picture with Brown and McLaughlin in July 2016 with the caption, "I love these guys. There are only two things missing @noahschnapp and @finnwolfhardofficial. Love these guys. Couldn't have done this without you guys. Love you with every little bit of my heart."
So, yes, fans were taken aback to see that Brown wasn't on the red carpet with them, but, the actor wouldn't miss the show without a good reason and, ultimately, turned out to simply just have been a little later than her on- and off-screen besties. No one should have doubted her in the first place, really. She plays the character who iconically said, "Friends don't lie," after all.
Now, all that's left to do is to cross our fingers and hope that Stranger Things takes home an award, whether for the whole show or for Harbour. Because we didn't get to see Brown have shenanigans with her co-stars on the red carpet, so we all need to see those shenanigans take place during the ceremony. Otherwise, the streets might still be flooded with tears.