8 Problems You May Encounter If Your Partner Isn't Participating In Your Relationship Equally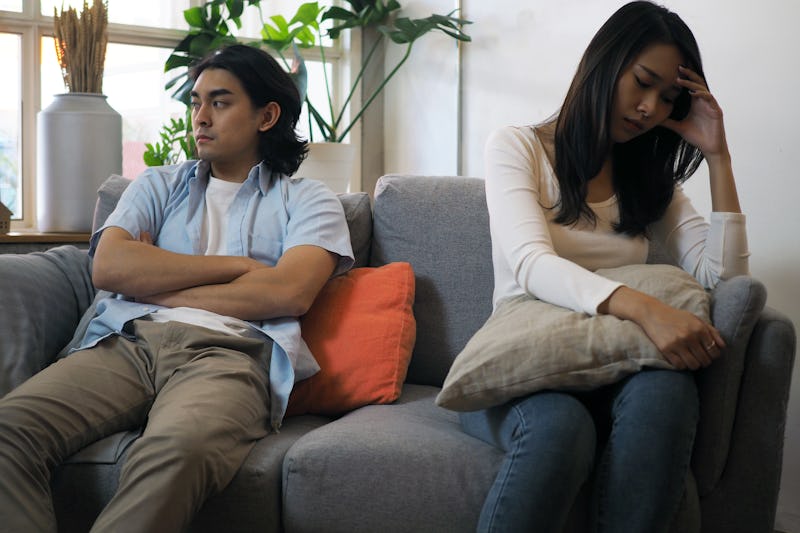 Shutterstock
When you love your partner deeply, it can be hard if you begin to question if your partner is dysfunctional in relationships. A few key relationship problems can help you determine if this of true of the person you're with, according to experts.
"A dysfunctional partner is someone who isn't able to play their part in the relationship dynamic," Adina Mahalli, MCT, a certified relationship expert and mental health consultant, tells Bustle. This might mean that they won't resolve relationship problems with you, may try to manipulate you, or they have their own issues — which manifest in the way that they treat you.
If you come to suspect that your partner is not equipped to handle relationships, make sure that you first of all remember to take care of yourself. Of course, you'll probably be concerned about addressing your issues with them. "But never forget to care for someone who will always be with you—yourself," Celia Schweyer, dating and relationship expert at Dating Scout, tells Bustle. "Be vocal about your boundaries and assert your individuality."
You should also realize that, no matter how great your intentions are and how much you want to see your partner get to a healthier place, you aren't there to "fix" your partner. Depending on what their situation is, they might need to see a mental health professional so that they can work through some of their issues.
Here are some signs that your partner may be dysfunctional in relationships, according to experts.