Is Oprah Running for President? Twitter Is On Board With A President Winfrey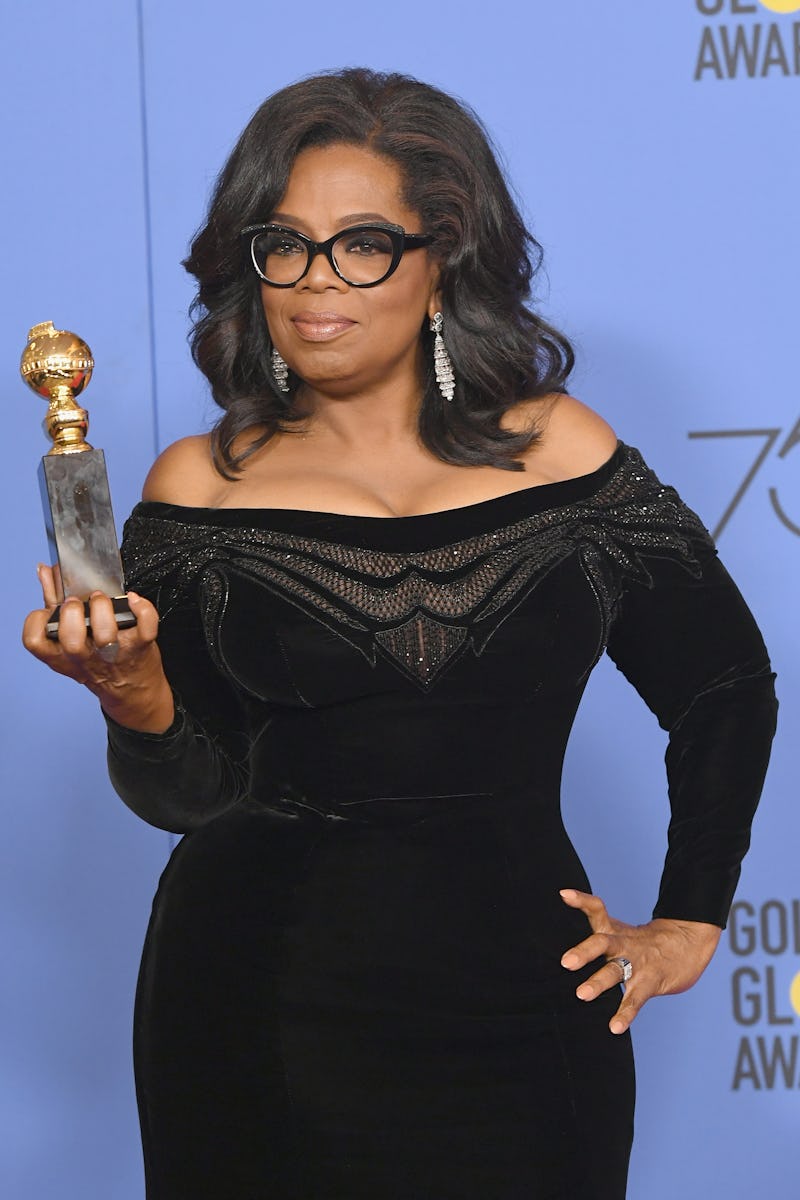 Kevin Winter/Getty Images Entertainment/Getty Images
During last night's 2018 Golden Globes award ceremony, it was hinted that Oprah Winfrey might run for President of the United States. The billionaire media personality and entrepreneur seemed to laugh along at what appeared to be a joke, as host Seth Meyers teased that she should select Tom Hanks as her running mate. But later in the show, Winfrey took stage to deliver a powerful speech when she received the Cecil B. DeMille Award, which had viewers taking to Twitter to express their support for a Winfrey presidency.
This morning people everywhere are wondering whether or not the mogul is actually planning to run for president. Currently, there are conflicting reports, as Winfrey reportedly denied that she was considering a run, but now sources have told CNN that she's "actively thinking" about running for president.
During his Golden Globes opening monologue Meyers poked fun at President Donald Trump a number of times, including a moment where he jokingly encouraged Winfrey to run for president in 2020. The host referenced reports that Trump had decided to run because of a joke Meyers made in 2011 as part of his plea to the A Wrinkle in Time star, saying,
Oprah, while I have you, in 2011 I told some jokes about our current President at the White House Correspondents dinner, jokes about how he was unqualified to be president, and some have said that night convinced him to run. So if that's true, I just want to say — Oprah you will never be president! You do not have what it takes!
Meyers also joked that Hanks is "too mean and unrelatable" to be Winfrey's veep, and noted that now we would have to "wait and see." It was a humorous segment, but then when Winfrey delivered her Cecil B. DeMille Award acceptance speech people on Twitter seemed to think that it might have been an indication that she would consider a presidential run. Check out Oprah's full speech below.
"This is the most presidential speech I've heard in months," on person tweeted. Others shared pleas directed at the media mogul asking her to consider running, and #Oprah2020 quickly became a popular hashtag on Twitter.
Backstage at the Golden Globes Winfrey reportedly dismissed the response online to speculation about her running in 2020. According to Bloomberg, Winfrey was informed that "Oprah 2020" was trending on Twitter, but when asked if she had plans to run she reportedly said, "I don't. I don't."
As The Hollywood Reporter points out, Winfrey has previously expressed a similar sentiment about a potential bid for the White House back in June 2017. "I will never run for public office," Winfrey told THRs 'Awards Chatter' podcast. "That's a pretty definitive thing." The outlet asked Winfrey about whether or not she thought she could defeat Trump, she said,
"I don't know. I don't know the answer to that. But I will never have to know the answer to that, because I will never run for public office."
Additionally, when Winfrey's best friend Gayle King brought up the topic while Winfrey was a guest on "CBS This Morning." Winfrey quickly shot it down, according to CNN, saying, "there will be no running for office of any kind for me."
However, CNN is now reporting that Winfrey is in fact considering a presidential bid. The outlet spoke to multiple sources who claim that "confidants have been privately urging her to run," and that she's been considering running for months. The insider does say that Winfrey has not yet made a decision.
In speculating about whether or not Winfrey will run, some have pointed back to an interview she did with Bloomberg where the billionaire claimed that, "it's clear you don't need government experience to be elected president of the United States."
After the Golden Globes, The Los Angeles Times spoke with Winfrey's longtime partner, Stedman Graham who said, "it's up to the people," when asked about Winfrey's potential candidacy. "She would absolutely do it." Graham's comments do seem to indicate that Winfrey's opinion on running may have evolved since she was quoted as saying she would never run for public office.
Currently it's unknown whether Winfrey actually intends to make a bid for the White House in 2020 or not. The presidential election is still years away, and the Democratic presidential primaries likely won't get too much attention until after the 2018 midterm elections, so it could be a while before an official announcement is made — that's if she does indeed plan to run. But if Winfrey starts doing things like making trips to Iowa (the state kicks off the presidential voting season and is often seen as an indicator of how primary candidates will perform nationally) then you'll now she's more than just "considering" a presidential run.