Yes, Prince Harry Can Drink At His Wedding — But There Are Some Rules Involved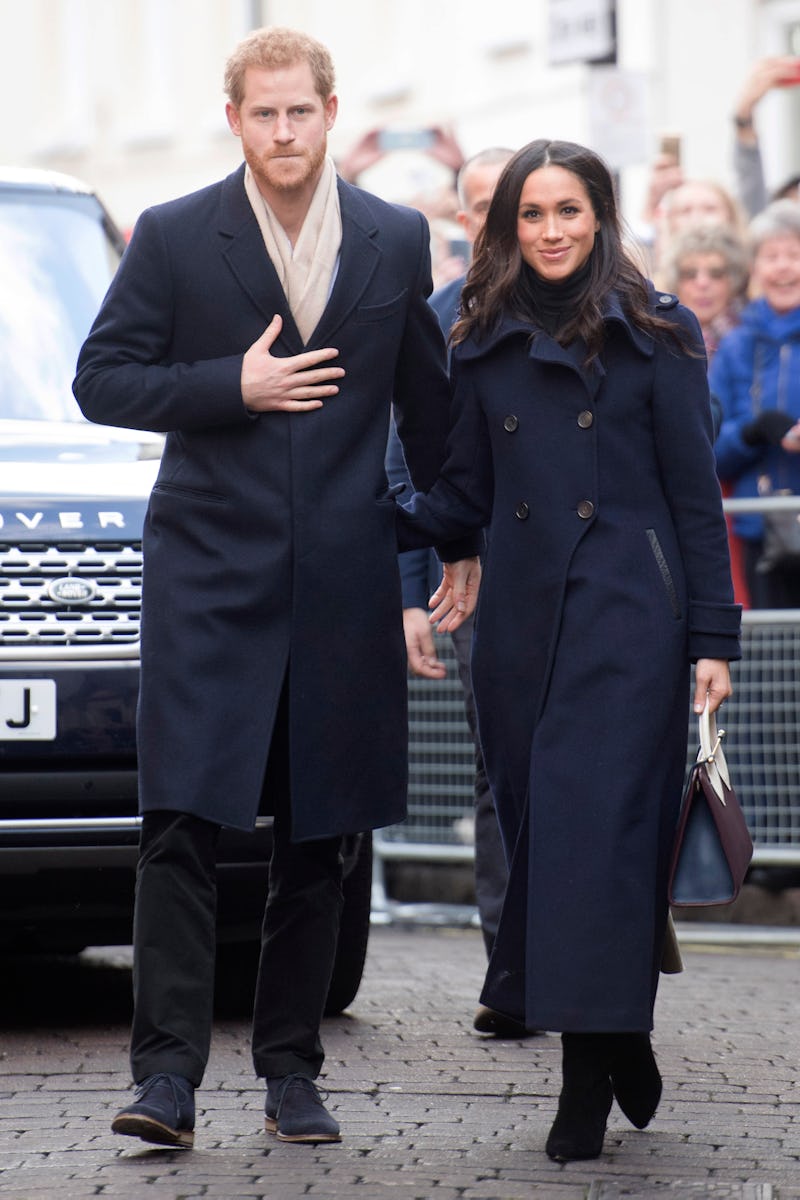 WPA Pool/Getty Images Entertainment/Getty Images
The wedding of the century is almost here. While the internet is flooded with cocktail recipes for wedding viewers, and details about which wine and spirits Meghan Markle and Prince Harry will serve on their big day, some people are wondering: Is Prince Harry allowed to drink at the royal wedding? Royal wedding traditions date back centuries, and while there don'y seem to be any hard and fast rules about whether the royal couple can imbue at their own wedding, some past royal-wedding fails serve as cautionary tales and make a good case for restraint during what will likely be the most-watched wedding in the history of the universe.
According to The Sun UK, during his first wedding to his cousin Caroline of Brunswick, the future King George IV got a little too drunk. OK, he got a lot too drunk. "Apparently, King George IV was so drunk at his wedding to his wife-to-be (and cousin) Caroline, that he needed to be propped up," Natalie Keegan wrote. "To make matters worse, it is said that he burst into tears when no objections were made to the wedding." I mean, if you're being forced to marry your cousin against your will, you might be forgiven for over indulging in response to your arranged marriage. In 2018, with Prince Harry and Meghan Markle marrying for love, they'll likely to toast to their happiness instead.
Side note: Princess Caroline apparently had as much trouble standing as her betrothed, but not because she had too much to drink — her dress was reportedly too heavy. While Prince Harry and Markle may not over do it, Brides noted that an alcohol-soaked fruitcake is traditionally served at royal weddings, so guests will get spirits both in their glasses and on their plates. What's more, both Markle and Harry are known for their fondness for wine and scotch, so expect these drinks to be abundant during the royal-wedding festivities.
Town & Country reported that Markle previously ran a blog that she named after Tuscan red Tignanello wine, so one can speculate that the royal couple may have a glass of her favorite at their wedding. And, per royal wedding tradition, it seems that most of the boozing is reserved for the after party. Prince Harry has also been open about his past substance use, which he has said that he engaged in to deal with his suppressed emotions surrounding the death of his mother, Princess Diana.
He's spoken candidly in recent years about turning to counseling and boxing instead of drugs and alcohol to deal with his emotional pain, and he is now an outspoken advocate for mental-health awareness. He even participated in the Mental Health Minute earlier this week alongside mental-health advocates like his brother Prince William and singer/songwriter Lady Gaga. So, even if Prince Harry does drink at the royal wedding, he'll likely engage in a traditional celebratory champagne toast.
However, with all the royal-wedding rules, no one could fault any royal bride or groom for having a drink on their wedding day. Because, while this fairytale wedding has everyone royally fascinated, it also sounds pretty stressful for the bride and groom. That being said, it is recommended that guests at the royal wedding take it easy on the booze.
"Don't even think about going drink for drink with the royals. They imbibe every day — and they drink a lot," Diane Clehane wrote in a story about royal-wedding etiquette for Best Life. "Unless you're used to downing scotch (like Harry) or gin and tonics (like the queen and Camilla) on a regular basis, opt for two glasses of champagne and then switch to fizzy mineral water.
For royal wedding viewers who are planning an early rise and shine for the big day, there's a Royal Wedding Pop-Up Bar in Washington, D.C. where you can grab a seat. If you're watching at home, you'll want to start your day with English tea and limited-edition McVitie's Royal Wedding Digestive Biscuits before moving on to your own royal-wedding inspired cocktails. Cheers, my friendlies!