This Is Why Fans Think Taylor Swift Might Be Copying Kanye West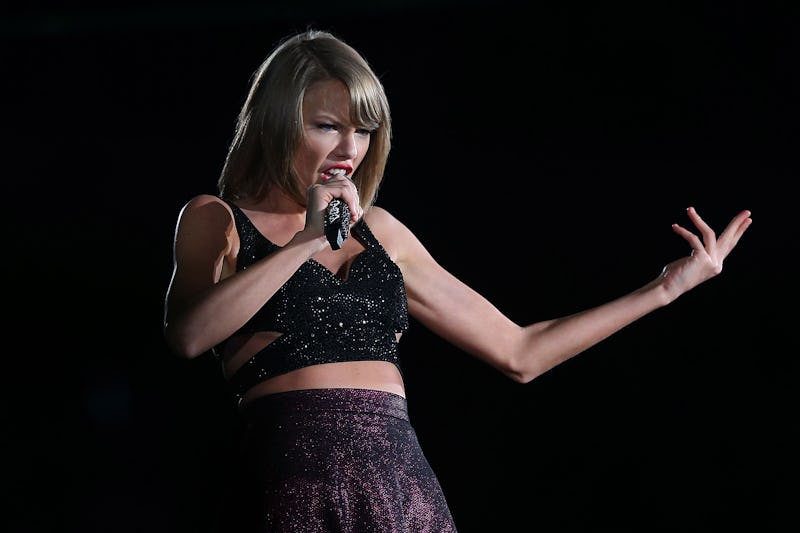 Graham Denholm/Getty Images Entertainment/Getty Images
Taylor Swift has already proven that she pulls no punches when it comes to dropping an album. But, as the singer launches into a hardcore promo cycle for Reputation, some fans have started to wonder whether Swift is copying Kanye West. And, honestly, there are a lot of reasons for why they might think so.
Many have speculated that the 27-year-old's first single off the album, "Look What You Made Me Do," is taking aim at the rapper. Swift feuded with Kimye last year over that infamous line in "Famous," and the blonde seems to have lifted the snake imagery from a Kim Kardashian subtweet. Lyrics like "I don't like your little games, don't like your tilted stage" have had fans giddily posting photos from West's Life of Pablo Tour, which famously used a levitating — and, yes, tilted — stage.
But in case you aren't catching the references buried in her lyrics, there are still more clues to pore through that potentially point the finger at the artist and fashion designer. Before the single had even been released, sharp-eyed observers noticed similarities between the lettering Swift is using in her promos and letterings that West has used on his most recent work. The fan account Taylor Swift News even claims that the Reputation font is actually called "Kanye Life of Pablo." Let's just open up this window and throw the subtlety right out, huh?
Many commenters dismissed the notion, saying the font was actually the same one used in the New York Times, but they are certainly close. It's a popular font, regardless. And it also isn't the only similarity.
Fans also noticed striking parallels between the album covers themselves. Swift released what seems to be her Reputation cover art on Thursday, and it uses a layering of text that was familiar from the Life of Pablo album cover.
Swift has a history of alerting fans to the subjects of her songs with hidden imagery — remember all those paper airplanes references from back in the day? (And those were hidden in plain sight in "Style," which was rumored to be about Harry Styles.) In any case, she almost certainly knows that her fans will go through any and all material she releases with a fine-tooth comb, so anything we're finding, she probably wanted us to find. Even her two magazine covers have raised eyebrows, with Swift's use of an army jacket on one, her promise of poetry and fashion on the other, and the particular styling she's selected.
At the end of the day, all these little clues might as well be a shoutout to Kanye West and Kim Kardashian, warning both them and the rest of the world that Taylor Swift has them in her sights. And if she's coming in this hot on the promo alone, it seems like it's going to be a bumpy ride.