Taylor Swift's 'Reputation' Album Art Hints That She's Reclaiming Her Narrative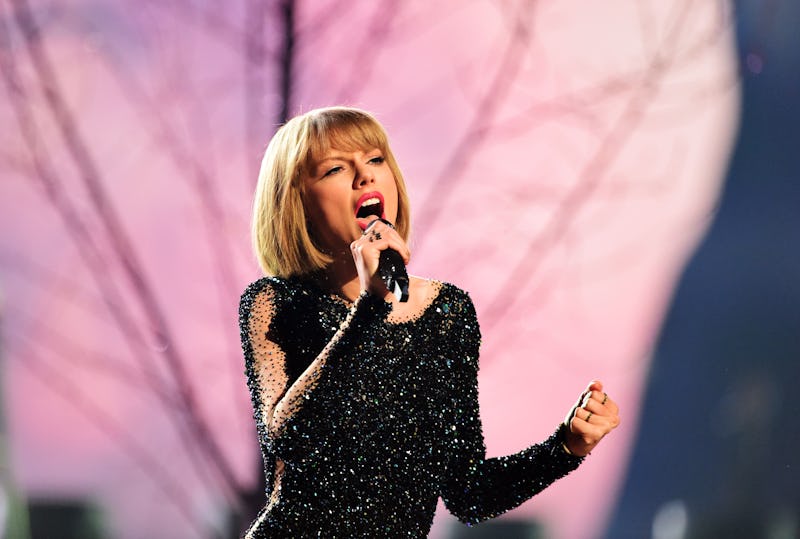 ROBYN BECK/AFP/Getty Images
After dropping a trio of snake videos, Taylor Swift made the announcement fans have been waiting for. Confirming all of the speculation, she's got not only a new single, but also a new album on the horizon. But wait, what does Swift's Reputation album art mean? She seems to be taking the media and her public image head-on.
Swift is no stranger to the spotlight, but in recent years, she's also been at the forefront of gossip about her love life, as well as criticism for what's been deemed "faux feminism." Not to mention the entire Kanye West and Kim Kardashian situation, where Swift was accused of playing the victim. Basically, it's been a rough few years. And despite a statement that she "would very much like to be excluded from this narrative, one that [she has] never asked to be a part of, since 2009," it appears that the singer is finally sharing her side — rewriting that narrative, if you will.
In the cover art, Swift's face is featured alongside headlines and newspaper print. But when you zoom in, it simply says "Taylor Swift" repeatedly in all of the text. Without even using any real words, fans can surmise what this means — a reference to the endless headlines and stories the singer has spurred in recent years. Whether that was about her feud with Katy Perry or whirlwind romance with Tom Hiddleston.
Depending on how you interpret it, Swift could either be embracing the spotlight, reclaiming it, or even mocking the excessive attention. But either way, the album art makes it clear this is her moment to set the story straight — or at least attempt to. She's taking her reputation in her own hands and trying to change what you think when you read the name, "Taylor Swift."
The song titles from the upcoming album, set to drop on Nov. 10, have yet to be revealed, but if this cover is anything to go by, it's going to get people talking more than they already are.