Issa's New Love Interest On 'Insecure' Motivates Her To Make A Major Change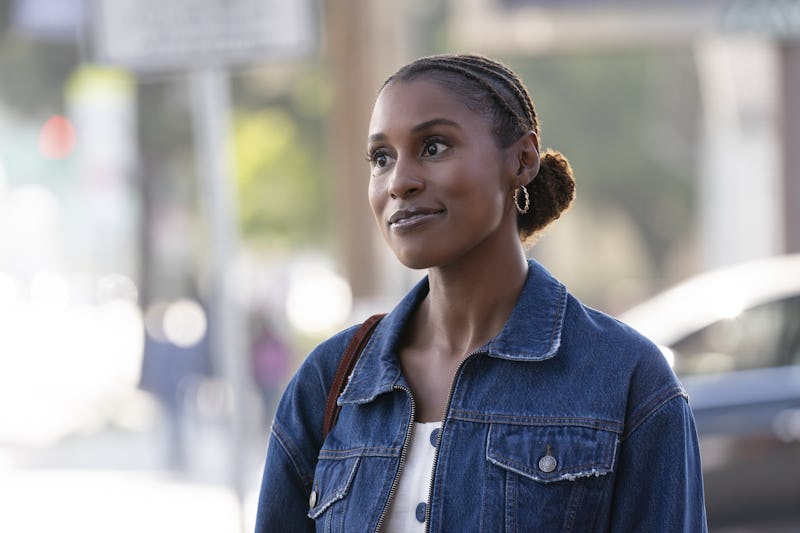 Merie W. Wallace/HBO
Issa's new job as a property manager on Insecure allows her to start off fresh in "Fresh-Like." She has moved out of Daniel's place and has more financial freedom, but it's actually a chance encounter that leads her to a major life change. Spoilers follow. Issa meets Nathan again on Insecure and the two have an impromptu date. If the name Nathan isn't ringing any bells, he was the Lyft Bae in the Season 3 premiere. Even though he got beat up in the Party Lyft when he first met Issa, the pair hit it off in "Fresh-Like" and spend the day together. And their date not only shows a more honest side to Issa — it also inspires her to finally quit her job at We Got Y'all.
Although Season 3 seemed to be setting up Daniel and Issa, Insecure creator Issa Rae had told Bustle that her character would have two new love interests this season. And now that's she's out of Daniel's house and bed, she's looking to hit refresh. So when she runs into Nathan at Worldwide Taco (the very same eatery that she had suggested he go to in "Better-Like"), she's more than down to skip work for the rest of the day and get to know him better.
Issa had a lot of baggage when it came to both Lawrence and Daniel, but she's surprisingly candid as she hangs out with Nathan. He has just moved to Los Angeles from Houston and as she gives him a walking tour of South LA, they play a game of truth or dare. She tells him how her last relationship of five years ended because she had cheated on her boyfriend. And she even shows Nathan her childhood home and opens up about her parents' divorce. Once there, they break into the backyard and go skinny dipping in the pool and in her (literally) naked vulnerability, Issa tells Nathan about her rap aspirations.
Nathan is truthful too as he talks about how he's never had a long-term relationship and decided to move to Los Angeles after his apartment was flooded in Hurricane Harvey. This conversation about starting over makes Issa confess how she's unhappy in her job and wants to integrate music into her career. Nathan encourages her to, "Make that sh*t happen." Their intimate moment is interrupted though when the current homeowners threaten to call the police about the naked intruders in their pool. But they still manage to go back to her apartment for "eating tacos and kissing on the mouth" before her management duties call.
Issa ignored her responsibilities at We Got Y'all for this magical day since Frieda had just convinced Joanne to put Issa back in the field. But this LA day is just what she needed and when she goes into work the next day, she quits We Got Y'all. She has been unhappy there since the series started, but Nathan's words were in her head when she finally makes this decision. And on a more personal note, she even gets rid of the mixed CDs that Lawrence had made for her, which is a pretty big deal considering Adele was on them.
Of course, Nathan doesn't get all the credit for Issa's career change. By moving on from Lawrence and moving out of Daniel's home, she has left herself to be more open. If she hadn't done those things, she may have never been willing to go on this adventure with a stranger in her hometown. So no matter where Issa and Nathan's relationship ends up going from here, he obviously helps Issa tap into a side of herself that she has been ignoring for a long time. As she changes up her career and home life, Lyft Bae also offers her the chance to begin a new romantic relationship that's honest and helps bring out the best in her. And that sounds like a pretty great fresh start.