Ivanka Trump Sounded Just Like Her Father While Defending Her Private Email Account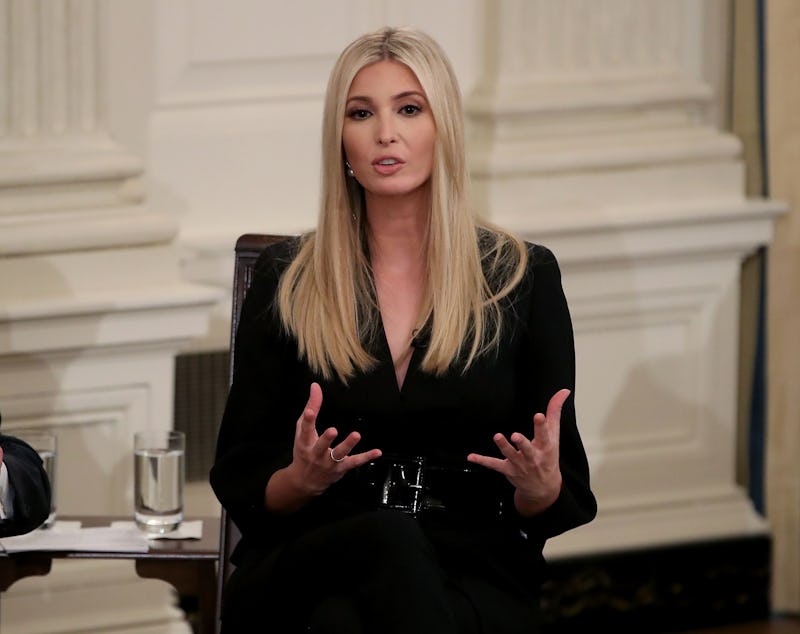 Mark Wilson/Getty Images News/Getty Images
After the first daughter's emails came under scrutiny last week, the Trump family has stood by its position that she did nothing wrong. In an interview with ABC News on Tuesday, Ivanka Trump claimed there's "no equivalency" between her emails and the Hillary Clinton email scandal that led the president to call for the former secretary of state to be sent to jail.
"All of my emails are stored and preserved. There were no deletions. There is no attempt to hide," Trump told ABC News. "There's no equivalency to what my father's spoken about."
The first daughter and senior presidential adviser sent hundreds of emails to White House aides, Cabinet officials, and her assistants last year using a personal email account, The Washington Post reports. Unnamed sources familiar with a White House examination of her messages told The Post that some of those emails allegedly violated federal records rules. The president acknowledged to reporters last week that the first daughter had used a private email account "early and for a little period of time," but added that her emails didn't contain classified information and none were deleted.
His daughter mimicked that explanation when defending her own actions on Tuesday.
"There is no restriction of using personal email," she told ABC. "In fact, we're instructed that if we receive an email to our personal account that could relate to government work, you simply just forward it to your government account so it can be archived."
House Democrats reportedly plan to investigate Trump's email use to determine whether she broke the law, but she doesn't seem worried.
"I know the facts as they relate to me and my family, and so I have nothing to be concerned about," Trump told ABC of a potential investigation.
The administration's position that her private email account was no big deal was in stark contrast to POTUS continuously calling for Clinton to be locked up during the 2016 election and beyond. Though both the president and his daughter claimed a key difference between her emails and Clinton's was that Trump hadn't deleted any messages, the 33,000 emails Clinton deleted weren't work related, as CNN notes.
The FBI investigated whether or not Clinton had mishandled any classified information, yet two days before the presidential election, then-FBI Director James Comey announced (for the second time) that Clinton had not broken the law. The president never fully moved on from his belief that his 2016 opponent was in the wrong, and insisted last week that her deleted emails and separate server were "the real story" — not his daughter's use of a private email account.
Republicans in Congress are more skeptical of Trump, however. Rep. Trey Gowdy (R-S.C.) and Sen. Ron Johnson (R-Wisc.) each asked the Trump administration to explain why the senior presidential adviser used a personal email account for work. "Ms. Trump's use of a personal email account for official communications may implicate the Presidential Records Act and other security and record keeping requirements," Gowdy wrote in a letter to White House Chief of Staff John Kelly that was obtained by CNN reporter Jeremy Herb.
Trump, on the other hand, believes she has "nothing to be concerned about."