A Body Language Expert Thinks This Interview Is The Most Nervous We've Ever Seen Ivanka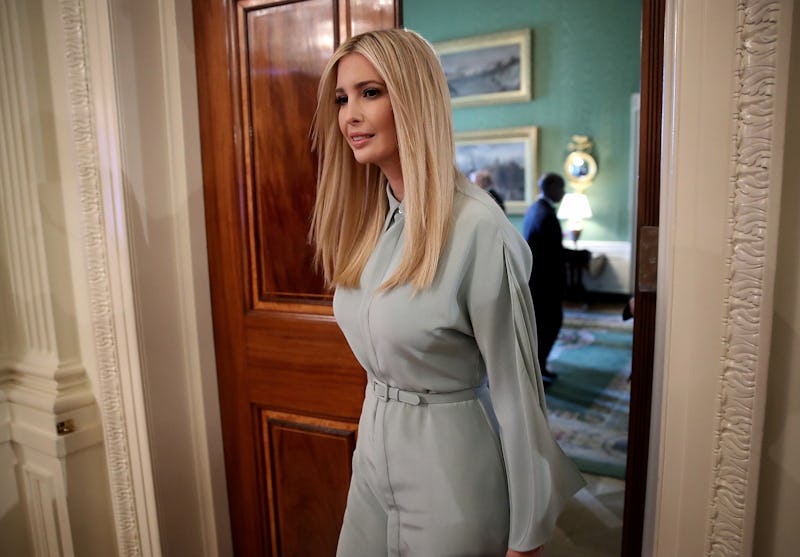 Win McNamee/Getty Images News/Getty Images
Although the first daughter typically holds a more behind-the-scenes role at the White House, she's been the center of attention recently. Ivanka Trump's body language during an interview that aired on Good Morning America Wednesday morning shone a light on her views about the president's anti-immigration policies, as well as comparisons made last week between her and Hillary Clinton.
"We've never seen her this nervous and this uncomfortable, ever," body language expert Lillian Glass tells Bustle, referencing when Trump was questioned about using a personal email account. "That's the key that we need to focus on."
The first daughter and presidential adviser was accused of misusing her private email account for government business last week when The Washington Post reported that she used it to send hundreds of emails to White House aides, Cabinet officials, and her assistants last year. When asked about it by ABC News' Deborah Roberts, the first daughter claimed there's "no equivalency" between her emails and the ones her father said should have put Clinton behind bars.
Body language expert Traci Brown believes Trump looked more "entertained" than uncomfortable during that specific line of questioning. But she points out that as Trump first begins to answer, the right side of her top lip goes up in "disgust," which may signal she does not enjoy being compared to Clinton.
While body language isn't an exact science and many factors can impact a person's appearance and movements, Brown believes Trump shows some sincere emotion when describing the "devastating" images of migrant children running away from tear gas used by the United States at the U.S.-Mexico border over the weekend.
"That's pretty hard to fake," Brown says. "Throughout the video her voice is just a little softer and raspier than we normally hear from her. I think she's trying to portray sadness."
During that same interview, ABC News' Deborah Roberts called out the first daughter for claiming that the president had never authorized workers at the border to use lethal force if necessary. After she made that statement, Roberts played Trump a clip of the president specifically saying on Thanksgiving Day that lethal force could be used if necessary.
Although Trump seemed a little flustered and uncomfortable at that moment — despite sitting in very "diplomatic positions," as Glass put it — placing her arms down on her chair before attempting to explain her father's comment sets her up to defend him, according to Brown.
"You see her grab onto her seat and straighten up — that's because she's ready for battle on this. She's going to defend her father," Brown says. "Which I don't think she wants to do, but she has to do it."
She ultimately did defend the president, saying the commander in chief "has to be able to protect the border." Lethal force would be a last resort for people who aren't "innocent asylum seekers," Trump claimed, mimicking her father's rhetoric when calling many migrants "criminals."
Since entering the White House, the first daughter has repeatedly gone to "battle" for her father by defending his comments and actions to the public. This week was apparently no different.