Jamie Lee Curtis' Latest Role Proves She's The Ultimate Scream Queen, Once & For All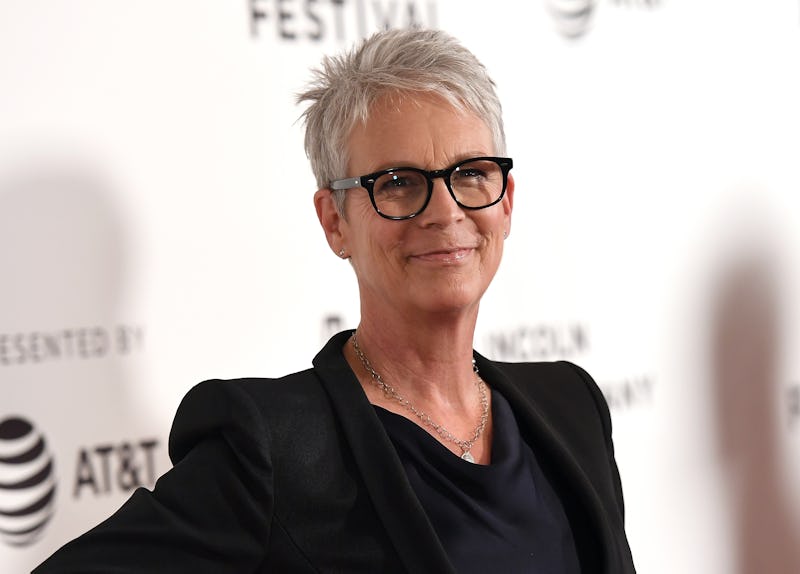 ANGELA WEISS/AFP/Getty Images
Modern day scream queens are about to get a lesson from the master when Jamie Lee Curtis returns to the Halloween franchise in 2018. The 1978 slasher film made Curtis a household name thanks to her turn as one of cinema's first final girls, Laurie Strode. On Friday, the actor announced on Twitter that she's returning to the franchise 40 years later to star in the new Halloween film from writer and comedian Danny McBride.
As a Halloween superfan, McBride wanted to bring the franchise back to its roots, so he teamed up with his writing partner David Gordon Green to make it happen. While plot details are scarce at this stage, the writer did tell Entertainment Weekly that it's his love for the original film that made him want to resurrect the franchise. McBride told EW,
"We just love that original 'Halloween.' There's something so scary about how simple it was. I had seen all the 'Halloween' films. We really were studying all the sequels and stuff, just to see where it exactly it went wrong. It definitely kind of felt that, as the series went on, Michael Myers became like Frankenstein and he was like indestructible and I think the more indestructible he was, the less scary he became."
In addition to bringing Michael back down to earth, McBride also seems to understand the importance of reinstating Laurie as the film's hero. Having her face off with Michael one more time has the potential to be hugely satisfying, especially since this could be the last Halloween movie, according to Variety.
Curtis reinforces the idea that this will be the last time Laurie and Michael meet in her tweet. The actor wrote, "Headed back to Haddonfield one last time for Halloween." In a fun nod to the original, Curtis is wearing her character's classic outfit.
Since the moment Curtis screamed and fought her way through the '78 film, she has become the quintessential scream queen. In fact, she's so well known for her horror roots that Ryan Murphy cast her in his Fox series called, appropriately enough, Scream Queens. While she went on to star in a diverse range of films throughout her career, it's hard not to associate Curtis with the horror genre.
That only makes her return to horror all the more exciting. Curtis starred in four of the Halloween films, and made a cameo in Halloween III: Season of the Witch. However, as the franchise added more and more entries, Michael and his indestructibility became the star. Meanwhile, Laurie's story became more of a footnote, even though she is the undisputed protagonist of the first two films.
If this is truly going to be Halloween's last hurrah, then Laurie deserves a chance to have her story told. She was a teen in the first movie, and a mom trying to protect her child in Halloween: H20. Who is she now? After facing Michael multiple times, she's likely do less screaming and more fighting in the upcoming film. The chance to give her a real sense of agency, as well as the opportunity to put a stop to Michael for good, is reason enough to return to Haddonfield.
Michael took some detours along the way, but Laurie has always been his truest adversary. Having them meet again, 40 years later, feels downright necessary. More importantly, this move gives Curtis the chance to be remembered as more than a scream queen — she now has the potential to be the hero who ends Michael's reign of terror. And there's no ending more satisfying than seeing the final girl grow to become the final woman fully capable of banishing the boogeyman from her life once and for all.