23 Performances That Prove Women Ruled TV In 2015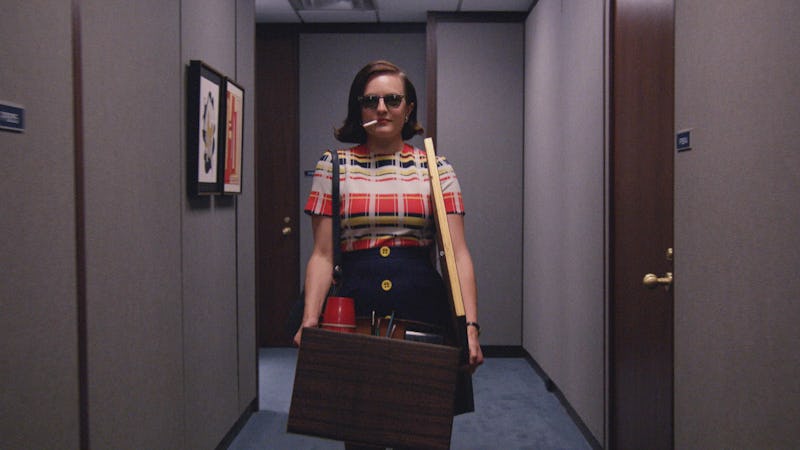 Is the era of the antihero over? The so-called "Golden Age of Television" has thus far been dominated by amoral men possessing brilliant minds that are but occasionally hampered by their towering tempers: men like The Sopranos' Tony Soprano, Mad Men's Don Draper, and Breaking Bad's Walter White. But now all three of those shows are dead and buried... and it's time for women to rule the world — or at least our TV screens. Sure, male protagonists are still the majority, but women dominated television in 2015 in a big way thanks to stars like the ones on this list.
No single list could possibly capture all of the terrific performances turned in by talented women this year — even with 23 honorees there will still always be somebody's favorite actor left out — so you can consider what follows to be merely a sampling of the female-driven storytelling that came to the forefront on television this year. Some of the women here headlined their own shows; others kicked ass in genres traditionally dominated by men; still others surprised us all by transforming from minor characters to major players in their own right.
Here are 23 stellar stars who prove that women ruled the small screen this year, and the episode that best exemplifies their awesomeness. (Because this isn't a competition, I'm not ranking these performances from "worst" to "best." Rather, they're simply arranged alphabetically by show.)
1. Maura Tierney, The Affair ("204")
The best decision the writers made in the sophomore season of this Showtime drama was to expand the central perspectives from two to four. Now Tierney's Helen isn't "Noah's bitter ex-wife;" she's a three-dimensional character unto herself. Watching her unravel under the weight of the double-standard imposed upon women going through a divorce was by turns hilarious and tragic, but always gratifying.
2. Elizabeth Henstridge, Agents Of S.H.I.E.L.D. ("4,722 Hours")
While we continue to wait for Wonder Woman and Captain Marvel (not to mention that solo Black Widow movie that never seems to materialize), S.H.I.E.L.D.'s Jemma Simmons is quietly becoming one of the most compelling female characters in the comic book multiverse. Her flashback episode, which showed viewers the six months she spent on an alien planet, was a tour de force — there wasn't a scene that Henstridge wasn't in — and perhaps the strongest hour of the show to date.
3. Lady Gaga, American Horror Story: Hotel ("Flicker")
This one is sure to be divisive, depending on whether you view Gaga's performance as a century-old vampire to be deliberately wooden, or just... wooden. But there's no question that showrunner Ryan Murphy has crafted a character expertly to Gaga's specifications, and her own flashback episode, which detailed her love affair with an Italian movie star, allowed the singer to display a greater range of emotion than usual. She didn't disappoint, putting in her best work to date.
4. Keri Russell, The Americans ("Do Mail Robots Dream Of Electric Sheep?")
For three seasons, Russell's Elizabeth Jennings has bucked gender stereotypes, being the more committed of the show's two central spies, while her soft-hearted husband wavers. But Season 3's central conflict over whether or not to indoctrinate their daughter Paige brought Elizabeth's inner turmoil into even greater relief. This episode, in which Elizabeth had to weigh the life of an innocent woman against the success of her mission was one of the season's highlights.
5. Vera Farmiga, Bates Motel ("Crazy")
Although Bates Motel ostensibly exists to chart the evolution of Norman Bates from earnest teen to serial killer, Farmiga's unhinged portrayal of his emotionally abusive mother Norma has always been the erratically beating heart of the show. In the penultimate episode of the season, Farmiga had to play both Norman's insane manifestation of his mother, as well as the very real, imperfect thing — including a knock-down drag-out fight with love interest/frenemy Romero — both of which she pulled off with aplomb.
6. Rachel Bloom, Crazy Ex-Girlfriend ("I'm Going On A Date With Josh's Friend!")
A show centered around a self-professed "crazy" young woman who quits her high-powered job to follow her ex-boyfriend across the country sounds like a bad idea on paper. Add in the fact that it's a musical, and you're just begging people not to watch. But Bloom's infectious personality — and terrific singing chops — turned Rebecca Bunch, shockingly, into someone we could all root for.
7. Taraji P. Henson, Empire ("Out Damned Spot")
Cookie Lyon became a cultural icon the moment she first appeared onscreen in the show's pilot episode. Her one-liners became instant classics and her shade-throwing was unparalleled. But was there any single sight on television this year more iconic than Cookie Lyon showing up for dinner clad in only a fur coat and lingerie, and declaring to her romantic rival, "Oh, and Anika? This is an ass."? I didn't think so.
8. Kirsten Dunst, Fargo ("Palindrome")
Dunst turned in arguably her career-best performance in the second season of FX's anthology show as delusional beautician Peggy Blumquist. After her quest for self-actualization caused the deaths of almost everyone around her — including her own husband, Ed — she gave voice to the problem at the root of the "you can do it all" mentality aimed at women during that time period. "It's a lie, OK, that you can do it all. Be a wife, and a mother, and a self-made career woman, like there's 37 hours in a day. And then when you can't, they say it's you. You're faulty."
9. Lena Headey, Game Of Thrones ("Mother's Mercy")
Headey may not have physically bared everything during her climactic Walk Of Shame in the Season 5 finale (that was done by body double Rebecca Van Cleave), but she certainly left everything on the table, emotionally speaking. Cersei can often be a difficult character to sympathize with; but after a season full of villainy on her part, leave a show as morally murky as Thrones to get us feeling sorry for her again by making her punishment a humiliation no human being should ever have to endure.
10. Ellen Pompeo, Grey's Anatomy ("Guess Who's Coming To Dinner")
The eponymous star of ABC's medical soap has long been taken for granted in the midst of a terrific ensemble of colorful characters. But after more than a decade on the air, Pompeo has rarely turned in better work than she has since the death of McDreamy last season. This episode, in which Meredith had to hold it together while her husband's "killer" crashed her dinner party, was a powerhouse showcase for the underrated star.
11. Robin Wright, House Of Cards ("Chapter 32")
Next to Kevin Spacey's rampant scenery chewing, Wright's understated performance as Claire Underwood can often feel cold and removed, belying the complicated emotions swirling through this powerful woman. The episode she spent with an activist in a Russian prison cell was her most vulnerable hour to date, ending with her typically icy fury burning red hot for a change, condemning the Russian President on his own turf.
12. Viola Davis, How To Get Away With Murder ("Mama's Here Now")
You can always count on Davis to act the hell out of any scene she's given by the writers of HTGAWM, but leave it to a guest star as terrific as Cicely Tyson to help the Emmy winner reach even another level of awesomeness. The presence of her mother brought out a vulnerable side of Annalise we had never seen before, and the sparks flew as the two acting legends played off each other. The shocking revelations that came out during their interactions were nothing compared to the thrill of simply watching two masters at work.
13. Krysten Ritter, Jessica Jones ("AKA The Sandwich Saved Me")
There's something about flashback episodes that really gives actors the chance to shine even brighter than normal. In this episode of Netflix's terrific superhero-series-cum-noir-detective-story, we get a glimpse into the early days of Jessica's derring-do (and yes, there is a giant sandwich costume involved), which, when juxtaposed against the character's present day plight, really brings out the layers of Ritter's complex portrayal.
14. Carrie Coon/Regina King, The Leftovers ("Lens")
(Don't tell anyone, but there are actually 24 women on this list, because this entry's a two-fer. Shh!) It's impossible to pick an MVP from between these two truly stunning performers. For two seasons now, Coon has been consistently terrific as Nora Durst, and Emmy-winner King (American Crime) made an instant impression in Season 2 as newcomer Erika Murphy. Their scene together in the seasons's sixth episode, in which the two verbally sparred over their conflicting beliefs surrounding the Sudden Departure, was one of the single most compelling scenes on TV this year.
15. Lauren Weedman, Looking ("Looking For A Plot")
Weedman stole the spotlight from a very impressive cast inn Season 2 of the prematurely-cancelled HBO comedy. The characters hit the road for a funeral after the unexpected death of Doris' father, giving the actor plenty of meaty scenes to chew on. Her initial reaction to getting the news via text message — "Oh f*ck. My dad's dead." — was one of the most delightfully and tragically deadpan line readings of the year.
16. Elisabeth Moss, Mad Men ("Lost Horizon")
If, after re-watching the Mad Men pilot, you can tell me with a straight face that you would have expected Peggy Olson to end the series sauntering into her office with a cigarette dangling from her mouth, sunglasses perched on her face, and a pornographic painting lodged under her arm... well, then I'd call you a really good liar. The fact that Moss was never awarded for her work on this show is sheer nonsense; her evolution over the course of seven seasons was nothing short of breathtaking.
17. Caitriona Balfe, Outlander ("The Wedding")
Yes, yes. We all know that Sam Heughan is super dreamy and that Tobias Menzies pulls off a particularly nasty villain. But Starz's new series is anchored by Balfe's performance as Claire. The show made headlines for its groundbreaking use of the female gaze, and this was never exemplified better than on Claire and Jamie's wedding night, during which Balfe's Claire didn't hesitate to take charge in a way that still (shockingly enough) feels unusual on TV these days.
18. Billie Piper, Penny Dreadful ("Memento Mori")
Sure, this Showtime horror series might belong squarely to Golden Globe nominee Eva Green as Vanessa Ives... but Billie Piper's performance as Lily in Season 2 was impossible to ignore. She transformed literally overnight from Season 1's cliché ailing sex worker Brona Croft into the sophomore season's most intriguing new character. And the eleventh-hour reveal that naïve Lily was actually a bloodthirsty monster hellbent on avenging herself over the men who used and abused her was simultaneously one of the most cathartic and scariest moments of TV last year.
19. Jamie Lee Curtis, Scream Queens ("Mommie Dearest")
No one would mistake Ryan Murphy's newest anthology series as anything more than an amusing trifle, but that doesn't mean it can't contain a few worthwhile performances, particularly from Niecy Nash, Glen Powell — and THE scream queen herself, Jamie Lee Curtis. Although she kicked ass all season with her acid tongue and apparent immortality, this episode allowed Curtis to physically kick ass, as Dean Munsch took down three masked would-be killers all by herself.
20. Melissa Benoist, Supergirl ("Human For A Day")
Enough can't be said about the significance of the mere existence of a show titled Supergirl in this day and age. This show was a long time coming and former Glee star Melissa Benoist has more than acquitted herself in the role of Kara Danvers. But Supergirl is more than just her ability to take a punch — a fact that this episode reminded us, temporarily sapping Kara of her powers and letting the character's human side shine through.
21. Shiri Appleby, UnREAL ("Future")
Maybe the era of the antihero isn't quite over yet; maybe it's just transitioned slightly into the era of the female antihero. Appleby's Rachel makes a great case for the continued existence of the archetype, challenging viewers to continue rooting for her even as she commits the most heinous acts in the name of "reality TV." The thrill of watching Rachel is the thrill of watching anyone who's really, really good at their jobs: she's a pro at manipulating people, and her fake breakdown to Adam in the confessional was just the cherry on top of all her conniving and cajoling.
22. Anna Chlumsky, Veep ("Convention")
Like Penny Dreadful, this HBO comedy already revolves around a great female character who typically receives all the acclaim. But as undeniably hilarious as Julia Louis-Dreyfus is as Selina Meyer, I'd like to take a moment to draw attention to Chlumsky's underrated performance as Amy. The long-suffering staffer finally unleashed all of her simmering resentments against her boss in one meme-worthy diatribe. Who else could deliver a choice phrase like, "You are the worst thing to happen to this country since food in buckets and maybe slavery" with such comically tragic truth?
23. Aya Cash, You're The Worst ("There Is Not Currently A Problem")
Who knew that last year's fun if slightly forgettable relationship sitcom would blossom in its sophomore season into a razor-sharp, incisive examination of a young woman suffering from clinical depression? With everyone trapped in the house due to the L.A. marathon, this pseudo-bottle-episode allows Cash's Gretchen to unleash all of her brutally honest thoughts on her unsuspecting roommates — a tirade which helps Gretchen finally admit that she has a real problem. It's the kind of scenery-chewing monologue every actor dreams of, and Cash absolutely slays it.
How could anyone possibly be expected to pick a "best" performance out of such an embarrassment of riches? Good thing we don't have to, because these 23 (OK, 24) women all killed it this year and proved that men don't have a monopoly on complex, interesting, dynamic, well-rounded, three-dimensional characters. Here's hoping 2016 brings us even more!
Images: Mark Schafer/Showtime; Tyler Golden, Mitchell Haaseth/ABC, ABC; Prashant Gupta, Jeffrey Neira, Chris Large/FX; James Dittiger/A&E; Greg Gayne/The CW; Chuck Hodes, Patti Perret/FOX; Macall B. Polay, Ryan Green, Patrick Harbron/HBO; David Giesbrecht, Myles Aronowitz/Netflix; Courtesy of HBO; Courtesy of AMC; Courtsey of Starz; Courtesy of Showtime; Darren Michaels/Warner Bros. Entertainment Inc.; James Dittiger/Lifetime; Byron Cohen/FXX