Janet Jackson's Legacy As A Superstar Was Further Cemented With This Major Music Honor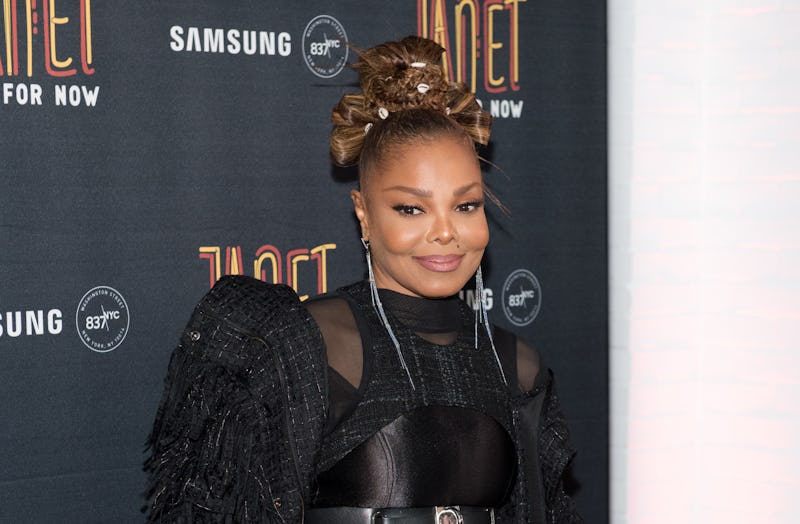 Noam Galai/Getty Images Entertainment/Getty Images
While it's goes without saying that she's is having one hell of a year after receiving the Icon Award at this year's Billboard Music Awards, Janet Jackson's Rock & Roll Hall Of Fame nomination further proves that her legacy is a force to be reckoned with. Despite it being Jackson's third nomination into the prestigious institution, earning an actual induction appears to be only a matter of time for the accomplished entertainer, who recently wrapped her State of the World Tour on Oct. 2.
After becoming the first black woman to receive the Billboard distinction this past May, Jackson was also honored as a "phenomenal woman in music" at the Black Girls Rock ceremony in September. She again made history by becoming the first person to ever receive the Impact Award at the 2018 Radio Disney Music Awards. For her artistry, Jackson is ranked No. 7 on Billboard's Top Artists in Hot 100 Top Artists of All Time, boasting a total of 27 Top Ten hits. In addition to those accolades, the 52-year-old is also amidst a major comeback, recently dropping her single and video "Made For Now" featuring Daddy Yankee on Aug. 17. The project signaled Jackson's first release since her 11th studio albumUnbreakable debuted in 2015.
With a highly-successful career that has spanned over four decades, a Hall of Fame induction for Jackson is a formality that appears to be long overdue. The New York Times noted that artists become eligible for nomination 25 years after the release of their first recording. Jackson's first solo album, Janet Jackson, was released in 1982, which means she's been eligible for the past 11 years.
That said, her induction in the upcoming year seems to be a no-brainer. The voting process, however, seems to be quite intensive. NYT explains that after artists are nominated by a committee, the process of induction consists of ballots which are sent to an international voting body which is comprised of more than 1,000 historians, recording artists, and other members of the music industry. The outlet shares that the group then collectively calculates "an artist's musical influence on other artists, length and depth of career and the body of work, innovation and superiority in style and technique" and the five performers receiving the most votes are chosen as inductees. The Hall of Fame website indicates that since 2012, fans have been allowed to cast online ballots for nominees with the top five recipients merging into one ballot, which is weighted the same as the rest of the submitted ballots.
In addition to Jackson, the full list of nominees for class of 2019, which were announced on Oct. 9, includes:
Def Leppard
Devo
John Prine
Kraftwerk
LL Cool J
MC5
Radiohead
Rage Against the Machine
Roxy Music
Stevie Nicks
The Cure
Todd Rundgren
Rufus & Chaka Kahn
The Zombies
Should JJ get inducted this year, she will become the sixth member of her talented family to be bestowed with the honor. Her older brothers; Jackie, Jermaine, Marlon, Tito and Michael Jackson were ushered into the foundation as the Jackson 5 in 1997. It's also worth noting that Michael is one of 19 artist who have been inducted twice – as a member of the Jackson 5, and again as a solo artist in 2001.
Fans of the legendary"Control" singer will have to stay tuned to see if she finally makes into the Hall when the ceremony takes place next April. With her talent and legacy, it goes without saying that Janet Jackson is more than deserving.
Correction: The original version of this article incorrectly noted the year Jackson's first album was released, and has been updated accordingly.