Watch Jax Respond To Brittany's Mom Questioning His Ability To Be Faithful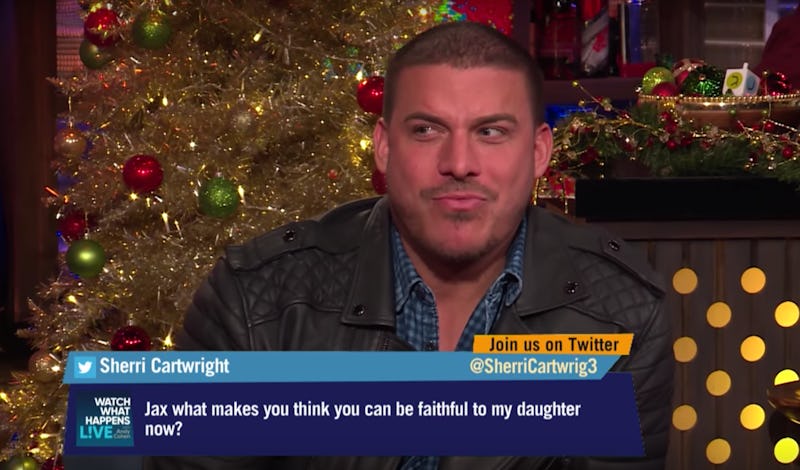 Bravo
Who better to swing by Watch What Happens Live with Andy Cohen right after Monday's jaw-dropping episode of Vanderpump Rules than Jax Taylor? And who better to grill Jax than Brittany Cartwright's mom, Sherri? When host Andy Cohen asked the folks at home for questions for the evening's guests, Sherri tweeted, "Jax what makes you think you can be faithful to my daughter now?" (Not to be that guy, but uh, how much of the show has she watched?)
Jax sucked on his teeth, shifted in his seat, and let out a stilted laugh. He was capital-U Uncomfortable. He said, "It has been a few months… Well, seven months since this happened. We are working through it. It's a work in progress. I love her very much." When Andy asked if he's been faithful to Brittany during those seven months, Jax replied, "Yes, absolutely." He continued,
"I think our relationship is stronger now than it's actually ever been. We're actually in a good place. But obviously, it's going to take some time build my trust back for her. It's a work in progress, but we both love each other and we're making it work. At the end of the day, this is Brittany and I's relationship."
Hopefully, this work in progress doesn't lead to Jax betraying Brittany again.
Assuming you are all caught up on Pump Rules, you know why Sherri tweeted that message to Andy on Monday evening (and, if you aren't caught up, there are spoilers ahead). On the Season 6 premiere, word got out that Faith Stowers and Jax hooked up while the former was on the clock as a live-in caretaker. Oh, and it happened shortly before the latter celebrated his two-year anniversary with Brittany. It was not a good look for the guy who has acted as though his philandering ways were a thing of the past.
When the tale made its way around Scheana Marie's birthday party like a tray of goat cheese ball-flavored Jell-O shots, Jax did the thing he does every time he's accused of cheating: He denied the story until he was red in the face. He told his girlfriend that it was complete bunk, but neither she nor the rest of the SURvers bought his rebuttal.
However, this time around, the denial period only lasted for a short burst. Rather than let this rumor fester for several episodes, Jax did something he really hasn't done before: he admitted the truth almost right away. Just one episode after the claims first surfaced, Jax confessed to sleeping with Faith. This broke Brittany's heart and their relationship, but the break only lasted for a little while. Jax and Brittany eventually got back together, and, naturally, Sherri is proceeding with caution.
Jax is not one to shy away from tweeting about things that happen on Pump Rules, and Monday evening's episode was no exception. He apologized to Brittany, admitted he messed up, and repeatedly urged fans to "stay tuned."
Later on, he wrote, "And I love her more each day this was shot a long time ago. our relationship is the best it's ever been right now… a lot happens this season so stay tuned." And though he believed the criticism was "well deserved," Jax made use of Twitter's mute button. Oh, he also related to the Taco Bell sweater that he was wearing during the breakup scene.
Will he ever put the sweater on the right way? Stay tuned.
Tuesday morning, Brittany had some messages for anyone who judged her for taking Jax back.
And being the kind and good person that she is, she will not judge those who judge her. Instead, she wishes them nothing but love and happiness. It's a complicated situation, but as long as Brittany is happy, then, really, who are we as Pump Rules fans to judge?