The 'Rest In Power' Trailer Is A Heartbreaking Call To Action You Need To See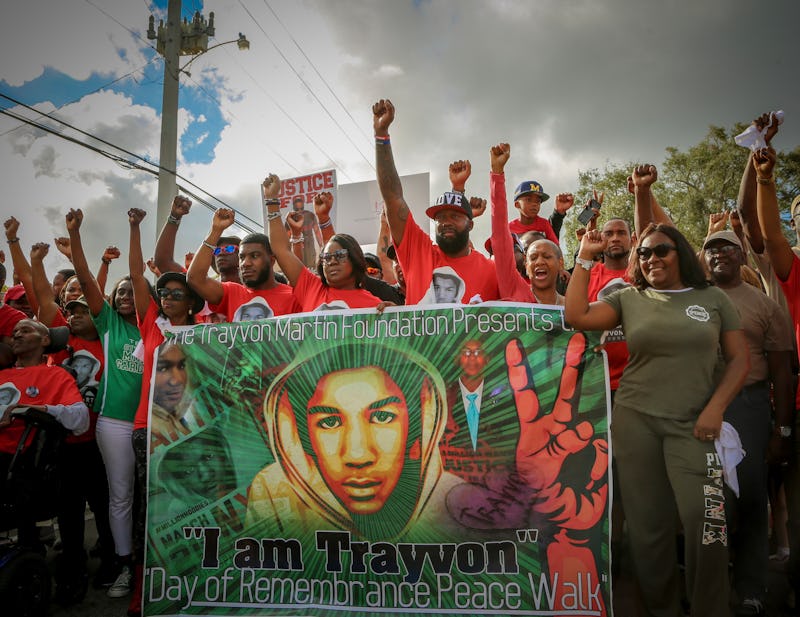 Chachi Senior for Paramount Network
Later this month, a new documentary will take a closer look at the life and tragic death of 17-year-old Trayvon Martin, who was shot and killed six years ago. And if JAY-Z'S Rest in Power: The Trayvon Martin Story trailer, is anything to go on, it's going to make for powerful viewing. The six-part docuseries, which premieres July 30 on Paramount Network, was produced by JAY-Z, and while the title focuses on Martin, the series doesn't just attempt to tell Martin's story, but the story of the movements and calls for justice that followed. Rest In Power is a documentary that focuses on race in America in hopes that those who watch will be moved to take action, to keep what happened to Martin from ever happening again.
The trailer for Rest In Power begins with audio of a police call made by Martin's father, Tracy Martin, to file a missing person's report, followed by the 911 call audio from the man who shot and killed the teenager, George Zimmerman. In Zimmerman's call to the police, he reports a "real suspicious guy" before using a bleeped out racial slur to say people who look like Martin "always get away."
On Feb. 26, 2002, Zimmerman shot and killed the unarmed teenager in a gated community in Sanford, Florida. Zimmerman, a neighborhood watch volunteer, claimed self-defense, citing Florida's "Stand Your Ground" law, which states that people are not required to retreat from conflict, even if they are able to do so. A year later, Zimmerman was found not guilty of second-degree murder and manslaughter.
While the documentary does take a closer look at Zimmerman and his trial, Rest In Power isn't about him, it's "a story about race, politics, power, money, and the criminal justice system," according to a statement from Paramount Network given to Rolling Stone. It's also about how the murder of Trayvon Martin helped start the Black Lives Matter movement and all the work that needs to happen next.
"You choose to grieve or you choose to fight," Martin's father says in the trailer. While his mother, Sybrina Fulton, explains, "It took my son getting shot down to make me stand up." Fulton wasn't the only one who was moved to action by Martin's death. NBA star Carmelo Anthony also appears in the trailer, saying, "Trayvon became the face of our community, we have to go to war for him."
JAY-Z, who executive produced the series, was also one of the many who were moved to action following Martin's death. Since 2013, JAY-Z, along with his wife Beyoncé, have been standing up for Martin. Following Zimmerman's not guilty decision, JAY-Z appeared at a rally in New York City alongside Beyoncé to protest the decision. Since then, he has also called out Zimmerman in his music, most recently on "Talk Up" off Drake's Scorpion, where he rapped, "Y'all killed X," a reference to the shooting death of controversial rapper XXXTenacion, "and let Zimmerman live / Streets is done."
Back in February, JAY-Z spoke at a Trayvon Martin Peace March in Miami where he delivered a call to action. "His name will sit alongside the greats whom lost their lives to push our culture forward. The Martin Luther Kings, the Gandhis," JAY-Z said. "That's the intention that we set, that his name serves as a beacon of light and hope to push us in a better direction."
The docuseries is also a call to action. Last year, JAY-Z told Newsweek that the series will focus on Martin's story because "it is an important American story. We're honored that Trayvon's family has entrusted us to share the truth with the world." He also said that the series will tackle difficult topics like race and the American justice system. "It's through these conversations that we can begin to heal," he said.
With the documentary, JAY-Z is looking to start a discussion about race that focuses on the humanity in hopes that others will decide to stand up and fight — to make sure Martin's tragic death wasn't in vain.