Jenna Released A New Statement About Jordan, In Case You Thought The 'BiP' Drama Was Over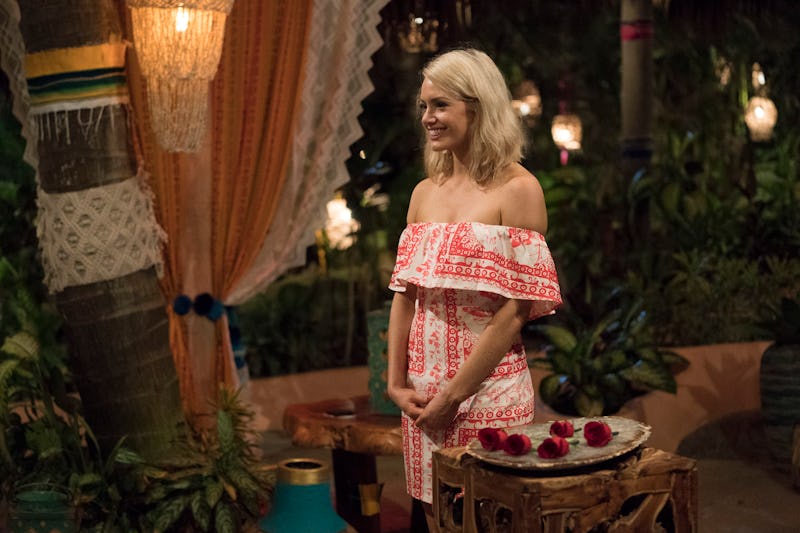 ABC/Paul Hebert
At this point, it seems like the breakup between Bachelor in Paradise stars Jordan Kimball and Jenna Cooper will never end. In all honesty, it feels like this split is going on longer than their actual relationship, with each party sharing their perspective about text screenshots that leaked, which may or may not be real. Now, Jenna released a new statement about a "forensic examination" of those screenshots to Bustle via her rep Steve Honig.
Even people who don't watch Bachelor in Paradise are likely well aware of the scandalous breakup. Bachelor franchise blogger Steve Carbone, aka Reality Steve, released screenshots of texts that another man claimed were sent to him by Jenna while she was still engaged to Jordan. (She has previously and repeatedly denied sending those messages.) As a result, plenty of BIP viewers have seemingly "sided with" Jordan and "against" Jenna. The South Carolina resident has been trying to clear her name ever since.
Her new statement on Monday reads:
"A comprehensive forensic examination of Jenna's devices by an independent third-party expert has definitively confirmed none of the text messages in question came from Jenna's phone. Given the conclusive findings of the forensic report, Jenna's team is considering all options available to Jenna relating to the fraudulent texts."
Not only does the message focus on the examination, but it then shifts the spotlight to Jordan. Jenna's statement continues:
"After the cameras stopped rolling, Jordan's demeanor toward Jenna changed dramatically. He let it be known there was only room for one celebrity in the relationship, he was more successful and famous than her, she would never make as much money as him or amount to anything in life. She was belittled and made to feel insignificant and worthless. He continues to disparage her to this day. As painful as this has been for Jenna, she is glad he showed his true colors before they were married and began building a life together."
Bustle reached out to Jordan's team for comment on the statement, but did not receive an immediate response. Meanwhile, Reality Steve tweeted that he still sticks to his story. He wrote, "I stand by my reporting. This means nothing - yet again."
There is a lot to unpack from Jenna's new statement. The first thing being that she had some sort of forensic examination done on her phone. She also insists that the text messages are "fraudulent." These two pieces of info are not new to anyone following this whole saga. However, it is new that this statement makes claims about "Jordan's demeanor toward Jenna" while they were still together. While their initial courtship was captured by the Bachelor in Paradise cameras, there's no real way for fans to know exactly what happened since filming wrapped.
But if true, this is in stark contrast to everything Jordan has claimed publicly in the wake of the breakup. In a Sept. 12 interview with Entertainment Weekly, Jordan didn't want to be a vengeful ex. He said, "I will not lash out, I will not try to convince people that she is a bad person. You will not see me pursue any kind of vengeance on her. I care about Jenna."
So, what was concluded in this new "forensic examination"? Jenna's phone, iPad, and iCloud backup were apparently analyzed for "unique words" used in text message screenshots. Supposedly, the texts published on Reality Steve's website were not found on her phone, but the report does claim that messages with those "unique words" were found in conversations with Jordan.
In a Sept. 11 interview with People, Jordan discussed the verbiage of the text screenshots. He stated, "I know my Jenna, and I read those texts and in my heart, I know it's her." Jordan also claimed, "She was saying she didn't do it, but hinting towards the fact that there's a possibility that it happened. In all reality, I don't expect her to own it." In that same People article, Jenna claimed,
"I am aware of the allegations being made against me and they are simply untrue. I am choosing to focus on my relationship right now. Thank you for respecting my privacy at this time."
As fans know now, that relationship is no more at this point. Then in a now-deleted Instagram post shared on Sept. 14, Jenna told her followers, "please stand by as I prepare to provide the true facts that will demonstrate the fraud perpetrated by terrible individuals." She emphasized, "Please be patient as this takes time."
On Sept. 25, Jenna tweeted a screenshot of another now-deleted Instagram post about the forensic analysis of her phone. Jenna insisted, "Despite what people have said, I have denied all of these false allegations from the beginning, and I am reiterating that I never cheated on Jordan, there is no 'sugar daddy,' I was not faking my feelings toward Jordan on the show, and that I never made those fake texts posted by Steve Carbone."
On Oct. 6, Jordan posted a multi-page letter from Jenna's lawyer on his Instagram page. Among other accusations, letter stated, "We have not heard from you likely because you know what we know (ie; that you created the fabricated texts posted by Stephen Carbone." As for Jordan's thoughts, him sharing the letter publicly seems to speak for itself. (Bustle previously reached out to Jenna's attorney Justin Apple for comment, but did not receive an immediate response.)
Meanwhile, Jordan discussed email from Jenna's lawyer in an Oct. 14 interview with Us Weekly. Jordan stated, "It is what it is." He also said, "I've heard nothing back and her family stopped – I guess you could say bashing me online. They have said nothing. She has said nothing. It's behind us."
Now that Jenna has released this statement via her rep, will Jordan continue this back and forth with a response of his own? Or will Jenna's statement be the last word in the ongoing breakup? Only time will tell, but surely Paradise fans are hoping the situation gets settled soon.