Jennifer Aniston's New Netflix Movie Is A Major Win For LGBTQ+ Representation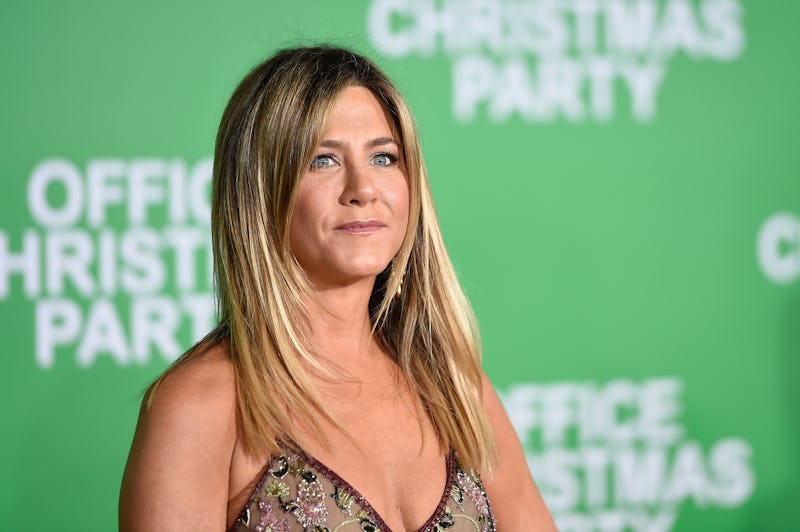 Matt Winkelmeyer/Getty Images Entertainment/Getty Images
The latest Netflix original movie announcement is one that has the potential to be extra exciting for the streamer. As reported by Variety, Jennifer Aniston will play an LGBTQ+ president in the upcoming film First Ladies. The movie is being written by Tig Notaro and her wife, Stephanie Allynne. Notaro is also on board to co-star as Aniston's character's wife and the First Lady of the United States. Both Aniston and Notaro are also serving as producers on the film, along with Allynne, Adam McKay, and Will Ferrell.
Oh, it gets better. The official synopsis of the political comedy from Netflix reads:
"'First Ladies' is a political comedy about America's first female President and her wife, The First Lady. When Beverly and Kasey Nicholson move into the White House, they'll prove that behind every great woman... is another great woman."
The idea of the U.S. having a female president who's a married member of the LGBTQ+ community is so refreshingly hopeful that it makes a political premise something worth investing in. In these divided times, that's no easy task. Having actors of Aniston and Notaro's caliber starring as the most powerful couple in America is a wonderful added bonus. At this moment in time, the United States has had neither a female president or one who was openly a member of the LGBTQ+ community, but there's something so joyful about imagining a reality where both firsts could happen at once.
While there's no way to be sure of what the finished product will look like, First Ladies is off to a great start thanks to the sheer amount of talent and originality attached to the project. For those unfamiliar with Notaro, you have to look no further than her Amazon series One Mississippi or her comedy specials (some of which are available on Netflix) to see what a gifted and witty writer she is. Her work almost always finds away to infuse authentic humor into some of life's toughest issues, like facing the death of a parent or seeking acceptance from your family.
For anyone who's still obsessed with Friends (which is basically everyone, right?), having Aniston play the president is rewarding all on its own. After a few years of primarily starring in broad comedies like Office Christmas Party and the Horrible Bosses films, it's nice to know the Friends star will be not only playing the lead in her latest comedy, but also sharing plenty of scenes with Notaro.
It's still all too rare for movies to focus on female or LGBTQ+ protagonists — First Ladies doing both, and it's giving these two women an immense amount of political power. That kind of concept doesn't come around often, and it's one that could lead to an important, funny, and touching film about politics and what it means to have your relationship in the spotlight.
While it's definitely one to look out for, First Ladies isn't the only exciting project that Aniston has coming up. She's also starring in the body positive film Dumplin', based on the young adult novel of the same name by Julie Murphy. Additionally, the actor will also co-star in a new Apple series with Reese Witherspoon later this year. There's no denying that right now is an excellent time to be an Aniston fan.
Aniston and Notaro are two actors who have perfected the art of making viewers laugh and cry. Having them combine their talents feels like it can only lead to good things, and face it, if First Ladies can just live up to half of its potential, then it will be a home run for Netflix and a major win for LGBTQ+ representation.