Prepare To Cringe At These Awkward Grammys Moments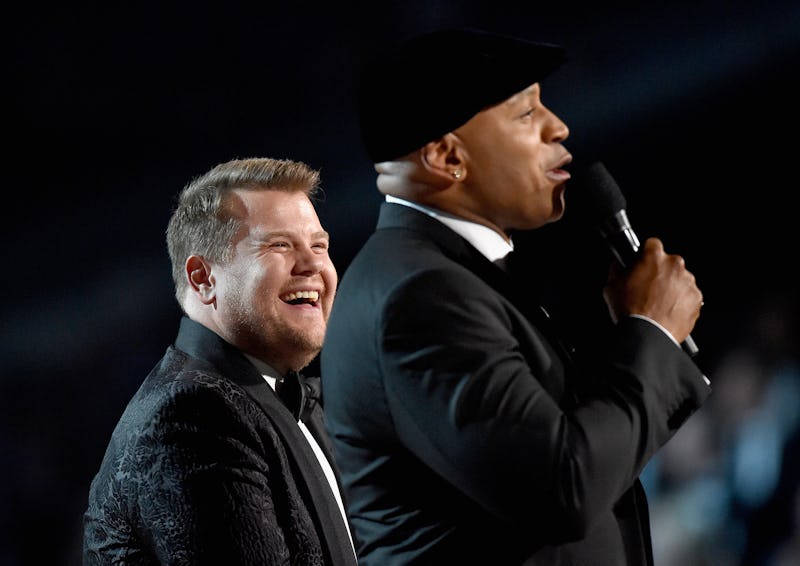 Kevork Djansezian/Getty Images Entertainment/Getty Images
Just because there's a red carpet, tuxedos, and glamorous gowns, that doesn't mean every awards show is picture-perfect. If anything, the most memorable parts are the blunders throughout the night. That's why the 2017 Grammy Awards' most awkward moments are worthy of a recap. Sure, you can read the list of award winners later, and even catch the most compelling speeches on YouTube. But will you get to see every cringe-worthy moment? Probably not. (Unless, of course, they get turned into memes and live on forever. Definitely plausible.)
Anyway, it's not that these moments are meant to blow up star's spots. If anything, it's a reminder that even music's biggest names have off nights. And even on such noteworthy nights, that doesn't mean things happen without a hitch. And this isn't to say that the Grammys are a guaranteed awk fest. This happens at every award show — the Golden Globes, the Emmys, the Tonys, and yes, even those coveted Oscars.
So, read on to recap the Grammys' most awkward moments. You'll laugh, you'll cringe, and who knows, maybe you'll even shed a tear. (I mean, I'm not hoping for that last one, but go ahead and embrace whatever emotions flow from your face.)
Giuliana Rancic's Interview With Weezer
Soon after Rancic interviewed the band on the red carpet, fans on Twitter tweeted about how awkward Weezer's Grammys interview was. They just weren't meshing, as you can see from the tweets below:
At least the cringing could get out of the way early in the night, right?
Giuliana Rancic Plugs Ryan Seacrest's Fashion Line
A common question on the red carpet: "Who are you wearing?" I suppose it's a little uncomfortable when the answer is, "myself." In describing Seacrest's outfit (from his own clothing line), Rancic went all out in her description of his suit. Did he ask her to do that beforehand? Was she just being a supportive friend? Who knows.
To top it all off, when she described her outfit, Seacrest said his was less expensive and Rancic agreed.
Ross Mathews Ponders About Beyoncé's Performance
While on the carpet, Ross Mathews wondered whether Beyoncé would perform sitting down because she's pregnant. I'll just let the tweet below sum up my feelings on the matter.
If she *does* perform, this wouldn't be the time Bey rocked the stage with a baby in her belly. Just saying.
2 Chainz Doesn't Remember Corinne From The Bachelor
As you may know by now, Corinne from The Bachelor apparently appeared in a 2 Chainz video. And when Rancic asked the rapper about this on the Grammys red carpet, he admitted he didn't recognize Corinne because he doesn't mingle with those on set.
Oh, and making it all the more awkward, he asked what exactly she was doing in the video and whether she was OK, based on how she was moving her head around.
Mike Posner & Blackbear's Bizarre Interview
On the red carpet, Mike Posner was joined by Blackbear. When Rancic came over to do an interview, Posner just whispered in his friend's ear instead of speaking to the host. It was confusing, for sure. Leading fans on Twitter to wonder what just went down.
CeeLo Green's Golden Camera Attack
The outfit is one thing, but that silent camera attack? What exactly is going on here, CeeLo? And of course, the memes ensued.
John Travolta Using The Word "Bling"
When taking the stage as a presenter, John Travolta joked that everyone at home was wondering where he got all his "bling" from. Nope, that question had not crossed my mind. Again, Twitter sums up my reactions for me. See below:
Twenty One Pilots Takes Off Their Pants
Prior to accepting their award for Best Pop Duo/Group Performance, Twenty One Pilots took their pants off before taking the stage. What initially seemed puzzling actually had a sweet story behind it — when they first watched the Grammys together years before, they were in their underwear and they promised if they ever made it to that stage, they'd accept the trophy without any pants.
But still, accepting a Grammy in your boxers? Definitely falls under the "awkward moment" umbrella.
Metallica's Mic Wasn't Working Properly
While on stage with Lady Gaga, one of the Metallica singer's microphones wasn't working. It was a cringe-y moment for sure, but then, he just leaned over and sang into Gaga's mic. Problem solved, right?
James Corden Teases That Kanye West Is Attending
After returning from a commercial break, James Corden seemed to amp up the excitement that Kanye West could take the stage after all. However, he was just joking — West was in NYC prepping for NYFW, according to his mother-in-law, Kris Jenner.
This makes the list, since it was awkward for anyone who temporarily got way to excited at the prospect of a Yeezy performance.
Way to get everyone's hopes up, Corden. Not cool.
Despite mic malfunctions and other blunders, the Grammys were still a great night in music. And at least the moments above helped keep things interesting.