Jennifer Lopez's Manicure Includes ACTUAL $100 Bills & I Can't Even Afford To Look At Them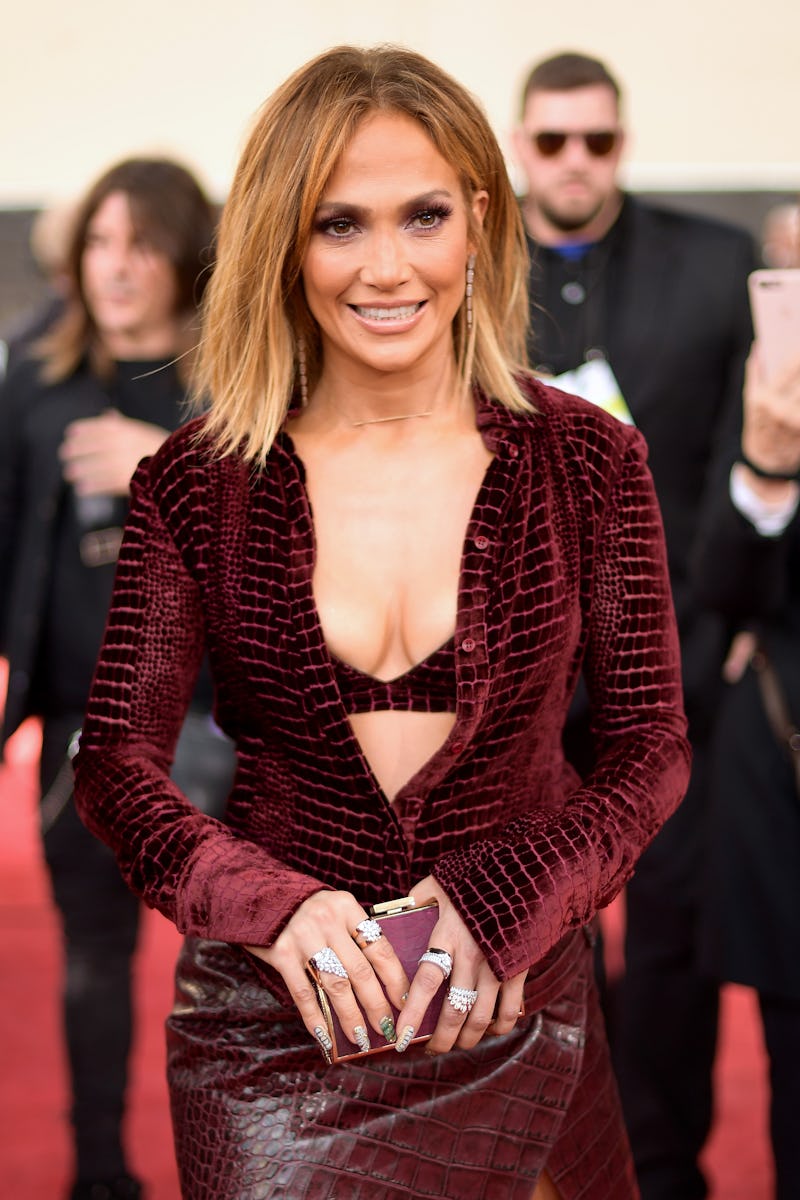 Matt Winkelmeyer/Getty Images Entertainment/Getty Images
Well, well, well, if it isn't "Jenny from the block", looking ridiculously fab as usual. The triple threat singer-dancer-actress made an appearance at the Billboard Music Awards in a burgundy crocodile number that could make anyone stare. But zoom in on her embellished claws and the fact that Jennifer Lopez's manicure used actual $100 bills would make you do one serious double take.
J. Lo is well on her way to solidifying her status as a beauty icon. The latin bombshell just launched her own makeup line loaded with 70 must-have products. She's always a shoe-in for making the best-dressed list after any awards show or event crawling with celebrities. And there's no forgetting that she's basically the reason Google image search exists. In other words, J. Lo is that girl.
The singer can seriously do no wrong, consistently slaying the competition like there's nothing to it. The entertainer even casually dons a lavish mani — one that substitutes your typical nail lacquer for money. And we're not talking the fake, collect $200 on GO stuff. Jennifer Lopez recently made papier-mâché out of real deal, spendable Benjamin Franks to make for one pricey manicure.
When Jennifer Lopez posed before flashing lights at the BBMAs, her mani was hard to ignore. Embellished to the nines with gold studs and sparkle, the greenback-themed pointers featured cutouts from $100 bills. Just peep the bold $100 lettering, the signature "In God We Trust" and bits of Benjamin Franklin's face.
The unconventional mani was in celebration of J.Lo's new single, "Dinero", which the singer performed during the awards show. It was the perfect addition to her performance that included money showers on the audience by J.Lo, proof that the singer had moolah on her mind (and hands) the entire night.
The brainchild of celebrity manicurist Tom Bachik, the nails were actually created in advance and simply glued onto J.Lo's extremities. "It's All About the #Dinero," Bachik captioned an Instagram post showing off the c-note-inspired set. Just in case you thought there was no way anyone would be insane enough to cut $100 bills into tiny pieces for a manicure, he included a "notadecal" hashtag so you know these money nails are the real thing.
As it turns out, there's more to a Ben Frank full set than just paper. A behind-the-scenes look at the creation process by Bachik via his Instagram story revealed making the nails was very much so like an upscale arts-and-crafts project.
Clear acrylic nails look to be the basis of the mani. Aside from actual money, Swarovski embellishments, loose OPI copper powder, and even some secret, glittery concoction labeled with "J.Lo" were the ingredients needed to make the ultimate dinero press-on nails. Clearly, when you're Jenny from the block, you either go luxury and custom, or go home.
Bachik is quite the mani king, having designed plenty of next-level claws for Lopez. There was this gilded set, featuring so many intricate embellishments that you would think it took hours of labor for Bachik to create.
He's always paying attention to details, even sometimes coordinating Lopez's nails spot on with her outfits.
But the A-list nail tech knows how to keep things simple when necessary, too. Pictured wearing a single pearlescent hue, J.Lo once rocked this subtly glam manicure by Bachik.
Out of all the head-turning nail art Bachik has done, however, this "Dinero" manicure will be one for the history books. Not too many people can say that they've had real money attached to their pointers. As for the stunning Jennifer Lopez, though, been there, slayed that.