NBC's Next Live Musical Has Been Announced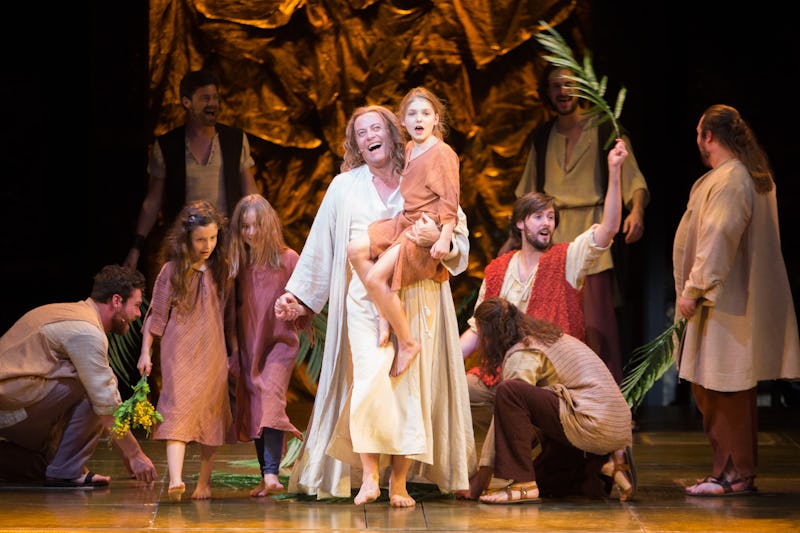 Christian Marquardt/Getty Images Entertainment/Getty Images
Well, theater fans, I bet you didn't see this one coming: NBC's next live musical will be Jesus Christ Superstar. And, according to Deadline, it's set to air on Easter Sunday 2018. This is either going to be fantastic or result in a whole lot of viewer complaints for the network. Possibly both. The musical will air prior to the previously announced Bye Bye Birdie production.
Based on the 1971 Broadway rock opera, Jesus Christ Superstar Live!'s source material is both famous (it earned five Tony nods the year it debuted) and controversial. Many Christians have called the tale of Judas' betrayal of Jesus sacrilegious, both for its sympathetic depiction of Judas and its portrayal of Jesus. Likewise, the musical has also been denounced as antisemitic by some members of the Jewish community. The show's ongoing controversy makes it an odd choice for an Easter airing, to say the least.
Despite having its share of detractors, Jesus Christ Superstar has proven itself to be an enduring rock opera. Since 1977, the musical has been revived several times on Broadway, most recently in a Tony-nominated 2012 run. It has also been performed all around the world and was the basis for the 1973 film of the same name.
Compared to the network's previous live performances of The Wiz, Hairspray, and Sound of Music, the rock opera a downright daring choice for the network. Unlike its live show predecessors, it's far more likely to have detractors right from the start due to the show's religious subject matter.
It seems the internet is firmly divided on whether or not Jesus Christ Superstar is a live show they want to see on NBC. The story of Judas and Jesus during the days directly preceding the crucifixion of Christ is dramatic material. According to Variety, NBC is devoted to finding gifted recording artists to take on the pivotal roles. Since there's no dialogue that isn't sung in the musical, the live show is going to need performers with major vocal chops — and I suspect some viewers will be swayed if NBC lands big names for the key roles.
As for reactions from fans and non-fans alike, Twitter is a veritable treasure trove of people who are psyched, terrified, and confused by NBC's announcement.
For every person who is already canceling their plans for Easter Sunday 2018, there's another person who is pretty sure the network has completely lost it.
The good news is almost everyone can agree they want to see Jesus Christ Superstar Live! whether it turns out to be a train wreck or a hit, so no one can say the show isn't generating buzz.
One thing is certain: weird choice or not, Jesus Christ Superstar Live! already has people talking.