This Super Emotional Wrap Photo From 'Star Wars: Episode 9' Will Make You Seriously Tear Up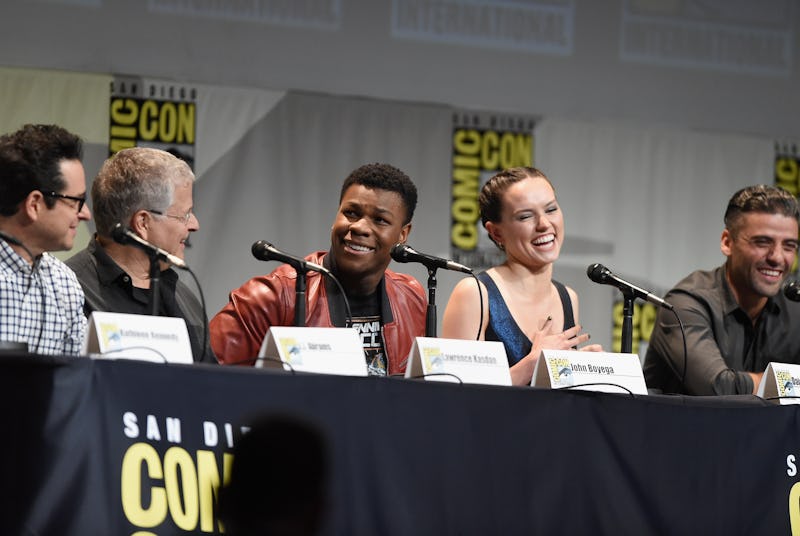 Michael Buckner/Getty Images Entertainment/Getty Images
The force is strong with J.J. Abrams's Star Wars: Episode IX wrap photo. On Friday, Feb. 15, the Episode IX director shared a life-altering picture of actors John Boyega, Oscar Isaac, and Daisy Ridley hugging on set. Oh, he also announced that principal photography on the final chapter in the trilogy is done, which means we are one step closer to seeing the followup to 2017's Star Wars: The Last Jedi. Which means we are one step closer to seeing Rey, Finn, and Poe back on the big screen. Thank your lucky Porgs.
"It feels impossible, but today wrapped photography on Episode IX," tweeted Abrams. "There is no adequate way to thank this truly magical crew and cast. I'm forever indebted to you all."
I thought missed Rey, Finn, and Poe a whole lot before I saw this picture, but that feeling has officially gone into hyperdrive. Ugh, hurry up and get here already, Dec. 20! I am thiiiis close to extending my arm and splaying my fingers out at my calendar like I am Rey using the force to move boulders. (Granted, if it actually worked, it probably would just make my calendar fall off my refrigerator, not make the days go by faster, but hey, it is worth a shot.) Then again, the sooner Episode IX is in theaters, the sooner this tremendous trilogy comes to an end and the sooner we have to say goodbye to these characters. So uh, maybe the wait is not so terrible after all?
Anyway, get ready to give your tear ducts a good work out.
Not ready to stop weeping? Wonderful. Please grab another tissue and take a look at Finn's social media post about the final day of filming. Shortly after Abrams shared the picture, Boyega wrote,
"That's a wrap on Star Wars episode 9 and the end to a chapter of my life that I couldn't be more thankful for. What a process! It really has been a joy to be in these movies surrounded by amazing people. I personally want to thank @jjabramsofficial for giving me a chance to make my dreams come true. To our supporters.... See you SOON! May the force be with you."
And I couldn't be more thankful for this picture of this wonderful trio.
Understandably, lots of fans are freaking out right now. The questions about the to-be-released title are flowing. The feelings are flowing. And the GIFs are flowing.
The GIFs are really flowing.
Fans have gone googly-eyed for this photo and this production update, and can you really blame us?
The sequel trilogy means so much to so many, and the final installment is sure to be as bittersweet as it gets.
Same.
Same.
You said it, Yoda.
Oof, I may never move on from that beautiful picture of Boyega, Ridley, and Isaac embracing in the desert. We do not deserve them. Or the rest of the terrific cast. Or these brilliant movies. Or the fish nuns.