Jodie Sweetin Supported Dr. Ford & Other Survivors By Sharing Her Own Sexual Assault Story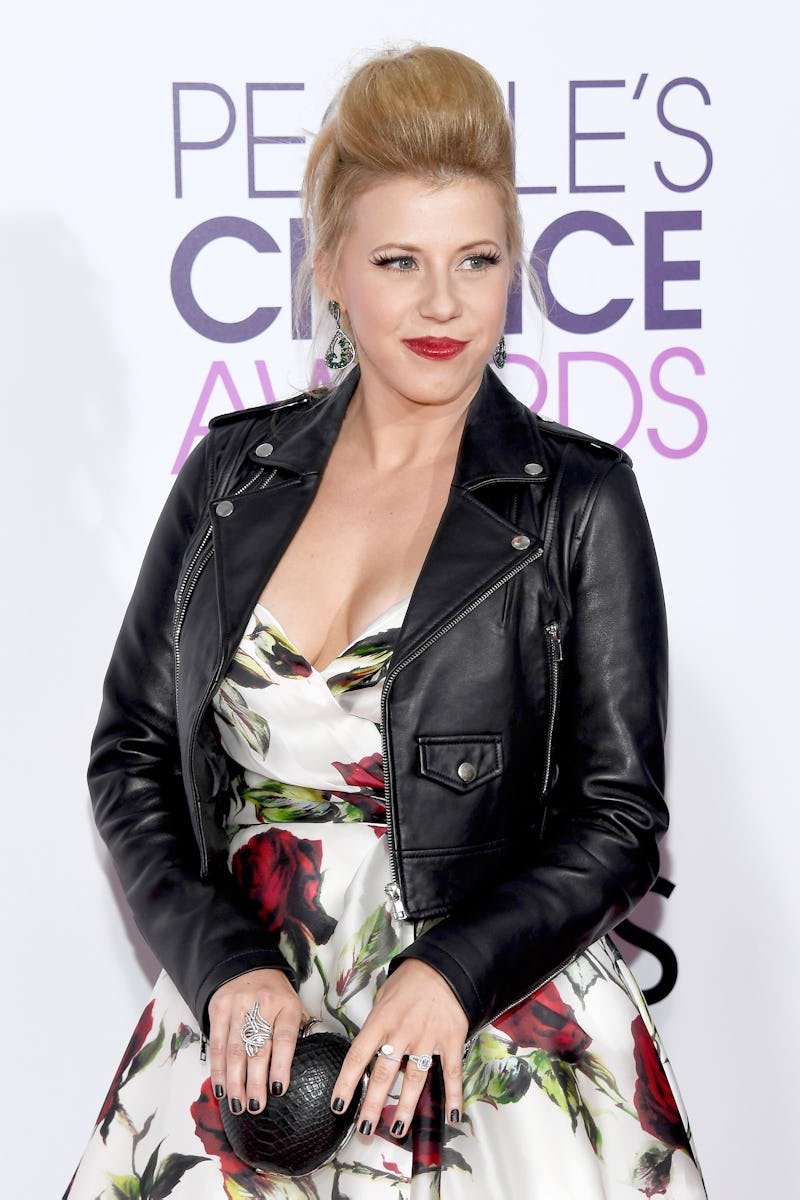 Kevork Djansezian/Getty Images Entertainment/Getty Images
On Instagram on Thursday, Fuller House star Jodie Sweetin supported Dr. Christine Blasey Ford with a powerful message and photo. The Netflix star wrote a lengthy post sharing her own sexual assault story and other important words about survivors coming forward. Seeing Ford testify before the Senate Judiciary Committee on Sept. 27 about the sexual assault allegations she made against Brett Kavanaugh, Donald Trump's Supreme Court nominee, inspired Sweetin to speak. (Kavanaugh has denied the allegations made against him by Ford, Deborah Ramirez, and Julie Swetnick.)
Next to an image of Sweetin wearing a jacket reading, "What doesn't kill you f*cks you up mentally," she bravely wrote,
"I stand with her. I AM her. I was the girl who never reported because I blamed myself. I was the woman who never reported because I didn't want to go through the pain and ridicule. The same sort of pain that I witnessed Dr Christine Blasey Ford walk through today."
The former Full House actor explained that, for her, Ford's testimony is about a larger problem many sexual assault survivors deal with when they break their silence.
"What we saw today is about a much bigger issue of survivors of sexual assault being persecuted, judged and re-traumatized when they do come forward," Sweetin wrote. "We are told that if it were 'real', we would have reported it at the time."
Sweetin then went onto write about how it's sometimes "easier to stay quiet" about sexual assault because of the fear of not being believed or the judgement one might face. "And as we grew older and it happened again, we had been trained to remain silent," she wrote. "We had learned the lesson that no one will believe us. That even if someone DOES, it holds no consequence. We had watched other women come forward, only to be told 'there were no witnesses, so it's your word against his', knowing that 'his' story is always more believed than 'hers'."
She then discussed what Ford's testimony really means to her. Sweetin said it's not about "politics," but it's "about a panel of people brushing aside someone's trauma."
Sweetin wrote,
"I will not sit still. I will not stay quiet. Although I may never be as brave or as unflinching in the face of such an inquisition as she was today, it has given me hope. That maybe, just maybe, female survivors of sexual assault may be heard. Even if our voice is barely above a whisper. #imwithher #listentoyourwomen #tellyourtruth #ihearyou."
During Ford's testimony, she said in her opening statement, "I am here today not because I want to be. I am terrified. I am here because I believe it is my civic duty to tell you what happened to me while Brett Kavanaugh and I were in high school."
As for Kavanaugh's opening statement on Sept. 27, he continued to deny the allegations made by Ford. "I'm here today to tell the truth," he said. "I've never sexually assaulted anyone — not in high school, not in college, not ever." He also concluded his lengthy statement by stating, "My family and I intent no ill will toward Dr. Ford or her family, but I swear today under oath before the Senate and the nation, before my family and God, I am innocent of this charge."
Like Sweetin, Ford has inspired many other female celebrities to open up about their own sexual assaults. On Thursday, former Dawson's Creek star Busy Philipps, Modern Family's Sarah Hyland, and Broadway Frozen star Patti Murin all spoke about their own rapes on social media. All three actors also expressed their fear of not being believed and their voices being silenced.
"This is me at 14," Philipps wrote on Instagram. "The age I was raped. It's taken me 25 years to say those words."
Hyland tweeted, "I thought no one would believe me. I didn't want to be called dramatic. After all I didn't say no. Shock can do that to a person."
Then, there is Murin, who posted on Twitter, "Okay, here it is. When I was 24, I was date raped on two separate occasions by two different males. Why didn't I say anything or report it? Because I was casually dating each of them and I didn't think anyone would believe me. I didn't even believe myself until years later."
Rape culture is real and needs to change. It's definitely a trying time currently, but to see so many sexual assault survivors coming forward is courageous, to say the least, and their stories hopefully impact the way sexual assault is viewed.
If you or someone you know has been sexually assaulted, call the National Sexual Assault Telephone Hotline at 800-656-HOPE (4673) or visit online.rainn.org.